Catching Up with CALS — July 13, 2022
Dean's Message — Endowments, a Great Way to Brighten an Industry's Future
Many businesses, commodity groups and even individuals have invested in recent years to brighten an industry's long-term future by endowing a University of Idaho faculty position. Our researchers are tackling some of the most pressing challenges facing Idaho businesses — particularly in the agricultural sector. Faculty within the College of Agricultural and Life Sciences are helping food producers implement practices to make their operations sustainable for decades to come. They're improving genetics in dairy and beef cattle, breeding better-yielding crops with resistance to damaging pests and diseases, generating knowledge to help producers make optimal management decisions and promoting the health and welfare of communities throughout the state.
Obtaining an endowed faculty position is one of the highest honors a faculty member in higher education can receive. Since the endowed funds are invested and maintained in perpetuity, they provide a permanent source of funding for the faculty member to use to support their teaching, research and Extension mission. At U of I, a $1 million contribution funds an endowed professorship. A $2 million gift creates an endowed chair position.
CALS has become the campus leader with six endowed faculty positions, and the college is working to establish various new faculty endowments as part of the U of I's Brave. Bold. Capital Campaign.
The college's first two endowed positions came as a pair in 2012 when the Idaho Wheat Commission (IWC) announced the establishment of an endowed professorship in wheat agronomy, now named for Potlatch area farmer Joe Anderson, and an endowed professorship in wheat breeding, now honoring former executive director for the IWC, Blaine D. Jacobson. Those positions are held by cereals pathologist and head of the Department of Plant Sciences Juliet Marshall and wheat breeder Jianli Chen respectively. In 2018, the IWC stepped up once again to fund an endowed chair in commodity risk management, currently held by Xiaoli Etienne.
In July of 2014, the Idaho Barley Commission (IBC) contributed funds to add a barley agronomist to our list of endowed faculty positions. The IBC reasoned this endowed position was warranted, given Idaho's status as the nation's top barley-producing state. The position is currently held by Jared Spackman.
Most recently, the Idaho Potato Commission partnered with Wayne and Peggy Thiessen to fund an endowed professorship held by Gustavo Teixeira, who will help the potato industry minimize post-harvest losses. McCain Foods and Northwest Farm Credit Services are also financially supporting this endowed position.
The Hunt Family Beef Education and Research Endowment is the newest endowed professorship, funded by emeritus faculty member in Animal, Veterinary and Food Sciences, the late Carl Hunt, his wife Martha and their family, along with the Idaho Cattle Association. This professorship was funded in early 2022 and will eventually support a faculty member focused on beef cattle nutrition education and research.
Endowments help universities attract the best candidates in their fields as there's a high level of prestige and recognition associated with holding an endowed position. Our partners in endowments often benefit from the naming rights associated with the positions they help create, and it's really an investment in the future of the industry. Barring some sort of major shift in agricultural production, these endowments will be in place in perpetuity and represent a major commitment from CALS going forward and typically should an endowed faculty member vacate the position, CALS is obligated to fill the position as quickly as possible.
We've come a long way toward building our resume of endowments over the past 10 years thanks to Idaho's agricultural industry and individuals committed to advancing the work conducted in our college. U of I and CALS are well positioned to build upon this success during the coming years. Stay tuned as we anticipate hiring more exceptional faculty members through additional endowments.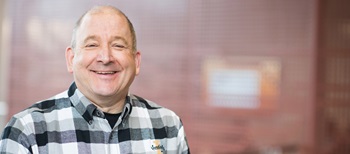 Michael P. Parrella
Dean
College of Agricultural and Life Sciences
---
By the Numbers
According to the recently published "Inspired Discoveries," U of I's 2022 Research Report, out of 386 grant proposals submitted, the College of Agricultural and Life Sciences received 254 awards in support of research, totaling $36,461,000, during FY 2021. CALS ranked No. 1 among U of I colleges for its awards and comprises nearly 30% of sponsored project activity at U of I. Together, all U of I colleges received 686 awards, valued at nearly $123 million.
---
Our Stories — U of I Weed Scientist Confirms State's First Glyphosate-Resistant Waterhemp
A University of Idaho Extension weed specialist is investigating the recent discovery in an Elmore County sugar beet field of a weed that had never previously been detected in Idaho and appears to be resistant to glyphosate herbicide.
Albert Adjesiwor confirmed in late June that the weed, which covered patches in the sugar beet field, was waterhemp, a member of the pigweed family that causes significant yield reductions in crops.
The agronomist who notified Adjesiwor of the discovery said the weeds remained healthy even after two applications of glyphosate, which is the active ingredient in Roundup herbicide. Though waterhemp hadn't previously been found in Idaho, it's widespread in the eastern U.S., as well as the south and the midwest.
"This is very concerning because glyphosate is the main — and only — herbicide that provides broad-spectrum weed control in sugar beets," Adjesiwor said. "All our efforts in proactive resistance management would mean nothing if we cannot prevent the introduction of herbicide-resistant weeds from other regions."
Waterhemp can grow to 8 feet tall and resembles Palmer amaranth — a close relative that Adjesiwor also fears may soon arrive in Idaho and bring a suite of resistance challenges. Waterhemp can be differentiated from Palmer amaranth by its shorter petioles, which attach leaves to the stalk. A single waterhemp plant can produce upwards of 250,000 seeds.
Adjesiwor suspects the waterhemp was introduced in the 100-acre field by cattle that had been fed rations contaminated with waterhemp seeds.
"From what the agronomist told me they had some cows graze that area. This is not surprising because pigweeds like waterhemp have hard seed coats and thus, can pass undamaged through the cattle's digestive tract and deposited on the soil via their manure," Adjesiwor said.
Some of the waterhemp patches in the Elmore County field were already too well established and probably too large to control with other herbicides. Adjesiwor instructed the agronomist to bring in hand crews to destroy them before they could go to seed. Adjesiwor also plans to conduct a survey of some sugar beet fields this fall to investigate the distribution of herbicide-resistant weeds.
"Our hope is that, if this problem is widespread, we might be able to collect seeds from other sugar beet fields for screening," Adjesiwor said.
Adjesiwor is urging farmers who have weeds suspected to be resistant to herbicides to reach out to him or submit samples for screening through the U of I weed science website.
Adjesiwor has transplanted waterhemp plants from the field supplied by the agronomist and will conduct a broad screening for herbicide resistance. He believes the incident should serve as a cautionary tale to alert people in the industry to keep an eye out for the weed and to follow practices to keep it from spreading here. He's, nonetheless, optimistic that it hasn't already gotten out of hand.
"I'm pretty sure we can control this," Adjesiwor said.
To avoid future introductions of waterhemp and other weeds into Idaho, Adjesiwor advises farmers to inspect and clean used equipment. He also advises seed mixes used in cover crops, bird feed and restoration may be sources of pigweed seed. Rights-of-way abutting major highways should be periodically scouted for weeds. Farmers who can't be certain manure planned for use as a fertilizer is free of weed seeds should test it first by planting it on a small plot before applying it to an entire field.
---
U of I Workshops Help Address Family and Consumer Sciences Teacher Shortage
University of Idaho's Margaret Ritchie School of Family and Consumer Sciences hosts a pair of workshops akin to attending summer camp for several teachers from throughout the state.
Ten family and consumer science (FCS) teachers got a refresher on the topics of food nutrition and the culinary arts at the university's first annual Culinary Base Camp, which was hosted on campus June 13-14. Fourteen FCS teachers participated in the university's fifth annual Textiles Base Camp June 15-17.
The workshops, which also provide the opportunity to earn professional development credits, are among the many ways in which the school is seeking to address an extreme shortage of FCS teachers at a time when interest in FCS subjects is enjoying a renaissance.
Throughout Idaho and across the nation, school districts are restoring FCS programs that previously fell victim to the budgetary ax, while FCS teachers are retiring in droves. This has resulted in an abundance of job openings for FCS teachers both in junior high and high schools.
In addition to keeping current in their disciplines and learning new approaches to teaching, participants in the Base Camps make good friends. Some of the camps are also available virtually, enabling out-of-state FCS teachers to participate.
"I gave a lecture on microbiome and nutrition. That is a topic almost no FCS teacher learned in college because it's a new area," explained Shelley McGuire, director of the Margaret Ritchie School of Family and Consumer Sciences. "In addition to being a great educational opportunity, it is a great recruiting event for the University of Idaho to be honest. These teachers had a great experience at U of I, and we hope that they're going back to their classrooms and sharing these wonderful things about U of I with their students."
McGuire attributes much of the rapid growth in her school's apparel, textiles and design program over the recent years to positive experiences during past Textiles Base Camps.
The school's enrollment declined precipitously from 2012 through 2018 before beginning an upswing in 2019. These enrollment gains correlate in large part with renewed investments in Idaho's middle school and high school FCS programs, including those in cities such as Boise, Lewiston, Sandpoint and Coeur d'Alene. In many cases, restoring FCS programs requires significant investments by school districts, such as restoring kitchens and other facilities that were previously repurposed. McGuire attributes the resurgence in FCS programs to a growing societal awareness of the importance of teaching life literacy skills, such as those related to food, nutrition, clothing, personal finance, sustainability and early childhood development.
"The programs are coming back and they're all looking for teachers," McGuire said, adding placement of students across all FCS disciplines is also high. "There are so many jobs. There are so many FCS teacher openings. We could place every single student we have for years to come."
McGuire considers it fortunate that the school she heads remained intact, given that FCS disciplines have been moved under other units at many institutions. U of I's FCS teaching program, however, was a casualty to declining enrollment and university budget cuts, until it was restored in the fall of 2021.
That's when the school's previous director, Sonya Meyer along with John Cannon, coordinator of career and technical education programs with U of I's Department of Curriculum and Instruction, spearheaded the effort to resurrect the FCS teaching program as a dual major. Graduates earn both a degree in education and family and consumer sciences. They all get jobs.
Currently, about 10 students are enrolled in the program, which was officially launched during the COVID-19 pandemic. McGuire said the program's capacity is about 60 students.
"We are at the stage now of just getting the word out that we're doing this again," McGuire said.
The school has also reorganized and added new majors, such as nutritional sciences and human development and family studies.
Idaho lost more than 20 FCS secondary programs between 2008 and 2012, due to the economic downturn when all districts had to make hard budget choices. Many did not replace retiring teachers according to data from the Idaho Division of Career Technical Education's Family and Consumer Sciences and Human Services program. Program Quality Manager Theresa Golis said in addition to districts reinstating programs, new schools — including Thunder Ridge High School in the Bonneville School District and Owyhee High School in the West Ada School District — have started FCS programs.
Statewide, more than 25,000 students are enrolled in FCS middle and high school programs, and filling teaching vacancies is a constant challenge. At one point in the past year, Golis was sending emails about filling 15 FCS teacher openings, and those were just the vacancies that she knew about.
A few special programs are helping the state license new FCS teachers. Golis explained many FCS teachers are licensed through a program that allows industry professionals to obtain a career technical teaching license and teach while simultaneously engaging in teacher pedagogy coursework and mentoring. This route to certification allows these certified instructors to teach FCS pathway programs such as culinary arts, hospitality, early childhood education, and apparel and textiles. Another certification route, called CTE Alternative Authorization — Teacher to New, allows a certified teacher to obtain an FCS endorsement. A third route, called CTE Alternative Authorization — Content Specialist, enables content-knowledgeable candidates to earn the broad field FCS endorsement while working as an FCS teacher.
With the career and personal growth focus in family and consumer sciences, Idaho has placed a greater emphasis on teaching career-oriented skills to make students ready for the workforce. For example, Golis said three years ago U of I was instrumental in helping Idaho launch an occupationally based high school apparel and textiles program to prepare students for roles beyond sewing in the apparel textile industry in Idaho.
"I think the No. 1 thing that's holding us back is people don't understand who we are and what we do," Golis said. "They assume we are the same home economics program they experienced when they were in middle school and high school 30 years ago. Clearly, that is not the case."
---
U of I Strikes Gold with New Wheat Variety
The University of Idaho will soon release a new hard white spring wheat variety that should set the gold standard for its class.
UI wheat breeder Jianli Chen has named some of her most promising varieties after precious metals and minerals — including UI Silver, UI Platinum and UI Bronze Jade — expressing the relative value she places on each one.
At long last, Chen has found a cultivar worthy of the name UI Gold.
She'll release UI Gold, a top yielder in her trials with exceptional baking qualities, later this summer.
"I told myself UI Gold will be the last cultivar before I retire. I didn't decide I wanted to retire, but this one I wanted to name as UI Gold," Chen said. "I think it will be valued like gold. If I have cultivars better than UI Gold later, I could say Gold 1 or Gold 2."
Chen will market UI Gold throughout southeast Idaho as a replacement for Washington State University's hard white spring wheat, Dayn, and Syngenta's SY Teton. UI Gold has outyielded SY Teton in trials. Its yields area comparable with Dayn, but UI Gold has superior gluten strength.
"This year the world markets are short of hard wheat. Growers can plant this in southeast Idaho to help with the shortage of hard wheats in the U.S. and some oversea countries," Chen said. "This line has been tested by overseas bakers and they like it. High yield and excellent bread baking quality for domestic and overseas end users puts this cultivar in a very unique position."
UI Gold grows to a medium height. It's been among the best yielders in UI Extension trials in southeast Idaho and in breeding trials at the Aberdeen Research and Extension Center during the past three years, both under irrigation and on dry land. It's yielded as high as 132 bushels per acre under irrigation, with an average yield of 115 bushels per acre.
Chen is raising UI Gold foundation seed this season. She's invited industry partners to a July 14 field day in Aberdeen in hopes of finding a company interested in licensing and commercializing this new variety.
This season, UI Gold has also shown promise in Aberdeen and Rockland in fall-planted wheat trials, though Chen will need additional years of data before concluding whether it's a viable option for fall planting.
It typically takes about 15 years after an initial cross is made through conventional breeding techniques before a variety is planted in commercial fields.
UI Gold's pedigree includes WA8123[CJ(1] , chosen as a high-yielding hard white spring wheat from Washington State University, and two other varieties known for good baking quality — Grandin, a hard red spring wheat from North Dakota State University, and Jefferson, a hard red spring wheat developed by University of Idaho.
Chen also has high hopes for a sibling of UI Gold selected from the same cross — the hard red spring wheat IDO2105. Chen plans to release the numbered line IDO2104HF, which has outstanding baking quality and is resistant to Hessian fly, next year. Chen believes IDO2104HF will be ideal for northern Idaho and parts of Washington, where Hessian fly is a major pest of concern.
---
Assistant Professor Phil Bass recently held a cutting demonstration for the Kansas Beef Council in Leavenworth, Kansas where he talked about beef quality and top sirloin fabrication and merchandising.
Kattlyn Wolf has accepted the position of Interim Department Head of Agricultural Education, Leadership and Communications (AELC) in the College of Agricultural and Life Sciences effective July 1, 2022. Wolf has been a faculty member in AELC since 2008 where she teaches preparation courses for future agricultural science teachers.