Catching Up with CALS — June 29, 2022
Dean's Message — Idaho CAFE to Explore Climate-Smart Ag
Much of the nation's dairy research is now conducted at Cornell University in New York, a state where the average operation has 150 cows. Dairies in Idaho's Magic Valley, by contrast, average 1,500 cows. The great challenge now facing dairies of all sizes — and agriculture in general — is how to make operations more sustainable and climate smart, but a one-size-fits-all approach won't work. The World Bank defines climate-smart agriculture as an integrated approach to managing cropland, livestock, fisheries, forests and other landscapes to address the interlinked challenges of food security and climate change. As the nation's dairy industry strives to make climate-smart agriculture its modus operandi, the research that will guide this transition must take into account the significant differences between a typical eastern dairy and one in southern Idaho, which is roughly 10 times bigger and more densely packed.
The University of Idaho-led Idaho Center for Agriculture, Food and the Environment, which will break ground on June 30, will be the nation's largest research dairy, exploring climate-smart solutions appropriate for Idaho's unique circumstances. Certainly the emissions profile from a large-scale dairy with a greater abundance of manure and urine poses a different challenge. At the research dairy on the University of California-Davis campus, for example, there are only 100 cows, and waste is removed on a daily basis rather than being stored in a lagoon. Idaho's hot and dry climate, and even the cross-ventilated barns common in the Idaho dairy industry, further affect the emissions profile. Idaho dairy cows also tend to receive rations higher in hay, elevating the nitrogen in their excrement. Working on site and the same scale avoids the need for modeling of data extrapolated from research sites in other states.
A demonstration farm will be built as part of the CAFE project, providing climate-smart strategies for growers to follow. Dairymen and the growers will assess the costs and benefits of our approaches at CAFE to determine how their operations should evolve. Think of sustainability and climate-smart agriculture as a continuum. Operations may move further along the spectrum toward the end goal as they improve their practices.
Buyers such as Walmart are demanding their suppliers receive certain certifications for sustainability, driven by the will of the consumer.
Climate-smart and sustainable agricultural approaches can create value-added products from waste and generate revenue for food producers. U of I is already at the forefront of research to make biodegradable plastics from dairy manure.
This year, the state approved a one-time $5 million CAFO improvement fund to help Idaho dairies implement projects to protect water quality. Similar efforts in the future will benefit from CAFE, which will provide these dairies a blueprint to help them navigate the industry's changing landscape.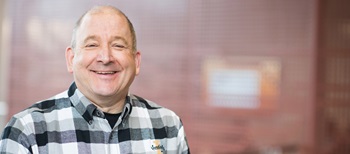 Michael P. Parrella
Dean
College of Agricultural and Life Sciences
---
By the Numbers
Dairy is Idaho's No. 1 agricultural industry, and Idaho is ranked as the 3rd largest dairy producing state in the U.S. Each year, Idaho dairies yield 13 billion pounds of milk, according to the Idaho State Department of Agriculture. According to "The Financial Condition of Idaho Agriculture: 2021," authored by University of Idaho economists Xiaoxue "Rita" Du, Patrick Hatzenbuehler and Garth Taylor, Idaho received its second-highest milk revenues in 2021, with cash receipts of $3.06 billion. Cash receipts from milk, cattle, calves and other livestock comprised over 57% of the state's total cash receipts for 2021.
---
Our Stories — Twilight Tour at Aberdeen Research and Extension Center will Share Research with Public in a Fair Like Atmosphere
The public is invited to learn about food production and cutting-edge agricultural research on July 13 at a family friendly event with a fair atmosphere, hosted at the University of Idaho's Aberdeen Research and Extension Center.
UI Extension's annual Twilight Tour will be making its return after a two-year absence due to the COVID-19 pandemic. The event, scheduled for 5-8 p.m. features a complimentary meal, games, door prizes, giveaways, live music, horse-drawn wagon rides, activity trailers and booths devoted to food production and agricultural research.
The Twilight Tour is free to attend. It drew a crowd of more than 400 people when it was last hosted in 2019 in Aberdeen. The location of the tour usually alternates between the U of I Kimberly Research and Extension Center and the Aberdeen facility.
"It's an opportunity for us to interface with the community to share some of the new research that we're doing with the general public and to help people get a taste of agriculture in the local area," Chad Jackson, operations manager of the Aberdeen Research and Extension Center, said. "We have a lot of things that benefit society that we do here, and we like to share it with the community and give them an opportunity to have some fun."
Barbecued chicken sandwiches from Stokes Market will be served, along with salads prepared by Tooley's Gas and Grill.
The first 100 children who arrive will receive a free U of I piggy bank to help them save for college. Raffle tickets will be given to participants, who will have the chance to win door prizes throughout the evening. U of I T-shirts, sweatshirts and an official U of I cornhole set will be among the prizes offered.
Swag will be available from area agricultural businesses. Prizes will also be awarded to winners of a potato sack race and a strongman contest, as well as for those who get all of the necessary stamps on a passport by visiting booths or participating in a scavenger hunt involving the booths.
Researchers will offer activities at certain booths. Pamela Hutchinson, a UI Extension potato cropping systems weed scientist, offers a perennial favorite booth, serving foods made from edible weeds, including purslane salad.
The 4-H and USDA Natural Resources Conservation Service activity trailers will be at the event, as will the Lamb Weston fry truck. The Idaho Wheat Commission, Idaho Barley Commission and Idaho Potato Commission will also be represented. Derek Tilley, head of the Aberdeen USDA-NRCS Plant Materials Center, will perform live music, and horse-drawn wagon rides touring the U of I Native Plant Domestication Program's research plots will be offered throughout the event.
This will be the seventh time the tour has been hosted in Aberdeen, which is home to the U of I wheat breeding program, USDA-ARS potato and barley breeding programs, USDA-NRCS Plant Materials Center, U of I Native Plant Domestication Program, the Idaho Wheat Quality Laboratory, small grains and potato pathology programs and a cropping systems and alternative crops program. The center is also home to the National Small Grains Germplasm Collection, where wheat, barley, rye, oats, rice and wild grain samples from all over the world are preserved and grown.
---
U of I Research Sheds Light on Attributes of Cattle that Thrive on Range
University of Idaho livestock researchers believe a genetic marker they've identified associated with cattle that like to climb hills could provide a new tool for breeding animals that excel in rangeland conditions.
Through their recent research at U of I's Rinker Rock Creek Ranch in the Wood River Valley and the Nancy M. Cummings Research, Extension and Education Center in Carmen, Jim Sprinkle and his team have correlated hill climbing on range during hot days with good cattle efficiency. In published research, efficient cattle are predisposed to maintain or gain weight with 10% to 15% less feed than their inefficient counterparts.
"We may be able to take a blood test or an ear punch at weaning and identify if heifers have the marker for hill climbing and that would be one thing I'd look at," said Sprinkle, a UI Extension beef specialist.
Cattle had been classified by efficiency in a feedlot setting for more than two decades when Sprinkle set out in 2016 to evaluate how efficient and inefficient animals would perform on rangeland. Working with Gulf Coast Data Concepts in Mississippi, Sprinkle designed his own high-tech collars to record cattle activity. His collars are rugged, with the electronics fitted inside PVC. They each have a GPS unit to determine location and elevation, as well as an accelerometer — used on rockets to measure velocity in three directions. Accelerometers are also used to enable screen orientation in mobile phones.
Paired with recorded head movements of livestock, the accelerometers tell researchers how long individual animals spend walking, hill climbing, grazing, nursing or relaxing.
Sprinkle can produce his collars for $315 each, compared with $2,500 each for similar products that are available commercially. He updated his collar design in 2021.
When he first started the efficiency study, Sprinkle anticipated inefficient cattle would spend more time climbing hills, as they'd need to wander further in pursuit of forage. During the cool days of spring, his theory held true, as the inefficient animals grazed for about 1.7 hours longer per day than efficient animals. When temperatures rose, however, inefficient animals began congregating around streams while efficient animals grazed the hills.
"I originally thought inefficient cows would be the ones we'd want on the rangeland. They'd have more incentive to go out and harvest forage. That's not what we found," Sprinkle said.
Sprinkle hypothesizes that inefficient animals have larger, less efficient gastrointestinal tracts, which generate more heat and cause them to stay in the shade and by water for comfort when the temperature is especially hot.
"The efficient animals tend to have a more efficient metabolism and use of nutrients," Sprinkle said.
Sprinkle and his colleagues have noticed no significant differences in weaning weights and body conditions between efficient and inefficient livestock. In one study, efficient cows without calves started on winter pasture with slightly poorer body conditions than inefficient cows, but they lost less weight over the late fall grazing period, maintaining better body condition on poor-quality forage.
A two-year project starting this summer, led by Ph.D. student Landon Sullivan, will evaluate how enzymes and hormones related to stress affect grazing behaviors in efficient and inefficient cattle. The study should answer questions about how nature compared with nurture affect grazing behaviors of calves.
Sullivan will study the genetic, physiological and environmental factors that influence why some cattle remain in riparian areas while others climb hills, with the aim of identifying genetic traits that may be passed along associated with good grazers.
"As feed intake decreases, many components of production will decrease; thus, cattle that are best able to thermoregulate — deal with the heat of summer — are more likely to sustain, maybe even optimize production," Sullivan said. "If we can better understand the genetic and physiological factors, we can select cattle via genetic markers that possess the potential for grazing higher elevations and implement husbandry practices to meet the physiological needs to fulfill that genetic potential."
---
U of I Researcher Detects Two Fungal Diseases in Idaho Cereals Amid Cool Season
A cool and wet spring has created ideal growing conditions for Idaho cereal crops, but the weather has also favored a pair of important fungal diseases affecting grain, a University of Idaho researcher warns.
Stripe rust, which can be identified by the yellow-orange color of its spores, was recently spotted in a test plot in the Magic Valley. Strawbreaker foot rot is widespread in irrigated fall wheat throughout eastern Idaho.
Juliet Marshall, a professor of plant pathology who heads U of I's Department of Plant Sciences, explained strawbreaker foot rot has been especially prevalent in fields in which growers planted at a heavy seeding rate in hopes of boosting yields.
"I have been visiting a couple of fields and getting several phone calls and pictures from different growers and consultants that show some odd discoloration in the crop," Marshall said of strawbreaker foot rot.
Marshall has already seen lodging — when plant stalks grow too tall and tip over — in winter triticale and expects lodging will also surface as a rampant problem in fall wheat and barley, especially in heavily seeded fields.
Prime conditions have helped eastern Idaho cereal crops grow vigorously, but competition has caused them to become too tall and thin — at the expense of developing a robust root system — in heavily seeded fields. This makes the plants highly susceptible to lodging on windy days. Strawbreaker foot rot, commonly known as eyespot, can also thrive in dense stands with poor airflow. It's characterized by a browning of the lower stem and yellowish, eye-shaped lesions on stems and leaves.
"The fields where I see the worst problems are the fields that were overly, heavily seeded," Marshall said. "I'm hearing as much as 150 pounds of seed planted per acre of winter wheat and barley. It absolutely doesn't need to be planted that heavily because it will increase diseases and lodging."
Marshall emphasized that there's no yield advantage to a heavy seeding rate, as plants can produce additional stems off of their main shoot, called tillers, to compensate for light seeding. When the weather turns hot, Marshall also expects to see wilting and burning of flag leaves, with necrotic and chlorotic spots on foliage, in densely seeded fields. The leaf damage results from the inability of plants with poorly developed roots to keep pace with evapotranspiration.
"People might think it's a leaf disease. It's not a leaf disease; it's roots that can't keep up with plant growth when the temperature rises," Marshall said.
The stripe rust infection was confirmed on a breeding line in a test plot near Filer. The breeding line was significantly infected, but infections were not widespread throughout the research field. Although cereal crops are progressing about 10 days to two weeks behind last season's pace, Marshall warned most fall-planted fields are already past flowering and are past the window for applying fungicides.
She said spring wheat fields will be most at risk of stripe rust infection, and fungicide applications will likely not be required for moderately resistant and resistant varieties. "With the spring weather perfect for small grain production, it is no surprise that stripe rust was finally confirmed in southern Idaho," Marshall said.
Cool and wet conditions are also conducive to the spread of a third important fungal disease of grains — take-all. Marshall hasn't seen take-all in fields yet, but she'll be watching closely for it. Take-all causes a blackening of the stem base.
Marshall's research plots in eastern Idaho are all lush and healthy. She expects this will be an exceptional season for growers who diversify their rotations, follow sound agronomic practices and avoid crop diseases.
"Most of us agree it's going to be a very good-yielding year," Marshall said.
---
Animal science graduate student Mikayla Heimbuch won second place in the master's division of the graduate student research competition during the American Meat Science Association's Reciprocal Meat Conference in Des Moines, Iowa. Her poster focused on the evaluation of growth, meat quality and sensory characteristics of wool, hair and composite lambs.
Assistant Professor Phil Bass recently attended From the Ashes Idaho in Coeur d'Alene where he gave a meat cutting demonstration to BBQ enthusiasts.
Senior Instructor Katie Miner spearheaded the Culinary Base Camp workshop for regional FCS educators on the Moscow campus June 13-14. Participants learned strategies for teaching a food lab, ways to promote positive attitudes toward food, basic concepts related to the gut microbiome, preparation of fermented foods and participated in a Syrian cooking demonstration.
Apparel, textiles and design faculty recently taught in-person and hybrid workshops at Textiles Base Camp for FCS teachers from Idaho, Washington, Wisconsin and Illinois. Participants made knit hats, tapestry weaving, zipper bags and design boards online and finished off the week with a tour of the new flagship store for Northwest River Supplies.
Food science undergraduate Erin Macedo was awarded the 2022-23 Idaho Milk Processors Association scholarship. This scholarship is given to students who demonstrate an aptitude and passion for a career in the dairy industry.
The first University of Idaho Child Development Conference took place in Coeur d'Alene on June 18, presented by Family and Consumer Sciences faculty Shiyi Chen, Ling-Ling Tsao, Sara Matthews and Erin Chapman. The event was also supported by the Center on Disabilities and Human Development and attracted more than 150 early childhood educators.
Savannah Reed, who will graduate next semester with a bachelor's degree in horticulture, recently received a $5,000 California Certified Organic Farmers scholarship to help her reach her dream of starting her own organic produce farm. The scholarship is awarded to future farmers focused on organic and regenerative agriculture. Reed, of Highland, Utah, worked last summer as an intern with the U of I Sandpoint Organic Agriculture Center, where she tended to a market garden that donated its produce to the local food bank. Throughout this school year, she worked at the Soil Stewards Organic Farm at the U of I campus in Moscow. This summer, she'll be the head intern at the facility. Funds raised through community supported agriculture from the campus farm are reinvested back into the program. Reed hopes to one day start a two-acre produce farm incorporating regenerative agricultural practices that will also include animals, likely in Sandpoint. She'll sell her food locally, including at farmers markets. She plans to spend some time working for a private, for-profit farm prior to starting her own operation.