Catching Up with CALS — June 1, 2022
Dean's Message — Diverse Stakeholders Get Good Results Working Together at Rinker Rock Creek Ranch
When E. coli levels began to exceed acceptable water-quality standards in Mink Creek, located south of Pocatello in the Caribou National Forest, the search was on for the source of this contamination. Grazing cattle are often assumed to be the source in such situations, even without verification. In this case, however, local ranchers and officials with the Idaho Department of Water Resources, the city of Pocatello and the U.S. Forest Service decided to get the data rather than rely on unsupported allegations.
In the summer of 2019, researchers from the College of Agricultural and Life Sciences (CALS) and the College of Natural Resources (CNR) — including experts in the Rangeland Center and the Idaho Water Resources Research Institute — launched an investigation into the problem. They sampled water from 14 sites along Mink Creek before, during and after cattle occupancy and before and after major holidays. Through DNA microbial source tracking, they discovered 59% of the E. coli came directly from humans recreating along the creek, compared with just 6% of the E. coli load coming from cattle alone. Another 6% of the E. coli was attributed to a combination of human and cattle activity. Because the Forest Service provided funding for research instead of putting down the regulatory hammer based on an assumption, the local ranchers were spared an unearned black eye, and the community had the data to address the real root of the problem — people's increased use and abuse of our public lands amid the COVID-19 pandemic.
The story highlights the potential to effect change when diverse stakeholder groups are willing to set aside their preconceived notions and work in partnership to find the truth. That concept — uneasy allies collaborating to find win-win solutions — is the hallmark of University of Idaho's Rinker Rock Creek Ranch (RRCR), located in central Idaho's Wood River Valley. The ranch, which U of I acquired in 2019, includes 10,400 acres of rangeland, plus 11,000 acres of surrounding state and federal grazing allotments. It's jointly managed by CALS and CNR. The public will have the chance to visit this spectacular property, managed for both livestock production, preservation of ecosystem services and recreation, and learn about some of the unique research taking place there during a family friendly educational workshop scheduled for 9 a.m. to 2 p.m. on June 4, Sagebrush Saturday. The event is free to attend and includes a complimentary lunch.
The Nature Conservancy and the Wood River Land Trust were crucial in U of I's acquisition of the ranch, and both organizations serve on its advisory committee, along with the Idaho Cattle Association, the Idaho Department of Fish and Game, the Idaho Governor's Office of Species Conservation, the Idaho Rangeland Resource Commission, the Idaho Soil and Water Conservation Commission and Trout Unlimited. The ranch conducts its livestock research using 162 cow-calf pairs that are moved to the ranch from the Nancy M. Cummings Research, Extension and Education Center in Salmon. In a state in which rangeland comprises more than half of the landscape, the questions being explored at RRCR couldn't be more important.
Through this great experiment, we are finding more common ground among stakeholders than most previously thought possible. At RRCR, we are proving there don't have to be winners and losers when land managers make decisions with the goal of preserving rangelands for multiple uses for generations to come.
Learn more about the Mink Creek study.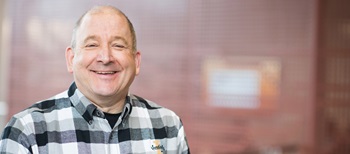 Michael P. Parrella
Dean
College of Agricultural and Life Sciences
---
By the Numbers
University of Idaho's Rinker Rock Creek Ranch in central Idaho's Wood River Valley hosted 5 volunteer days to accomplish habitat improvements totaling 160 volunteer hours through November of 2021, according to an annual report. The ranch also conducted 5 days of spotted frog surveys in partnership with local high schools, engaging 125 students. 13 graduate students were involved in 17 research projects at various stages of completion at the ranch during the time period.
---
Our Stories — New Water Science and Management Program Celebrates First Graduates
Michael Martin accomplished a pair of firsts when he graduated with a bachelor's degree from University of Idaho's College of Agricultural and Life Sciences on May 14.
Martin was a first-generation college student. He was also one of the first two students to earn the college's new bachelor's degree in water science and management, along with classmate Jaya Garcia.
Martin enrolled in the degree program based on a passion for soil and water management stemming from the four years he spent working on an Idaho Falls golf course's maintenance crew.
"To turn around from being a first-generation college student to being one of the first people to graduate with this major is kind of a cool experience," Martin said.
The program prepared Martin for a job as assistant manager of residential services for Shore Lodge Whitetail LLC, which is a large resort in McCall. He's tasked with irrigation management, pesticide application, turf management and other duties for the resort. His new employers were thrilled by the breadth of training he received in pursuit of his bachelor's in water science and management, covering irrigation, soil physics, mathematics, chemistry, pesticide management and a host of other sciences.
"It was hard and rigorous but it definitely helped me better understand the actual concepts behind soil and water systems," Martin said of the new program. "All of the courses were necessary for understanding it."
Garcia hopes to work as a water manager. Growing up in Sonoma California, which has been gripped by drought, taught her the value of good water stewardship.
"I figured there would be a lot of jobs out there. There have been quite a few issues with water throughout the nation," Garcia said. "Why not do something to help people in the future?"
She's been intrigued by the conjunctive management agreements water users have forged in the Eastern Snake River Plain, as well as efforts to recharge the aquifer beneath it, and she'd like to help implement similar approaches elsewhere.
As the first students to go through a new bachelor's degree program, both Garcia and Martin offered important feedback to help their instructors tweak schedules and requirements.
"During those advisor meetings each semester primary advisor Erin Brooks was definitely open to what I had to say. We were communicating well. Does this work? Does this not work? Is this a lot for four years?" Garcia said.
Brooks and his colleagues see potential to grow the program, including through the addition of online courses.
"We showed the degree to the Idaho Department of Water Resources and some other agencies and they said, 'Boy, we'd hire out of this,'" Brooks said. "At this point I think it's a well-kept secret and we just haven't put the effort in to recruit to it."
The new degree fills a hole in the curriculum of the Department of Soil and Water Systems, which offered water resource programs at the master's and doctorate levels but previously had nothing in place at the bachelor's level.
"Definitely you can see a growing need for water managers that are well trained and have a firm grasp of the entire hydrologic cycle," said the department's head, Jodi Johnson-Maynard. "We're experiencing more issues in the west and around the globe with how managing water is becoming more and more important."
---
Grad Students Take on Potato Industry's Most Pressing Problems
University of Idaho entomology doctoral student Kelie Yoho's research suggests mineral oils could offer an environmentally friendly tool to help potato seed growers avoid losses to one of their most feared crop diseases, potato virus Y (PVY).
U of I master's student Nathan Gelles has studied promising methods to promote sprouting in freshly harvested potatoes. His research could one day provide a new method for the Idaho Crop Improvement Association (ICIA) to induce sprouting of dormant seed tubers planted in test plots for PVY evaluation as part of the seed certification process.
Their efforts to tackle some of the most pressing challenges facing the potato industry haven't gone unnoticed. Both U of I graduate students were recently awarded scholarships available to benefit the next generation of potato researchers.
Yoho, a third-year doctoral student from Twin Falls, earned $2,300 toward her education by winning the John L. and Lois K. Toevs Fellowship, which is awarded annually to a full-time student and gives preference to graduate research in potatoes or agronomy conducted at the U of I 's Aberdeen, Kimberly or Parma research and Extension centers.
Working in Kimberly under advisor Erik Wenninger, who is a UI Extension entomologist, Yoho and her team have been testing different combinations of treatments involving mineral oils and insecticides, also evaluating how well mineral oils withstand overhead irrigation.
Feeding aphids can pick up PVY from one plant and instantly spread it to the next plant before insecticides have time to take effect.
"Nobody really knows for sure, but the prevailing theory is mineral oils are interfering with the virus attaching itself to the aphid's mouthparts," Yoho said.
Research suggests insecticides alone may actually cause PVY to flare up by killing beneficial insects that prey upon aphids. Mineral oils don't appear to harm beneficial insects. However, applications of mineral oils alone and mineral oils in combination with insecticides were both equally effective against aphids in trials. That's significant because seed potato farmers use insecticides to control other pests and diseases.
Yoho and her team are also researching age-related PVY resistance of plants and monitoring aphid migrations to determine when mineral oil applications would be most effective. Furthermore, they're studying the effects of their various treatment protocols on beneficial insects.
"I don't think mineral oils are going to be the silver bullet that some people were hoping it would be, but incorporated into an integrated pest management program it seems like this is going to be a great help to reduce rates," said Yoho, who hopes to one day teach at a university.
Gelles earned $1,100 through the Joe and Terri Guenthner Graduate Scholarship, an endowment honoring the career of Joe Guenthner, who was a UI Extension economist for more than 33 years and remains active in the university as a professor emeritus. The scholarship is open to full-time graduate students in the College of Agricultural and Life Sciences who wish to pursue a career in the potato industry.
Gelles, who was raised on a Pingree farm, worked as a crop consultant for a while after graduating from U of I with a bachelor's in crop management. He chose to return to school to pursue a master's in plant science and has been working from the Kimberly Research and Extension Center under Nora Olsen, who is a UI Extension potato specialist.
"As a crop consultant there were more questions than answers, and I figured I could start answering some of those questions," Gelles said.
In his research, Gelles has had success in using wood smoke to induce tuber sprouting soon after harvest. Wood smoke could be a tool for ICIA to break tuber dormancy when evaluating sprouted potatoes for PVY in a lab setting or prior to planting them in winter PVY test plots in Hawaii to base crop certification decisions.
"When you burn plant-based pellets, smoke releases hormones," Gelles said. "There are a lot of species that require fire and smoke and heat to regenerate."
This year, he'll test the combination of smoke and another hormone to further expedite sprouting. Gelles is also involved in research on the effects of PVY on potato yields at the field level and on the distribution of PVY in different seed and tuber sizes. Only 2- to 4-ounce tubers are planted in the ICA's winter test plots, and Gelles will research if the program may be inadvertently selecting for higher or lower levels of PVY based on its seed sizes.
A call for applicants for both scholarships go out in the spring. Typically, five to 10 students apply for each of the two scholarships.
"The thing that stuck out to me about these students was the immediate applicability of their research results," said Mike Thornton, a U of I plant sciences professor at the Parma Research and Extension Center, who heads the committee that awards both potato scholarships. "Both of these were very applied projects with immediate potential benefits to the industry.
"We're sending graduates out into the workforce that are prepared and educated and the potato industry can take them on right away and fill key positions in their companies."
---
Addressing Climate Change
⁠Since first learning about climate change in high school, Paige Martin has sought ways she can address the issue. As a senior at the University of Idaho, she found an opportunity through an undergraduate research project in the Department of Soil and Water Systems.
Martin began working in Assistant Professor Zachary Kayler's lab in spring 2021, and after only a few weeks, Kayler asked if she wanted to design her own research project. She decided to dive deeper into nitrous oxide emissions from agricultural soils. Like other greenhouse gases, nitrous oxide absorbs radiation and traps heat in the atmosphere, making it a dangerous contributor to climate change.
Martin will analyze soil samples taken post-harvest from a field using traditional nitrogen-based fertilizer and a field that is intercropped with a pulse crop — edible seeds of plants in the legume family such as chickpeas, lentils and dry peas — to see it the intercropping method results in less nitrous oxide emissions.
"Since synthetic fertilizer is one of the largest producers of nitrous oxide, I want to see if it's possible to lessen their environmental impact by using pulse crops and intercropping methods to reduce these harmful atmospheric greenhouse gasses," she said.
The Coeur d'Alene native didn't see herself participating in research when she first arrived at U of I as an environmental science major. She was looking for an on-campus job when the opportunity to work in Kayler's lab became available.
"It's so cool to be part of something that I never thought I'd be a part of," she said. "If successful, this could provide key insight into current environmental health issues associated with agriculture and help in guiding the future of sustainable farming practices."
For Martin, the opportunity to network with fellow undergraduate and graduate students passionate about the same topics has been the most rewarding aspect of research.
"To be able to craft my proposal and collaborate with so many people on campus is really cool," she said. "It's really empowering, especially as a woman in STEM, to contribute something to the scientific community. The idea of someone learning something from my research is what makes me happy and feel accomplished."
---
Meat science faculty Phil Bass, Michael Colle and Vandal Brand Meats Manager James Nasados hosted a workshop, Final Product and the Consumer, as part of the new UI Extension Advanced Ranch Management School coordinated by Extension Beef Specialist John Hall.
Kyle Nagy, superintendent and orchard operations manager at the U of I Sandpoint Organic Agriculture Center, recently hosted a group of first graders from Kootenai Elementary School. Students toured the educational market garden, orchard and visited the sheep and chickens.
Lori Harrison, 4-H volunteer with UI Extension, Minidoka County, was named the 2022 Western Region Volunteer of the Year by the National 4-H Council. Harrison has been an active volunteer for nine years, helping with shooting sports, market animals and STEM projects.
302 CALS students were named to the spring 2022 Dean's List, achieving a GPA of 3.5 or better in at least 12 graded credits.