Catching Up with CALS — Sept. 8, 2021
Dean's Message — A Step Forward
Idaho's farmers and ranchers know that agriculture has its rewards and its risks.
Volatile markets for the commodities farmers produce and the inputs farmers purchase can make managing price risks one of the most important aspects of running an agricultural operation.
The Idaho Wheat Commission acting on behalf of Idaho's wheat growers took action two years ago to help CALS and U of I by funding the Endowed Chair of Commodity Risk Management to expand our expertise in teaching, research and outreach on the subject.
We are happy to welcome Dr. Xiaoli Etienne as the accomplished faculty member who will serve as the IWC Endowed Chair, hired as an associate professor in the Department of Agricultural Economics and Rural Sociology.
Her work with Extension at West Virginia University and research collaborations with interdisciplinary teams on subjects such as the energy and agricultural market risks, funded by highly competitive grants from the USDA and the National Science Foundation, inspired our confidence in her ability to serve broad audiences.
Hiring a person to fill such a prominent position is an effort to match the candidate's ability in the subject and the ambition or confidence to take full advantage of the opportunity.
We set out to find the right person who can build a world-class reputation for the CALS Agricultural Commodity Risk Management Program, and we are happy that Dr. Etienne accepted our offer.
She will work closely with colleagues in the College of Business and Economics and in the Barker Capital Management and Trading Program.
In addition to strengthening the CALS faculty, hiring Dr. Etienne also will help expand the expertise of the U of I physics faculty with the hiring of her husband, Dr. Zachariah Etienne, who has an internationally recognized research program examining black holes and gravitational waves.
The Idaho Wheat Commission's financial support will offer her opportunities to expand U of I's ability to help the agricultural industry better address management of agricultural risks. Those opportunities will include education at the undergraduate and graduate level, research and outreach to producers, the broader agribusiness industry and policy makers.
Her efforts also will elevate CALS' reputation as a center of expertise in commodity risk management. Our audiences, from students to professionals, will benefit from those efforts as well.
Whenever we introduce a new faculty member, it is tempting to talk about the person's potential to do great things.
Dr. Etienne certainly has that, but she has more than potential. She has a demonstrated track record of working with a large organization through her experience with the World Bank Group in Washington, D.C.
We look forward to seeing how she takes advantage of the opportunity to build on her record of success and enhance our value to the agricultural industry and Idaho.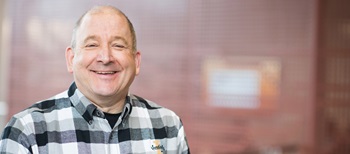 Michael P. Parrella
Dean
College of Agricultural and Life Sciences
---
By the Numbers
3-quarters of Idaho ranked as short or very short of topsoil and subsoil moisture through Sunday, the USDA National Agricultural Statistics Service reported. While 77% of Idaho's potato crop ranked as fair to good, pasture and range was drier with 42% ranking as fair to good. The barley harvest hit 92%, slightly ahead of the spring wheat harvest at 90% complete. The potato harvest hit 12%, a point ahead of the 5-year average of 11%. Idaho farmers completed 9% of winter wheat seeding, ahead of the 5-year average of 3%.
---
Our Stories — Managing Risk Limits Losses
Farmers and ranchers know that agricultural success often relies on timing. Deciding when to plant or when to wait for rain can determine a season's success.
A major gift of support announced three years ago by the Idaho Wheat Commission on behalf of its growers realized its goal this summer with the arrival of Dr. Xiaoli Etienne.
She will serve as the IWC Endowed Chair of Agricultural Commodity Risk Management in the Department of Agricultural Economics and Rural Sociology.
Etienne moved to U of I from West Virginia University where she was a faculty member in the Division of Resource Economics in Management. She earned her master's and doctorate degrees from the University of Illinois at Urbana-Champaign.
Her research, teaching and outreach focused on price analysis and forecasting in futures and options markets and on risk management in energy and agricultural sectors and marketing.
During her graduate work at Illinois, Etienne said she was surprised that so many midwestern farmers she talked to had such dismissive views of risk management and its tools.
Even though the success of their extensive corn and soybean farms depends on sophisticated commodities markets, international trade and similar forces, many viewed risk management as akin to gambling, she said.
A recent USDA Economic Research Service report showed that a significant portion of farmers surveyed did not engage in any risk-mitigating practices for prices, which is surprising.
"I tried to help them think about hedging and other tools as more like health or car insurance," she said. "Using risk management strategies is a bit like paying insurance premiums; they help protect you from catastrophic losses."
"Risk to farmers and ranchers is everywhere, from the weather, to prices, to storage and almost every other activity they engage in. It is hard to manage all of this risk without help from Extension professionals," she said.
As a land-grant university, Idaho offers help and educational opportunities for farmers and ranchers as part of its responsibility to maximize their success.
---
CALS Selects Four New 2021 Chobani Scholars
U of I CALS has selected four students as its next class of Chobani Scholars. These high school graduates receive $20,000 each from Chobani to support their four-year degree. This is the third year in a row that Chobani has funded these grants.
All four of this year's students are from the Magic Valley and are majoring in animal, veterinary and food sciences at CALS and will pursue a variety of careers as the next generation of Idaho dairy professionals. Their career ambitions include helping to improve the public's understanding of the dairy industry's sustainable and animal well-being practices.
Foodmaker Chobani, with a manufacturing facility in Twin Falls, is known for using food as a force for good in the world and putting humanity first in everything they do.
"The future of dairy matters to us and one of the best ways to help Idaho farmers is to equip tomorrow's dairy leaders with the tools they need to thrive," said Peter McGuinness, president and chief operating officer of Chobani. "The Chobani Scholars program is one way that Chobani is investing in the future of dairy in our home states."
"We are excited to welcome the next group of four outstanding young people to the Chobani Scholars program and to the U of I College of Agricultural and Life Sciences," said Michael Parrella, CALS dean.
The Chobani Scholars program was established at U of I in 2018. The scholarships are for Idaho students with family connections to dairy farming and who intend to pursue a career in the dairy farming industry. In addition to the scholarship, the Chobani Scholars will also have an opportunity to intern with Chobani during their college careers.
The 2021 Chobani Scholars include:
Reina Elkin graduated from Buhl High School and plans to major in pre-veterinary science. "I want a career in the ag industry because I'm fascinated by the opportunities that are available for women especially. I plan to use my degree to develop my knowledge in pursuing a career as a veterinarian."
Juan Jaquez graduated from Minico High School in Rupert and plans to major in pre-veterinary science. "I know that dairy farms have a huge place in the economy of Idaho. This is why I want to become a veterinarian because I will help farmers have healthy cows to grow Idaho's economy."
Ariana Olmos graduated from Minico High School in Rupert and plans to major in pre-veterinary science. "I would like a career in dairy farming because it's part of a huge industry in southern Idaho and I would like to come back and help communities here. These opportunities will lead me to have real world experiences."
Avrie Ottley graduated from Burley High School and plans to major in dairy science. "Obtaining a degree will give me more opportunities for a higher paying job, better positions and a stronger understanding of the agricultural work force."
---
Faces and Places
UI Extension Water Outreach led by Jim Ekins is among a very small group of organizations that won the Best of Coeur d'Alene Award for six consecutive years. The honor qualified the U of I program for the 2021 Coeur d'Alene Business Hall of Fame.
---
Events
Sept. 8 — CALS Welcome Back Picnic, Guy Wicks Field, 4-6 p.m.
Sept. 17 — Steer-A-Year Donor Appreciation event, Kuna
Oct. 20 — "Identifying Apples: A Multifaceted Approach," Heritage Orchard Conference, 10-11:30 a.m. PDT
Feedback or suggestions? Please pass them along through calsnews@uidaho.edu