Catching Up with CALS — Aug. 25, 2021
Dean's Message — Elevating 4-H
A new initiative by the University of Idaho Extension 4-H Youth Development program promises to expand its support for young people throughout the state. Unprecedented financial support from the Idaho Department of Health and Welfare will make it possible.
Twenty 4-H professionals joined to prepare the most comprehensive plan to expand the program's offerings for youth in individual counties, regionally and statewide.
The Idaho Department of Health and Welfare's Idaho Community Program granted 4-H a total of $5.8 million to make the plan reality. That total rose in recent days to $7 million.
The hard work by our 4-H professionals and the willingness of Idaho Health and Welfare officials to support their plan will truly transform the lives of many, many young people.
The most extensive program on the list will engage and support youth across the state through four projects ranging from creating several trailers outfitted as maker spaces to teaching healthy living.
The trailer-based Think Make Create Labs will provide mobile opportunities for students in kindergarten through eighth grade. They will learn science, technology, engineering, art and math (STEAM) principles with hands-on activities.
Other projects in the statewide program will expand opportunities for individual young people to participate in 4-H and help counties launch and sustain new 4-H programs.
Three regional projects will focus on STEAM opportunities for children ages 5 to 13 on the Nez Perce and Coeur d'Alene Tribe reservations, outdoor education for social and emotional learning at the Cascade Lake 4-H Adventure Camp and 4-H positive development and outreach programs for children in military families.
At the county level, projects will encourage youth to learn more about science in gardens and develop math skills through activities from robotics to sewing. Others will organize fun days to draw youth to educational offerings or allow young people to experiment with drones and 3-D printing.
The impressive depth and expertise of 4-H county- and state-level faculty made the projects a reality. Those qualities also gave state officials confidence that the money was a wise investment in communities and young people.
Trying to capture the highlights and the range of excellent work in such a short summary cannot do justice to all of those who contributed to the successful effort.
So let me say congratulations to the team that capitalized on the opportunity to make the lives of young people better across Idaho. Thanks also to UI Extension Director Barbara Petty and UI Extension 4-H Youth Development Director Jim Lindstrom for their efforts to develop and support the professionals who made it happen.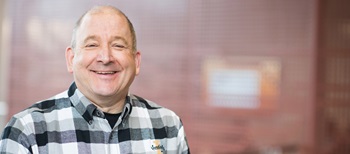 Michael P. Parrella
Dean
College of Agricultural and Life Sciences
---
By the Numbers
95% of winter wheat and 71% of spring wheat are in the bins as hot dry weather across Idaho accelerated this year's harvest. The spring wheat total is nearly 40% ahead of last year at this time and winter wheat is almost 20% ahead through Aug. 22, the USDA National Agricultural Statistics Service reported. The spud progress looked more like a countdown: 8% complete this year, 7% complete last week, 6% complete last year at this time and 5% complete by late August according to the 5-year average.
---
Our Stories — 4-H Opportunities Expand
The Idaho Community Program supports efforts to help children bounce back from a tumultuous school year through educational activities that support learning and behavioral health.
"That sounds a lot like 4-H, doesn't it?" said Jim Lindstrom, director of the UI Extension 4-H Youth Development program.
State officials clearly agree. The Idaho Department of Health and Welfare program solicited agencies and organizations to submit proposals for activities to help children regain their educational momentum after a pandemic year.
The UI Extension 4-H Youth Development program responded with 14 initial proposals for projects. Some will reach across the state, others will focus on the county level. The state agency's program funded all of them.
For generations of state residents a century-long history of 4-H clubs and activities make the 4-H clover one of the nation's most recognized youth organizations. The 4-H youth development program now reaches more than 70,000 young people across Idaho through club activities, after-school programs and informal science education efforts.
The funding will allow 4-H to fully put into play more educational programs focused on science, technology, engineering, art and math or STEAM projects already in progress. Others struggled unsuccessfully to find funding. And still others will help 4-H fully realize the potential of efforts already underway.
An example of the last would include a statewide fleet of Think Make Create trailers designed to help schools, clubs and organizations offer children the chance to use high-tech equipment.
"The original plan was our partners would provide the supplies for the children to do their projects," Lindstrom said. "The funding will allow us to send the trailers out with everything youth need for the activities."
Other projects will equip 4-H educators and UI Extension offices with kits to teach groups of young people. Schools or groups will borrow the boxes to offer lessons focused on specific topics and designed for different age groups.
Another 4-H program will build on 4-H ties to federal child nutrition programs and deliver innovative programs. One such effort, Soccer for Success, provided adults to oversee a soccer program that also offered nutrition education along with healthy snacks.
In all the original proposals and three more announced just this week will provide nearly $7 million in funding during the next year. The money will launch activities available statewide and regionally, and others for smaller-scale projects in 19 of Idaho's 44 counties.
"This is a game changer for us," Lindstrom said. "I would say it's unprecedented. In the past we always came up with great ideas and ways to help Idaho's kids and then we cobbled together support."
"This support will help us show we can really step up to help youth in urban areas and in rural areas," he said.
---
Ramsay Research Unit Honors a Life's Work
Family members, students, colleagues and friends of the late Samantha Ramsay, a successful young associate professor in the Margaret Ritchie School of Family and Consumer Sciences, gathered Friday to honor her memory and dedicate the Ramsay Research Unit in the Niccolls Building.
Mentors from Washington State University, former U of I graduate students and faculty colleagues described Ramsay, a nutritional physiology researcher, as a fierce advocate for her work and her students.
She earned bachelor and master's degrees from WSU and her doctorate from U of I. She served on the U of I faculty from 2010-17.
Similar successes marked Ramsay's life and career, her family, students and colleagues noted, from winning a faculty promotion and tenure to establishing a research program early in an academic career. Her life and career ended in 2017 in an accident as she pursued her passion for outdoor adventures, establishing strong bonds with fellow faculty members and scores of students.
She traveled internationally to establish ties with other researchers and she pursued ties with Idaho-based funders seldom approached by those in her discipline.
Among those funding her work was the Idaho Wheat Commission which funded her project to test children's taste preferences for whole-grain breads made from hard white wheat and the more traditional hard red wheat.
To accurately gather the scientific data needed for her work, Ramsay influenced a major building remodel to incorporate a versatile workspace to interview and test subjects, and an observation booth to monitor them.
Those areas provide the core of the Ramsay Research Unit that provides space and equipment for students to conduct nutrition research with human subjects.
The lab will help future researchers continue her efforts to understand better nutritional physiology for people of all ages.
The space will accommodate teaching, research and outreach. It will also serve as a student lounge and study space for family and consumer sciences students.
---
Faces and Places
The CALS meat science team just returned from the American Meat Science Association Reciprocal Meat Conference in Reno, Nevada. Four students presented posters in both competition and general sessions. Jessica Lancaster, who finished her doctorate at U of I in May, placed third in the Ph.D. research poster competition. Lancaster is now a management trainee at Buckhead Meats in Houston, Texas. Pictured from left are professor Phil Bass, master's student Brooklyn Epperson, doctoral student Jessie Van Buren, doctoral student and Steer-A-Year manager Kayleen Oliver, master's student and AMSA Student Board of Directors Western Section representative Sierra Jepsen, master's student Mikayla Heimbuch, recent U of I doctorate recipient Jessica Lancaster and professor Michael Colle.
Katie Walker-Shira presented Idaho Beef Council-funded research relating to heifer maturity at the national meeting of the American Association of Animal Science in Louisville, Kentucky. She won second prize in the Ph.D. research poster award category.
---
Events
Sept. 8 — CALS Welcome Back Picnic, Guy Wicks Field, 4-6 p.m.
Sept. 17 — Steer-A-Year Donor Appreciation event, Kuna
Feedback or suggestions? Please pass them along through calsnews@uidaho.edu