Catching Up with CALS — July 28, 2021
Dean's Message — Teamwork Wins
One of the pleasures of serving as dean is leading, or perhaps a better description would be, enjoying the results of a winning team.
The recent celebration to unveil the new renderings for the Idaho Center for Plant and Soil Health at the Parma Research and Extension Center provided a highlight and marked the $7 million campaign that relied on state, private and college resources that made it possible.
Before that there was the gathering at the Nancy M. Cummings Research, Extension and Education Center to celebrate the new headquarters there funded again by private and CALS funds.
So, too, is the feeling of pride in CALS accomplishment in the nearing completion of the Seed Potato Germplasm Laboratory along Perimeter Drive on the Moscow campus that we will celebrate this fall. Again, state, private and CALS funding make it possible.
The point here is these markers all chart a consistent strategy. CALS succeeds because it relies heavily on collaboration both internal and external, our teams in strategic initiatives and communications work closely with the teams of raise funds for these efforts.
Our office of academic programs works closely with the various academic departments across our college. The Idaho Agricultural Experiment Station, essentially our research enterprise, works closely with UI Extension, our outreach endeavor.
And, of course, the list goes on at the personal level throughout our more than 400 faculty, staff and students employed by the college.
Collectively and individually, CALS strives to coordinate our efforts within the college, across the U of I and other colleges and universities in Idaho and beyond. That attitude mirrors our individual efforts to connect with stakeholders and residents of farms, ranches, towns, cities and counties.
A new issue of the publication AgProud came across my desk recently. It featured five articles written by seven UI Extension and CALS faculty and a recent graduate. The Idaho Farm Bureau and Capital Press and media across the state regularly cover our efforts, too.
Those stories, in print or broadcast media, help raise our profile in many communities. In most places, though, the workshops, field days, fairs and multitude of personal contacts all contribute to people knowing us and appreciating what we do.
CALS chooses its course based on what Idaho residents tell us what they need. Or we respond to what our academic colleagues at U of I or elsewhere and business and political leaders identify as challenges and opportunities ahead for agriculture and communities.
At our best, CALS represents and connects with people. The successes reflect that simple formula.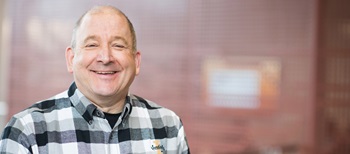 Michael P. Parrella
Dean
College of Agricultural and Life Sciences
---
By the Numbers
0%, as in not a drop of surplus water to be seen, was the story for Idaho topsoil and subsoil moisture levels across Idaho, according to USDA National Agricultural Statistics Survey reports through July 25. Adequate water offered a slightly better scenario with 27% of topsoil and 34% of subsoil moisture meeting that test. Most of Idaho fell into the short category with 29% of topsoil and subsoil moisture hitting that mark. Very short moisture defined 44% of topsoil and 37% of subsoil.
---
Our Stories — Workshop teaches resilience
In a particularly dry spring in northern Idaho, regenerative ranching techniques pay off for producers. Using management-intensive grazing techniques, pastures are more resilient, increasing production and stock carrying capacity.
UI Extension collaborated with USDA-SARE, Northwest Farm Credit, and the Kootenai-Shoshone Soil & Water Conservation District to sponsor a two-day workshop, Regenerative Ranching in the Idaho Panhandle: Intensive Management of Dryland Pastures.
This unique two-day workshop, held June 4-5, featured morning classroom instruction at the UI Extension Post Falls Research Park and hands-on, field-based instruction at the Lazy JM Ranch near Hauser Lake in the afternoons.
Participants who wanted to learn more and others are encouraged to attend the four-day Lost Rivers Grazing Academy, planned near Salmon, Idaho, Aug. 17-20.
Keynote speaker Larry Cundall, a Wyoming rancher honored with a national Environmental Stewardship Award in 2019 and a national Champion of Change award in 2013, spoke about managing grazing lands to increase productivity while protecting wildlife and natural resources. USDA Sustainable Agriculture Research and Education (SARE) funding sponsored the keynote speaker and provided additional funding for the workshop.
Gracious farm hosts and regenerative ranchers John and Betty Mobbs gave presentations on their pasture renovation and marketing techniques. John's son Travis Mobbs, who also practices regenerative ranching techniques on a neighboring ranch, led a classroom-style activity in the hay barn, and later gave a tour of his lush pastures during this droughty spring.
Management-intensive grazing techniques and principles were presented by UI Extension Emeritus Faculty Chad Cheyney, who developed the long-running Lost Rivers Grazing Academy in eastern Idaho.
UI Extension Beef Specialist Scott Jensen taught the workshop's twenty participants power fencing techniques for facilitating rotational grazing. As they wandered through lush green pastures, Bonner County's USDA-NRCS Resource Conservationist Cindy Lewis taught students to measure forage using pasture sticks. With this information, participants were divided into three groups and instructed to determine the proper paddock size for a 24-hour period for each group's assigned cattle.
Using a rain simulator, participants viewed both run-off and infiltration through three different soil and sod samples. USDA-NRCS Conservation Team Lead Aubrey Hoxie and Soil Conservationist Andrea Burton from Coeur d'Alene applied 3 inches of rain to the samples. Runoff and drainage comparisons were easily observed in the clear gallon containers located at the bottom of each sample trough and also underneath each sample. Runoff from healthy pasture soils was nearly clear, while the bare soil sample was noticeably muddy.
Friday night featured a producer panel led by John Mobbs and his son Travis, keynote speaker Larry Cundall, and Tess Hahn, a local sheep producer using rotational grazing and silviculture techniques. Friday night's Farm-to-Table style dinner featured grassfed, slow-cooked brisket and fresh local vegetables under tents at the Lazy JM Ranch.
Back in the classroom on Saturday morning, professor emeritus Gray Henderson explained nutrient cycling in healthy soils within the context of regenerative ranching. UI Extension faculty and agricultural economist Kate Painter used a partial budget analysis approach to teach participants how to determine breakevens and risks of proposed changes on the farm.
Dung beetles were the featured topic for Larry Cundall's lecture on Saturday, and were a popular topic throughout the rest of the workshop as participants performed inspections in the field.
On Saturday, participants were eager to check the grazing progress of their cattle groups. One grazing cell was too large, one was too small, and one was just right! The final activity of the evening was held at Sue Rohrback's property, the Boisen Ranch, leased and managed by Travis Mobbs. Workshop participants helped Travis create a new grazing cell and move the cattle, who were eagerly awaiting the fresh green pasture.
More information is available from UI Extension educator in Bonner County Kate Painter, kpainter@uidaho.edu, or UI Extension educator and Owyhee County chair Scott Jensen, sjensen@uidaho.edu.
Kate Painter wrote this story.
---
Faces and Places
Chris Schnepf, Post Falls-based UI Extension professor and area Extension educator in forestry, was selected as a fellow of the Society of American Foresters.
---
Events
Aug. 17-20 — Lost Rivers Grazing Academy, Salmon, Contact: owyhee@uidaho.edu or 208-896-4104
Sept. 24 — CALS Alumni Awards
Sept. 24-25 — CALS Days
Feedback or suggestions? Please pass them along through calsnews@uidaho.edu