Catching Up with CALS — July 14, 2021
Dean's Message — Sandpoint Progress
CALS and U of I celebrated the acquisition of the Sandpoint Organic Agriculture Center (SOAC) three summers ago.
The center will mark another milestone at month's end with U of I President Scott Green's leadership retreat for administrators and deans from across campus and statewide.
The group will spend two days meeting to assess the university's current status and plan for its future. I am confident the high quality of the Sandpoint center's meeting areas and catering capability will provide a pleasant surprise for our first-time visitors.
Through the capable direction of Superintendent Kyle Nagy, the center's reputation as an information source for organic and heritage fruit production grew substantially during the first three years.
Two years ago, the first Heritage Orchard Conference drew 80 participants to the center and Sandpoint, an auspicious start.
What could have been a lost summer in 2020 turned into a new opportunity for the center when Kyle helped organize and lead a nine-month series of monthly Zoom meetings focused on a wide range of topics.
The 2020-21 Heritage Orchard Conference gathered presenters from coast to coast to talk about efforts to track down lost apple varieties and community involvement in conserving heritage orchards and fruits.
The series attracted some 1,200 participants from across the U.S. and 18 countries and helped position SOAC, CALS and U of I in an important agricultural conversation.
The U of I helped substantially with the effort by investing in better broadband access for the center through an Idaho Department of Commerce Rural Broadband grant. That grant provided substantial support for public wireless access through UI Extension offices in Boundary, Bonner and Kootenai counties and elsewhere.
Efforts to integrate SOAC into CALS and the community continue to expand as well. The work builds on its reputation established before CALS acquired the center through a generous gift from Sandpoint businessman Dennis Pence and his family.
The U-pick raspberry patch began drawing visitors to the center this week. The visitors may come to fill baskets with the fruits of summer, but they will also see small flocks of sheep and chickens that will also play roles in SOAC's research and Extension missions.
The sheep will be onsite primarily to control common tansy, a hardy and highly-invasive weed that plagues much of northern Idaho and outcompetes native forage species used by wildlife and livestock. The chickens will demonstrate the use of poultry in providing insect control and other benefits, including eggs donated to the local food bank.
The center's Educational Market Garden helps interns learn to use modern small farm equipment like precision seeders. Produce from the garden also goes to the food bank.
An organic agriculture project led by Department of Soil and Water Systems head Jodi Johnson-Maynard also uses SOAC as part of its research to help local producers and food system.
Members of the Department of Plant Sciences received a grant from the Idaho State Department of Agriculture's Nursery Advisory Committee to use the center to evaluate native, minimal-maintenance, drought-tolerant and pollinator friendly species for landscaping use. Much of Idaho lies within USDA Plant Hardiness Zone 4, although some areas are in Zone 3.
In some years Idaho gardeners face a growing season of only 21 days as they contend with the challenges of short-season landscaping. The study developed by Bob Tripepi and Steve Love aims to expand the list of available plants that will do well in this environment.
As summer continues, local markets will offer shoppers heritage fruit varieties back to their tables. We in CALS are confident SOAC's contributions to the community and agriculture will continue to expand.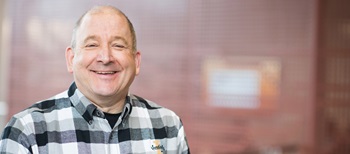 Michael P. Parrella
Dean
College of Agricultural and Life Sciences
---
By the Numbers
105 degrees marked the monthly high temperature on June 29 at CALS' Palouse Research, Extension and Education Center Parker Farm east of Moscow. Bracketed by 101 degrees on the 28th and 104 degrees on the 30th, June went out like a solar flare. The string wasn't hot enough for a record, though. Farm operations supervisor Roy Patten's records show the record high of 109 degrees stretches back to August 1961.
---
Our Stories — Parma Celebrates a Win
U of I and CALS welcomed Idaho Gov. Brad Little to the Parma Research and Extension Center Tuesday to celebrate the success of efforts to create the Idaho Center for Plant and Soil Health.
The governor signed into law a funding bill passed overwhelmingly by the Idaho Legislature in mid-March to provide $3 million in state funding for renovations at the Parma R&E Center. That appropriation is matched with $3 million from agricultural industry contributions and $1 million from CALS to fund the work.
Architectural renderings of the new Idaho Center for Plant and Soil Health provided the focus for Tuesday's celebration that drew an estimated 100 supporters. The college plans to complete design work and begin construction next year and complete the Parma renovations in 2023, CALS Dean Michael Parrella said.
The new center will expand the sizeable impact CALS and UI Extension efforts have in the region, said Chandra Zenner, U of I's Boise-based southwest Idaho CEO. She represented U of I President Scott Green at the event.
"And I am sure it is obvious to everyone, this investment in the Idaho Center for Plant and Soil Health will only elevate and enrich the ways in which we serve Idaho," Zenner said.
Green thanked those who joined together to make the project a reality from the governor and legislators to agricultural commodity groups and companies who supported the project financially, she said.
The devoted members of the Parma agricultural community deserved special praise for their perseverance in pursuing the project, she said.
Beyond its importance to research, the new center will also enrich students' educations when they spend time at Parma with world class faculty, she said.
Much of the credit for the successful vision that led to the new center rests with the Parma Research and Extension Center's faculty, staff and students, Parrella said. "Their hard work has kept Parma as a relevant and valuable resource for growers state and regionwide."
The U of I's presence in Parma began a century ago with work to control the alfalfa weevil. In 1925, residents raised funds to formally establish the R&E center.
Parma research now serves one of the nation's most diverse cropping areas and the wide swath of farmers who grow more than 100 crops, including potatoes, sugar beets, onions, apples, grapes, hops, beans, mint, seed crops and other commodities. Private funding came from nine commodity groups, eight individual growers, companies, the J.A. and Kathryn Albertson Foundation and others.
Tuesday's event marked a remarkable success story in several ways, Parrella said. The private fundraising campaign booked its first contribution in April 2019 and reached its goal in March, a quick result.
On a longer timescale, the event concluded an amazing turnaround. In 2008, 13 years earlier, college officials warned the Parma R&E Center faced closure because of funding shortfalls created by the Great Recession.
A fierce group of Parma proponents mobilized and fought to keep the center operating. The renovations and creation of the Idaho Center for Plant and Soil Health will help make their goal reality, Parrella said.
Taken together, Parrella said, "that unique blend of partnership has not only transformed Parma's future, it's also been the template for any of the successful initiatives we've undertaken as a college."
---
Faces and Places
Morgan Smith, who earned a bachelor's degree in agricultural economics this spring, collaborated with CALS professors Pat Hatzenbuehler, Steven Hines and Katherine Lee to analyze cover crop plantings in Idaho in 2012 and 2017 for a class project. Ag Proud Idaho published her report this month.
---
Events
Sept. 24 — CALS Alumni Awards
Sept. 24-25 — CALS Days
Feedback or suggestions? Please pass them along through calsnews@uidaho.edu