Catching Up with CALS — June 30, 2021
Dean's Message — Happy Returns
Our return to a more normal world kicked into high gear during June with FFA career development events (CDEs) and the UI Extension 4-H Youth Development State Teen Association Convention (STAC) on the Moscow campus.
The CALS Department of Agricultural Education, Leadership and Communications safely held limited district CDEs even during the pandemic, but last week's events surpassed recent years' turnouts.
We also welcomed a large crowd for the 4-H youth development program's STAC June 21-24 that drew more than 100 youth and adults to campus.
Both programs help young people learn about agriculture and life sciences through both formal and informal educational opportunities. More importantly, they help young people develop skills that will serve them and society well.
The U of I is planning for a major effort to communicate with Idahoans, alumni, leaders and those we serve in the broadest sense with an initial focus on student success.
Recent summits held with CEOs and other executives within Idaho and university leaders explored what they wanted to see in our graduates.
First, Idaho's industry leaders want to see students who are adept at the "soft" skills. They want graduates who are confident, can speak and write effectively, and work well in teams. My thoughts immediately turned to student members of FFA and 4-H who master those skills through their involvement in these formative programs.
The CDEs drew more than 1,000 registrants including 885 high school students, who participated in 17 career development events to test their knowledge, skills and teamwork. The students hailed from 57 chapters across Idaho led by 97 advisors and 28 adult volunteers.
This year's events on campus were the first major face-to-face gathering of statewide FFA members in 15 months and enthusiasm was high, both among FFA and here at U of I.
Horse evaluation, floriculture and nursery/landscape CDEs were added this year to the normal Moscow schedule to compensate for the lack of a regular annual meeting at the College of Southern Idaho in Twin Falls.
The 4-H STAC drew a similar group of committed young people and adults who will practice leadership development through fun tests of their skills and knowledge. They also learned about teamwork through community service and toured local businesses.
Both FFA and 4-H groups benefited from an evening event on the lawn in front of Theophilus Tower to expand opportunities for all U of I colleges to participate in providing information that may help convince more members to come here.
Although the FFA and 4-H events on campus are not recruiting events, we recognize that these young people who come to Moscow are exactly the group we want to enroll as students here.
The entire campus recognizes this, and students were afforded the chance to visit with and explore many opportunities on campus from multiple colleges and programs.
This is a wise investment in our time as we anticipate that these programs will provide a continued source of excellent students for many years to come. Although CALS and the College of Natural Resources are likely to see the largest number of students from these programs, the diversity of student interests suggest multiple colleges will benefit.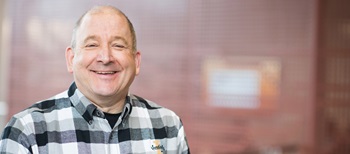 Michael P. Parrella
Dean
College of Agricultural and Life Sciences
---
By the Numbers
100% of Idaho's onion crop and 93% of the state's potato and sugar beet crops ranked in good to excellent condition through June 27, the USDA National Agricultural Statistics Service reported. 91% of the corn crop ranked good to excellent. Pasture and range conditions showed the most stress from heat and drought with only 13% in good condition and 37% in poor to very poor condition.
---
Our Stories — Center HQ Party Draws a Crowd
The grand opening of the Nancy M. Cummings Research, Extension and Education Center's new headquarters Saturday near Salmon brought together Auen family members, CALS leaders, donors and others who worked together to create the center during the past 20 years.
"It was a great day Saturday," Center Superintendent John Hall said. "We worked hard, all of us here in CALS, the Auen family and the donors, to create a station that will serve the community, students and the cattle industry."
The new headquarters building with its classroom and offices is the culmination of those efforts, Hall said. The two decades of work transformed a working cattle ranch into a center equipped to conduct research, extend science-based knowledge to the public and expand educational opportunities.
Donors for the new headquarters include the Auen and H.N. and Frances C. Berger Foundations, the Steele-Reese Foundation, the Idaho Cattle Foundation, the Nick and Sharon Purdy family, the Daisy and Boyd Yee family, the Tom and Diana Nicholson family, and Nikos Monyios and Valerie Brackett.
"My mother had a love for the Salmon River Valley and wanted it to flourish in its own special way," said Sherrie Auen, Nancy M. Cummings' daughter and Auen Foundation trustee. "The center is a catalyst for important research and expansion in the field of agriculture. Our family and the Auen Foundation are proud of what the center has already accomplished and the possibilities that are to come."
"The Nancy M. Cummings Research, Extension and Education Center is exactly the type of project the Berger Foundation looks to support because it helps people help themselves through education and hands-on experiences," said Catharine Reed, vice president of charitable programs for the H.N. and Frances C. Berger Foundation. "Knowing that the facility had additional funding support from the Auen Foundation and the community is also important, because we know that others are invested in the success of this facility."
The dedication ceremony drew more than 100 people to tour the new building and celebrate the progress with the Auen family.
The center is also drawing others who have supported its development, Hall said. The Idaho Cattle Association toured it recently and faculty from the CALS Department of Animal, Veterinary and Food Sciences met there for a strategic planning retreat. The Young Cattlemen's College held a workshop at the center.
Expanding educational opportunities for U of I students and more collaboration with campus faculty rank among his top priorities, Hall said. So does expanding Salmon River Valley use of the facility for educational purposes.
---
FFA,
4-H

Events Draw Youth to Campus

Idaho FFA members and UI Extension 4-H Youth Development teens celebrated the return to near-normal during events on the U of I Moscow campus during June.
The FFA Career Development Events (CDEs) drew 1,010 registrants, including nearly 900 teens, to campus in early June for an expanded program that partly compensated for the canceled state convention in April.
The 4-H State Teen Association Convention (STAC) in late June drew a happy turnout eager to make up for lost time due to last year's STAC shift to a virtual event. This year's smaller turnout largely reflected a cap on the number of delegates resident on campus. The three CDEs new to Moscow included floriculture, horse evaluation and nursery/landscape, and that helped push turnout over the thousand-mark, said Jim Connors, Agricultural Education, Leadership and Communications Department head.
When STAC teen leaders began meeting last fall, the pandemic was still developing, and in early spring when logistics planning peaked, large gatherings in close quarters were still discouraged, said Jim Lindstrom, 4-H state director in Moscow.
U of I officials capped in-person registrations at 60 teens to comply with state and federal Centers for Disease Control and Prevention guidelines. This year's event drew about 100 participants overall, counting chaperones, 4-H leaders and others.
The 4-H planning included a virtual option, Lindstrom said, but after a year of Zoom classes and 4-H club meetings, few teens opted for more screen time. "They're Zoomed out," Lindstrom said.
This month's STAC did start the ball rolling for a more robust event in 2022, though. Teens begin planning for the next summer later this fall, and those who came to Moscow were excited to gather again for an in-person event.
The FFA piloted a new event this year, CDEs on the Green, to help members explore higher education options. Part friendly games and part information booths from more than a dozen U of I colleges and departments, the evening event was a hit, Connors said.
The new event also helped U of I reach an important pool of prospective students, Connors said. A new effort to better understand the link between FFA and the university indicates that some 30% of incoming CALS first-year students attended a CDE or other FFA event in Moscow.
---
Faces and Places
Katlyn Scheer, UI Extension Twin Falls County Americorps instructor; Suzann Dolecheck, UI Extension Twin Falls County Extension educator, 4-H Youth Development; and Dacia Hernandez-Hansen, School 21st Century Community Learning Center program coordinator, won the National Association of Extension 4-H Youth Development Professionals (NAE4-HYDP) national Specialty Award: Excellence in After School Programming Award. Riley Lierman and Katlyn Scheer, UI Extension Twin Falls County Americorps instructors, and Suzann Dolecheck won the NAE4-HYDP national Communication Award: Promotional Package-Team award. This award-winning promotional materials advertised Twin Falls County's "Homeschool w/ Us" program.
---
Events
Sept. 24 — CALS Alumni Awards
Sept. 24-25 — CALS Days
Feedback or suggestions? Please pass them along through calsnews@uidaho.edu