Catching Up with CALS — June 2, 2021
Dean's Message — Learning By Doing
Here in CALS, our mission is research, Extension and teaching. Students play big roles in all three.
We conduct research to find science-based answers to issues that affect individuals, families and communities, mostly with a focus on family and consumer sciences and agriculture. We educate students to be ready to take their places in the workforce in fields too numerous to list, and beyond that to be useful, productive citizens.
Our faculty of professors, educators and instructors do much of their teaching in classrooms and in more informal settings like workshops or public programs. Our UI Extension educators and specialists hold field days that draw together those with specific interests.
One area that we try to emphasize is our undergraduates's ability to learn by working in research laboratories or similar endeavors. This may not get the attention it deserves but is certainly a priority of the campus. One of President Scott Green's pillars of student success is the experience that undergraduate research brings.
Anyone who looks at a bulletin board in a CALS building will likely see a help-wanted sign advertising jobs in a laboratory or field project. As an undergraduate at Rutgers University, I had the opportunity to get involved in a summer research project at Coastal Research Center on Nacote Creek in Port Republic, New Jersey. That experience coupled with an inspirational professor changed my life.
Many research support positions offer students entry-level work, washing glassware, pulling weeds, feeding cattle, conducting surveys or taking care of young children in our early childhood development laboratory. The jobs might pay by the hour or offer summer internships.
Although these jobs may not sound glamorous, they offer entree into the world of research where more meaningful interactions can occur between the student, professor, graduate students and postdocs who may be part of a larger research project.
These jobs are essential to the college's mission, and research would stall without part-time workers and interns. Extension professionals can focus more attention on their most important duties with interns to help with more general tasks. Teaching becomes more effective when students learn basic principles through experiences that also demonstrate how research works.
In CALS, I am confident saying that our students can take advantage of these work experiences if they so choose. With roughly 1,000 undergraduate students and more than 200 faculty, nearly all of whom are involved in research, teaching and outreach/Extension — opportunities abound.
Many of our professors work hard to win grants to expand these experiential learning opportunities. We are close to finalizing one new program that will expand our approach in an exciting new area. I look forward to sharing the news about this when things are finalized.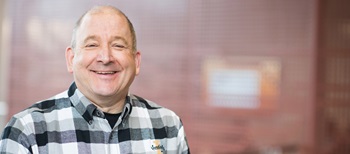 Michael P. Parrella
Dean
College of Agricultural and Life Sciences
---
By the Numbers
Idaho milk production rose 14 million pounds or 1% in April to 1.366 billion pounds compared with the 1.352 billion pounds recorded in April 2020, according to the USDA National Agricultural Statistics Service. The number of cattle on feed in Idaho's 1,000-animal and larger feedlots rose to 295,000 head, up 5% from May 2020 and 2% from April's total.
---
Our Stories — Study Eyes Dairy Risk
Idaho's dairy producers face greater and more frequent financial risks than most other businesses because prices for their products and their supplies can change rapidly. Despite sudden market changes, dairy operators need to continue production levels due to long lead times to build that capacity.
A team of University of Idaho economists' latest project will study how dairy producers manage their financial risks and ways the producers' perceptions and actions affect their operations. The team also will seek improved risk management practices to offer dairy producers.
Despite milk markets' sometimes wild price swings, dairy herds require constant attention, through milking, feeding, veterinary care, reproductive management and other actions. The squeeze between costs and returns often presses hardest on the small to medium-sized dairy operations.
"The impetus behind this is you have the small dairy producer that wears 10 hats and they really don't have the time and effort to work really hard at this," U of I agricultural economics professor Aaron Johnson said.
The small producers' multiple duties include human resources, environmental compliance, herd health, contracts and numerous others, he said. Finding time to work through risk management strategies may seem an impossible dream, however necessary.
"In contrast large dairy producers generally hire financial experts who monitor feed and milk prices, develop risk management strategies and employ sophisticated financial tools to deal with volatile markets," said Hernan Tejeda, a U of I agricultural economics assistant professor and dairy Extension specialist.
The new study differs from past studies because it will focus on the process dairy operators follow in deciding how to manage their financial risks, Johnson said. The focus on smaller-scale producers reflects where help is needed most.
Small- and medium-sized operations are economically possible, but they need to focus also on their business numbers besides their cows, Tejeda said.
"We want to help them make the case for the risk management tools that are available and then use them," Johnson said. "Our overarching question is if you were to have one risk management strategy applied to margins, what would that best practice be?"
"We also want to understand the underlying behavioral economics," said team member Andres Trujillo-Barrera, a U of I agricultural economics assistant professor. "Our research assesses how dairy producers of all sizes and types perceive risk and identify barriers that keep them from adopting risk management tools."
Risk management gained increasing attention from agricultural producers in recent decades. Idaho ranks third nationally in milk production behind California and Wisconsin. "All Idaho dairies are family owned, and despite the very large dairies, there is still a comparable number of small- to medium-sized operations," Tejeda said.
The three-year study funded by the U.S. Department of Agriculture National Institute of Food and Agriculture will include three main parts. It will begin with a survey of dairy operators about their attitudes toward risk management and their approaches to it.
The survey will feed into a review by a panel of experts who will help to develop portfolios of risk management strategies to assist operators' efforts to protect profit margins and remain in business.
The third goal will focus on testing those portfolios against actual market conditions to fine tune strategies for dairy operations of different sizes. Once the study is finished, results will be circulated among dairy producers in Idaho and beyond.
The new study differs from past studies because it will focus on the process dairy operators follow in deciding how to manage their financial risks, Johnson said.
This project, titled "Risk Management by Dairy Producers: Perception, Practice and Barriers to Adoption," is funded under the U.S. Department of Agriculture No. 2021-67023-34476. The total project funding is $499,709.
---
Faces and Places
Donna R. Gillespie, a Twin Falls-based University of Idaho Extension professor and regional youth development educator, wraps up a 23-year career with University of Idaho Extension at the end of May. She began her career with UI Extension in 1978 after earning bachelor's degrees in veterinary science and animal industries, and a master's degree in meat science from U of I. She was among the first women to serve as agricultural Extension agents in Idaho. Since her start with U of I, she enjoyed a successful career in Extension and the 4-H youth development program. Gillespie earned a national reputation for award-winning 4-H youth leadership programs that included the 4-H Know Your Government conference, State Teen Association Convention and 4-H Ambassadors.
The American Dairy Science Association selected Victoria Favorit as the 2021 recipient of the ADSA Foundation Graduate Student Literature Review Award: Production Division (MS). She is a graduate student at U of I studying lactation physiology with Amy Skibiel, an assistant professor in the Department of Animal, Veterinary and Food Sciences.
---
Events
June 12 — Sagebrush Saturday: Birds, Birds, Birds! Rinker Rock Creek Ranch, 9-11:30 a.m. MDT
June 26 — Nancy M. Cummings Research, Extension and Education Center headquarters grand opening and 20th anniversary celebration, Carmen, 4-6 p.m. MDT
Feedback or suggestions? Please pass them along through calsnews@uidaho.edu