Catching Up with CALS — June 16, 2021
Dean's Message — Connecting Again
I recently traveled to southern Idaho for several events and always enjoy these forays to the southern part of the state. Such trips have been nonexistent over the past COVID-19 year, and it is exciting to finally be approaching a "new" normal. These trips give me the opportunity to expand my relationship with CALS faculty and staff, and to reconnect with members of the state's agricultural community.
I look forward to visiting the upper Salmon River Valley toward the end of June to celebrate the grand opening of the new Nancy M. Cummings Research, Extension and Education Center headquarters. Again, I am eager to mingle with college faculty and staff, and those who CALS is here to serve.
The event at our research, extension and education center focuses on the new office-classroom building. It also celebrates 20 years of collaboration with the Auen family of Palm Desert, California.
The center honors Sherrie Auen's mother, Nancy M. Cummings, who lived in the Salmon River Valley and believed strongly that greater educational opportunities were needed.
Beginning in 2001, Sherrie and her late husband, Ron Auen, and daughter Catharine Reed led the way to making that vision reality.
The Idaho Cattle Association will hold its summer meeting in Salmon and will help us commemorate our progress there. ICA members have been strong supporters of the Cummings center.
The building we will celebrate was funded primarily by donated funds from a coalition of backers and investment from the college. Gifts from the Auen Foundation and the H.N. and Frances C. Berger Foundations led the way. The Auen Foundation began the process of donating the former Hot Springs Ranch to the university in 2001 to create the center.
NMCREEC is the modern template for how we get things done in CALS. Parma is another example. We could not have succeeded in our effort to renovate facilities there and create the Idaho Center for Plant and Soil Health without support from the agricultural industry.
Commodity commissions and companies responded to the need to improve the Parma Research and Extension Center by committing financial support. The college contributed funds, too. And Idaho legislators visited Parma to do their own due diligence and committed state funds.
We will dedicate the Seed Potato Germplasm Laboratory on the Moscow campus on Saturday, Oct. 23. It again shows the power of coalition building. The Idaho Potato Commission and private growers provided key financial backing to make that project happen. And again, the college and the state contributed funds to make the project a reality.
My recent trip south and visits with a subset of the Food Producers of Idaho and other key stakeholders gave me confidence that our mission is as important now as it was when U of I was founded.
We work to educate Idaho's future workforce and our research and Extension efforts provide answers to keep agriculture, communities and our state moving forward. The various coalitions that support our efforts remain committed to the same goal, and this will continue to be a critical component to positioning CALS to best serve Idaho agriculture.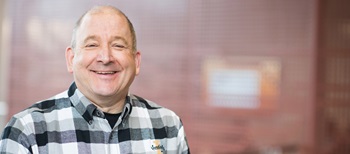 Michael P. Parrella
Dean
College of Agricultural and Life Sciences
---
By the Numbers
92% of Idaho's potato crop rated good to excellent through 6/13, the USDA National Agricultural Statistics Service reported. That's better than the 38% good to excellent rating for winter wheat or 28% for spring wheat. Barley rated 43% good to excellent, and beans hit 44% good to excellent. Sugar beets rated 73% good to excellent, corn 90% and onions 99% good to excellent.
---
Our Stories — Project Probes Sheep Genomes
A U of I-led project will define how different genomes determine unique qualities of popular domestic sheep breeds and Rocky Mountain bighorn sheep.
The mechanisms by which genomes have adapted in environments to produce a diversity of observable traits is a focus of the study. Some of the different domestic sheep include Suffolk, East Friesian, Navajo Churro, St. Croix, Awassi, Merino and Polypay, a breed that was developed in Idaho in the 1960s.
U of I animal scientist Brenda Murdoch will lead the $500,000 study funded by the U.S. Department of Agriculture National Institute of Food and Agriculture. She is an associate professor in CALS Animal, Veterinary and Food Sciences Department.
The research will provide basic genetic data that will increase understanding of how genomes result in different biological traits and empower scientists to more effectively predict the physiological outcomes for improved breeding strategies.
The future uses may help ranchers assess their herds to identify the most productive and disease-free animals and decide which to keep and which to send to market.
Murdoch's collaborators will include researchers from USDA Agricultural Research Service, Utah State University, New Zealand AgResearch and the Roslin Institute in Edinburgh, Scotland.
The team chose the sheep breeds for the economic value of their diverse biological traits, Murdoch said. Some such as the bighorn and St. Croix draw recognition worldwide for their esthetic appeal and for their susceptibility and resistance to disease and parasites. Others were selected for their excellence in more commercial biological traits such as milking, meat and fiber. Finally, some sheep where selected because something in their genome allows them to thrive in hot and desert conditions.
The project reflects a new strategy for mapping the variation of genomes in a species' "pangenome," its complete genomic catalog with its associated biological traits. Called trio binning, the method defines the two parents' unique contributions to the offspring.
Each parent contributes half of its genome to the offspring, and the offspring represents both of the parental genomes. The researchers will take the offspring to analyze their genetic sequences and the parents' contributions.
Through increasingly common technology, scientists can readily sequence genes to predict a plant or animal's vulnerability to diseases, its productivity and other characteristics.
The pangenome project will give researchers a more panoramic view of the genetic traits that make sheep what they are.
Genes form the building blocks of the traits that make species from sheep to humans, but often it is how many genes work together that determines how organisms survive.
The potential payoffs are diverse. They range from finding ways to increase survival of wild bighorn sheep by identifying individuals that are less susceptible to pneumonia to strategies to maximize profits by better matching domestic sheep flocks to range conditions.
---
Faces and Places
UI Extension's Kate Painter, Danielle Gunn, Jason Thomas, Jennifer Jensen, Nic Usabel and Sarah Baker recently won awards from the National Association of County Agricultural Agents.
---
Events
June 26 — Nancy M. Cummings Research, Extension and Education Center headquarters grand opening and 20th anniversary celebration, Carmen, 4-6 p.m. MDT
Feedback or suggestions? Please pass them along through calsnews@uidaho.edu