Catching Up with CALS — May 19, 2021
Dean's Message — Protecting Pollinators
A growing understanding of pollinators and interest in protecting them bodes well for agriculture and the natural world.
Much of the interest in bees, beetles, butterflies and other pollinators reflects appreciation for their beauty, for their roles in food production and for their importance as part of our natural biodiversity.
A recent meeting organized by UI Extension, Latah County agriculture educator Iris Mayes served as a follow-up to the Pollinator Summit she and others organized in February. It brought together some of U of I's experts and others from business and government organizations.
As an entomologist, it was a pleasure to hear from Ron Bitner, who founded a successful family vineyard and winery. That's in addition to employing his entomology education in service to pollinators throughout his career.
Bitner's knowledge and passion help pollinators get the recognition they deserve. Much of his professional career focused on bees and his work with the Pollinator Partnership, an international organization, continues to bring needed attention to problems and solutions.
Bitner wants the U of I and CALS to become more involved in pollinator efforts, and I agree with his argument that the importance of pollinators to agriculture makes more attention a wise investment.
How we do that, of course, is never a trivial consideration. The college has long considered adding a pollination specialist to the Parma Research and Extension Center to serve the seed, vineyard and orchard industries.
UI Extension educators and specialists take on projects as they can. Brad Stokes, UI Extension educator in Elmore County, is working on collecting and identifying bees there and his work has led to Mountain Home as a Bee City USA and Monarch City USA affiliate. Last year, Brad received a national award from the North American Pollinator Protection Campaign for his efforts.
Brad will enlist the help of Luc Leblanc, who curates the William F. Barr Entomological Museum here in CALS. Leblanc put together a beautiful and useful poster of Idaho butterflies last year that highlighted a group of valuable pollinators that seldom seem to get much more than a passing glance.
In addition to helping faculty, Leblanc has enough bee work to keep him busy for a while. The museum's collection includes 47,373 bee specimens with about 40% of them identified to species level. Luc also compiled a working list of bee species recorded in Idaho — an astonishing 707. This impressive number needs to be validated, but it suggests Idaho's bee fauna ranks among the most diverse of any state.
That identification effort, too, is no trivial undertaking. The Idaho State Department of Agriculture's Paul Rhoades earned his doctorate here by studying native Palouse pollinators. Historical records suggest 257 native bee species inhabited the area. He identified 179 species during his research.
The importance, even the awareness of native bees, sometimes gets lost in the attention paid to honeybees. Their status as the world's most extensively and intensively managed pollinator and essential role in crop production merit that attention.
Just having conversations like the recent one serve a purpose, but they also oblige us to do more than just talk. The next steps require us to act.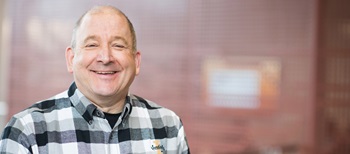 Michael P. Parrella
Dean
College of Agricultural and Life Sciences
---
By the Numbers
53% of topsoil moisture ranked as adequate through May 16, the USDA National Agricultural Statistics Service reported, but 36% was short and 11% was very short. Subsoil moisture ranked slightly better with 55% adequate, 36% short and 9% very short. Pasture and range conditions fared better with 29% in good condition, 59% fair, 8% poor and 4% very poor.
---
Our Stories — Project Tests AI to ID Pests
A University of Idaho project will use smart phones and artificial intelligence to automate identification of pests that cost wheat growers millions of dollars each year.
Entomologist Marek Borowiec will lead a team who will gather images of crop-sapping aphids and other insect pests.
Funded by the U.S. Department of Agriculture National Institute of Food and Agriculture, the four-year project will create an app to identify 11 species of insect pests that threaten wheat-based farming.
The insects threaten wheat and common rotation crops including peas, chickpeas, barley, oilseeds including rapeseed, canola and mustard, among others.
Borowiec developed a similar process to identify ants with artificial intelligence and an underlying neural network that functions much like the human brain. He showed artificial intelligence can identify many of North America's most common ants.
Researchers for years sought ways to use technology to improve the ease and accuracy of insect pest identification. They succeeded — to a point. And that point is the critical link between what the farmer sees and what the farmer can learn and do to solve the problem — if one exists.
Borowiec, an assistant professor in CALS, will work with two senior colleagues in the Department of Entomology, Plant Pathology and Nematology, Arash Rashed and Sanford Eigenbrode.
The project's main goal focuses on improving integrated pest management or IPM. The method seeks to help farmers know both when or when not to act. They might spray pesticides to control insects or decide not to spray because the costs, financial or environmental, would outweigh the potential damage.
Identifying insect pests can require a hefty investment of time and effort using conventional methods. As a result, many farmers choose to take the safest course and apply pesticides at the first sign of insects.
Many aphids and other crop threats sometimes do little if any damage if they do not carry viruses that could ruin yields. The project also will focus on the cereal grass aphid, a newly identified invasive species that may pose a serious threat to wheat and barley crops.
Artificial intelligence can help to accurately identify the actual insects and the threat they pose. First someone has to train the program. One of his students already downloaded 1.4 million insect images from citizen science websites as a start.
"Definitely one of the big challenges will be collecting data," Borowiec said. The project will use at least 1,000 images from each of 27 classes of insects, from individual species or groups, to "train" the artificial intelligence program.
This project, titled "Harnessing Artificial Intelligence for Implementing Integrated Pest Management in Small-Grain Production Systems," is funded under the U.S. Department of Agriculture No. 2021-67021-34253. The total project funding is $499,500.
---
Faces and Places
UI Extension's Ariel Agenbroad and Allen Taggart will help Boise transform its 20-acre Spaulding Ranch property into a park honoring Ada County's agricultural heritage. The city project was the focus of an Idaho Farm Bureau story. Agenbroad is an area Extension educator, community food systems and small farms. Taggart is an Extension educator, 4-H youth development. Both are based in Extension's Ada County office in Boise.
---
Events
Feedback or suggestions? Please pass them along through calsnews@uidaho.edu