Catching Up with CALS — April 7, 2021
Dean's Message — Finding a Way
CALS relies on federal, state and private support to teach students, conduct research and extend knowledge about agriculture and life sciences to Idaho's residents and many others far beyond the state's borders.
We appreciate the strong support the Idaho Legislature and others have shown for our programs. Balance requires me to say that we also recognize the need for additional support in some areas to meet existing needs and to be able to expand into other critical areas.
My purpose here, though, is to recognize the growing emphasis by our faculty and research scientists to find and win new grants to make us better at what we do.
The projects that usually draw the most attention are the big, multimillion-dollar efforts that involve multiple universities. They are critical to much of what we do both in Idaho and in building collaboration with other institutions that will in turn involve us in future projects.
Animal, veterinary and food sciences professor Carolyn Bohach's work to build the Idaho IDeA Network of Biomedical Research Excellence has delivered more than $60 million to 11 Idaho higher educational institutions over nearly 20 years.
The National Institutes of Health and National Science Foundation networks designed to build scientific capacity in less-populous states recently honored her as the second recipient of its Fred Taylor Award. Her selection as the top choice from among the 24 participating states recognizes her personal achievements and U of I's efforts to serve the common good.
More recently, Idaho Agricultural Experiment Station Director Mark McGuire's $10 million sustainable agricultural systems grant last year created a team to help Idaho and its vital dairy industry address critical issues.
Sometimes smaller grants address the most immediate issues. Another animal, veterinary and food sciences professor Pedram Rezamand stepped beyond his role as an expert in dairy cattle nutrition to lead a team that will improve the university's distance education technology.
He worked with fellow AVFS faculty, others from agricultural economics and rural sociology, and university information technology to win a $404,000 U.S. Department of Agriculture grant to improve our video technology at UI Extension county offices and research and education centers across the state.
The grant will also help faculty bring video streaming capability to field-based lectures so students who cannot attend physically can still benefit from the lessons.
And that is a lesson CALS researchers and faculty across the board are increasingly embracing. When they see a need, they are finding the resources to meet it from multiple sources.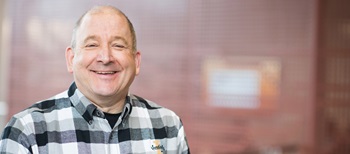 Michael P. Parrella
Dean
College of Agricultural and Life Sciences
---
By the Numbers
18% of the crop planted by April 4 puts onions in the lead of spring work by Idaho's farmers so far, statistics by the USDA National Agricultural Statistics Service. At 17% sugar beets are close behind, followed by spring wheat and barley at 16%. Dry edible pea plantings came in at 12% followed by oats at 8% and potatoes at 6%.
---
Our Stories — Seed Potato Lab Takes Shape
Construction recently passed the halfway mark for the new Seed Potato Germplasm Laboratory across Perimeter Drive from the ASUI-Kibbie Activity Center.
Progress so far makes the projected July 23 completion date a reasonable goal, U of I project manager Redgy Erb said. The building will house the U of I Seed Potato Germplasm program which provides virus cleanup services and disease-tested plantlets and minitubers to the potato industry.
The 9,800-square-foot laboratory will include a large, light-filled public space capable of seating 80 with an overhead door connected to a patio. The windows look eastward to a view of the Kibbie Dome. The building will also include offices to house laboratory staff.
At its core, the laboratory will live up to its name. Banks of walk-in coolers and growth chambers will provide biologically secure areas to maintain and propagate the more than 300 genetically distinct potato lines that are its purpose.
The new laboratory is designed with enough capacity to triple the production of plantlets and minitubers that are the foundation of Idaho's seed potato and ultimately commercial potato industry. The lab also supplies materials to buyers across the U.S. and internationally.
The $5.2 million project was funded with support from the Idaho Potato Commission, State of Idaho, Northwest Farm Credit Services, private growers and CALS.
The new building employs the steel and glue-laminated wood beam construction that is a nod to the new Idaho Central Credit Union Arena that is nearing completion near the Kibbie Dome.
Construction on the new laboratory began last fall with an extensive excavation on the site, which is between U of I Facilities and the historic beef barn. The presence of fill dirt dumped from the site of the university's previous open-air football stadium that preceded the dome made the extensive excavation necessary.
It was about seven weeks ago that the Ginno Construction crew poured the floor slab for the building. That cleared the way for the rise of the steel and glue-lam beam skeleton that is now largely framed into public office and gathering spaces and secure laboratory and propagation areas.
The large gathering area is at the building's eastern side so it will share an outside area with the planned Agri Beef Center for Meat Science and Innovation Honoring Ron Richard. A fundraising campaign for that building is in progress.
---
NIH Honors Bohach Idaho NIH Network Efforts
A U of I scientist recently won the Taylor Award, a national recognition for her efforts to expand the biomedical research opportunities for colleagues in 11 higher education institutions statewide.
Carolyn Hovde Bohach, a CALS microbiologist, directs the National Institutes of Health-funded Idaho IDeA Network of Biomedical Research Excellence.
The Idaho network won more than $60 million in NIH funding during Bohach's 15 years as director. The NIH investment in turn helped Idaho researchers successfully compete for additional funding for their projects.
The INBRE program is based in the U of I College of Science, and Bohach is a professor in the College of Agricultural and Life Sciences Department of Animal, Veterinary and Food Sciences. Much of her work focused on E. coli O157:H7, which can cause serious disease if people eat contaminated produce or undercooked meats.
During the network's first 11 years, it invested $13.4 million in Idaho researchers' projects. The projects in turn attracted another $170 million in grants. Overall, the network has funded more than 435 faculty members at Idaho schools.
The network supported programs about science for more than 40,000 K-12 students, 3,816 undergraduates and 411 graduate students.
The Idaho network also created industry internships for undergraduate students and pioneered student exchange programs with other INBRE states.
"I think the reason I won this award is we've done some very innovative things in Idaho," Bohach said. The industry internships, for example, give students experience in taking measurements and collecting data in company settings.
The network funds faculty biomedical research, student opportunities and scientific infrastructure at the University of Idaho, Boise State University, Brigham Young University-Idaho, College of Idaho, College of Southern Idaho, College of Western Idaho, Idaho State University, Lewis-Clark State College, North Idaho College, Northwest Nazarene University and the Idaho Veterans Research and Education Foundation at the Boise VA Medical Center.
The NIH Institutional Development Award program expands opportunities for researchers in 23 states and Puerto Rico with historically low capacity to compete for federal funding.
Bohach was recognized by the 25 states participating in the NIH IDeA program and a similar National Science Foundation program. The National Science Foundation-funded Established Program to Stimulate Competitive Research (EPSCoR) and NIH Institutional Development Award program operate in 25 states and three U.S. territories.
She became the second recipient of the W. Fred Taylor PhD Award for Outstanding Contributions to the NIH IDeA Program. The award honors the 20-year NIH administrator who led the IDeA program.
The award is given by the EPSCoR/IDeA Coalition and Foundation Boards.
---
Faces and Places
Yimin Chen of the Margaret Ritchie School of Family Consumer Sciences was chosen as the focus of a spotlight feature by the American Society for Nutrition Early Career Network. An assistant professor of nutrition and director of the school's graduate studies, she studies the nutritional qualities of human milk.
---
Events
Feedback or suggestions? Please pass them along through calsnews@uidaho.edu