Catching Up with CALS — April 21, 2021
Dean's Message — Promoting Excellence
CALS research and Extension professor Juliet Marshall will become the college's Plant Sciences Department head in mid-May, a next step in her 29-year career with U of I.
I'm excited at the prospect of what she will bring to the department. Her selection is also a clear vote of confidence in her abilities and the abilities of all off-campus faculty who work around the state.
Selecting Juliet to lead the Plant Sciences Department is a testament to the high quality of our off-campus faculty members and that they should have the same opportunities to advance.
Marshall is the college's first off-campus faculty member in memory to lead a CALS academic department. Certainly her expertise in agronomy and plant pathology earned her widespread respect since she joined CALS in 1992.
The Idaho Wheat Commission chose Marshall, a cereal agronomist and plant pathologist, to receive the "Potlatch Joe" Anderson Cereal Agronomics Professorship that was endowed with $1 million in 2016. The endowment income helps her conduct research and Extension that is critical to growers' success.
Her work at both the Aberdeen and Idaho Falls Research and Extension Center focused on addressing a number of critical crop production problems including making recommendations to control stripe rust, an important cereal disease.
She also conducted cereals variety trials, research in cereal pathology, product testing and fertility for end-use quality.
Marshall brings a strong academic background to the job. She earned her doctorate at the University of Illinois, Urbana-Champaign and master's and bachelor's degrees at the University of Delaware.
To continue her support for the cereal industry, she will remain based in southern Idaho and maintain her research and Extension activities. Plant sciences faculty, in conjunction with Marshall, may decide to continue its practice of choosing an associate department head to take on specific responsibilities.
Parma-based agronomist Mike Thornton served in recent years as associate department head together with Moscow-based department head Bob Tripepi. Both will return to their former positions — Bob will resume teaching and research on campus and Mike will return to research and outreach at the Parma R&E Center.
Both deserve thanks for stepping into administrative positions. The Department of Plant Sciences is stronger for their service.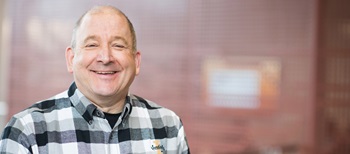 Michael P. Parrella
Dean
College of Agricultural and Life Sciences
---
By the Numbers
38% of Idaho's potato stocks from the 2020 harvest of 134,775,000 hundredweight remained on April 1, according to a USDA National Agricultural Statistics Service report. The 51,000,000 hundredweight made up nearly 39% of the national supply.
---
Our Stories — Marshall to Lead Plant Sciences
Plant pathologist and agronomist Juliet Marshall, a 29-year member of the CALS and UI Extension faculty, will become the new head of the Department of Plant Sciences May 16.
As a cereal agronomist, Marshall conducted research on a wide range of issues affecting wheat and barley growers from variety selection to end-use quality. As a plant pathologist, she provided timely updates about the threat from disease organisms that helped growers to target spraying and other management practices.
In 2013, the Idaho Wheat Commission selected Marshall to receive the "Potlatch Joe" Anderson Cereal Agronomics Professorship at U of I. The commission donated $1 million to endow the professorship, and the annual proceeds help fund her research.
The Idaho Barley Commission honored her with its Service Award in 2016.
Her work with fungal diseases stripe rust and fusarium head blight, which is also known as wheat or barley scab, made her popular with grain growers who saved millions of dollars by heeding her advice.
The two diseases present very different threats, she said.
Stripe rust causes extensive damage when conditions are right, when a cool, wet and windy spring sets the stage for infection. Growers who time fungicide applications can keep it under control, those who don't, won't control it on susceptible varieties and could lose nearly all of their crop. Growers who spray when conditions aren't right for stripe rust get little more than peace of mind but pay a lot for it.
Fusarium head blight or FHB scab is far more complex. It became more of a challenge as southern Idaho's dairy industry grew and with it the demand for corn. A more predictable threat, FHB is now common where corn, wheat and barley production overlaps. In addition to yield loss, the significant threat reflects its ability to contaminate small grains with fungal toxins that impact human and animal health. Reducing the Fusarium threat relies on sophisticated control strategies.
As department head, Marshall intends to continue her research and Extension work to help growers, she said, although she'll be more of a general than front-line commander. "To my mind, the capable staff I've worked with will give growers the information they need when they need it," she said.
Her focus will shift to working with new research and Extension faculty members to help them develop their programs to serve the state.
Marshall becomes the first southern Idaho-based head of a CALS academic department in memory, working mostly in the Idaho Falls Research and Extension Center. She also works from the Aberdeen R&E Center and others across the state.
CALS Dean Michael Parrella said he is excited to see what Marshall will contribute to the Plant Sciences Department. Her selection offers a clear signal that the college's field-based faculty members have demonstrated expertise and achievements equal to colleagues based on the Moscow campus.
Her connection to wheat and barley growers and the agricultural community in general across southern Idaho will help her recruit new students and connect Moscow-based faculty with growers and other stakeholders, she said.
Marshall's selection won praise from colleagues who said it showed statewide UI Extension and academic faculty members that their work is equally respected, Parrella said.
Parrella thanked professor Bob Tripepi, who began a term appointment as plant sciences head in 2017, for his leadership of the department. He took on the role after the college reorganized the former Plant, Soil and Entomological Sciences Department.
---
CALS Team Wins National Dairy Event
A student team from the CALS Department of Animal, Veterinary and Food Sciences won the National Intercollegiate Dairy Challenge April 14-16.
The competition presented students with an applied dairy management challenge. Teams analyzed a commercial farm and presented their observations and management recommendations to a panel of industry professionals.
The CALS team won a first-place platinum award in the competition, which was sponsored by the National Intercollegiate Dairy Challenge organization.
Each team of four students used its classroom education to consult with dairy operators to improve their businesses. Panels of dairy producers, veterinarians, farm-finance specialists and agribusiness professionals judged the student teams' efforts.
Twenty-six universities in five separate brackets participated in the 2021 virtual Dairy Challenge. The U of I team included pre-veterinary science major Taythen Larson of Albion, dairy science major Nicole Poxleitner of Cottonwood, animal science-production major Taylor Stephenson of Kuna and animal science-production major Sadie Hurley of Filer. The team members won $200 scholarships and plaques.
Dairy science professor Amin Ahmadzadeh coached the winning team.
U of I agricultural economics-business major Morgan Smith of Connell, Washington, and animal science-production major Raina O'Leary-Langston of Emmett were members of an aggregate team that won the second-place runner up award. They received $100 scholarships and plaques.
The team analyzed the Wall-Stone Holsteins dairy of De Soto, Wisconsin. The free stall dairy operation milks 870 cows in a double, double-12 parallel parlor with 22 full-time employees.
---
Faces and Places
CALS Department of Entomology, Plant Pathology and Nematology graduate students brought home five of six poster competition awards from the recent Pacific Branch of the Entomological Society of America annual meeting. Master's student poster competition winners included Samikshya Aryal, first; Sujan Panta, second; and Bijay Subedi, third. Doctoral student poster competition winners included Dane Elmquist, first, and Karuna Nepal, third. Presenters at the meeting included doctoral students Jessica Fung and Anna Rodriguez, and master's student Nick Morris. Faculty presenters included EPPN distinguished professor Sanford Eigenbrode; biology professor James VanLeuven; EPPN professor Justin Clements and EPPN postdoctoral fellow Subodh Adhikari.
---
Events
Feedback or suggestions? Please pass them along through calsnews@uidaho.edu