Catching Up with CALS — March 24, 2021
Dean's Message — Strong Support
For CALS faculty and staff across the state, last week brought welcome news.
Idaho Gov. Brad Little set the tone early with his budget that included strong support for CALS and its priorities. The Idaho Legislature in turn showed that it supports what we do — unanimously.
The Agricultural Research and Cooperative Extension Service budget for fiscal 2022 passed the House with 69 yeas and no dissenting votes. It earlier passed the Senate with 34 yeas and no dissenting votes.
As dean, my job is to ask for financial support, and this is made so much easier by the outstanding work done by our faculty across the state. It is that work, and the visibility and impact of that work, that resonates and reinforces the very important concept that we are a good investment. There is a significant ROI when the state invests in the ARES budget.
Legislators decide whether to fund CALS, the Idaho Agricultural Experiment Station and UI Extension based on what we deliver from our nine research and extension centers, our county offices and from Moscow.
Putting aside today's good feelings, we cannot become complacent and think legislators and stakeholders will always feel the same. We must focus on continuing to connect with and support the people who depend on us. But for today, we can be grateful and celebrate a little.
CALS also received another vote of affirmation in the passage of HB225, the third of Gov. Little's "Building Idaho's Future" bills, which included a $3 million allocation for the Center for Soil and Plant Health located at the Parma Research and Extension Center.
A dozen stakeholders and commodity commissions already committed $3 million to the project and CALS added $1 million for the most significant project at Parma in many years. New laboratories will help talented researchers at Parma to do their best work.
The funding reflects both the need and the long record of achievement by faculty members Essie Fallahi, Mike Thornton and Saad Hafez. Fallahi's fruit field days attract hundreds of visitors each summer to view his research and to sample its fruits. Our faculty's research helps Idaho's farmers protect their crops and improve both quality and yields.
The next generation of researchers James Woodhall, Olga Walsh and Justin Clements are making their own contributions to improve pest control and applying precision agriculture technology.
It bears repeating: As dean, I make the "ask" for financial support and explain the needs and the goals. When legislators and stakeholders decide to fund a project, they invest in our faculty and in their good work. Congratulations.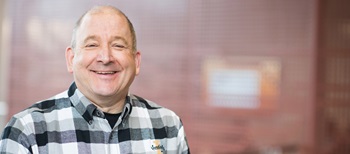 Michael P. Parrella
Dean
College of Agricultural and Life Sciences
---
By the Numbers
37% — the increased value of Idaho honey production in 2020 hit $6,554,000, up from $4,769,000 in 2019 meant Idaho's honeybees must have worked overtime. The average yield per colony rose to 35 pounds from 32, a 9% jump to a total of 3,745,000 pounds for Idaho's 107,000 bee colonies. So did the rise in the average price per pound, which jumped to $1.75 in 2020 from $1.62, an 8% rise. Increased consumption lowered honey stocks by 40,000 pounds to 637,000 pounds on Dec. 15 compared to 677,000 pounds on Dec. 15, 2019.
---
Our Stories — Grant Improves Education Tech
A new project to improve digital access for rural residents will help University of Idaho experts and offices provide better connections and information for students, community members, farmers and ranchers.
A $404,596 U.S. Department of Agriculture grant to U of I and CALS will invest in equipment to improve internet access and communication technology at 28 sites in 27 counties statewide.
The project will upgrade equipment at UI Extension offices in 21 counties, five CALS research and extension centers, the university's Rinker Rock Creek Ranch near Hailey and the Moscow campus.
The upgrades will range from high-end video equipment for digital classrooms across the state to mobile carts for researchers and educators to use at remote sites. UI Extension offices in several counties will receive computers that can support high-speed connections.
Animal, veterinary and food sciences professor Pedram Rezamand led the team that won the grant. He teaches and conducts research on dairy nutrition.
The COVID-19 pandemic's push to increase the options available for college students and professors highlighted the need for better technology.
"If I want to give a lecture to students at a remote location, I need better equipment to deliver the information," Rezamand said.
The grant will pay for remote-broadcasting mobile carts to equip professors with computer and camera gear to stream high-quality lectures live from the field.
The technology will help UI Extension educators and specialists to better serve farmers, ranchers and the public in general, too, said Mireille Chahine, an Extension dairy specialist based in Twin Falls.
The federal program emphasized adding capacity for both distance learning and telemedicine. The improved access funded by the grant will expand veterinary medical opportunities for the public as well, Dr. Denise Konetchy said.
The former owner and clinical practitioner of a rural mixed veterinary practice, she teaches undergraduates in AVFS and senior veterinary students in the Washington-Idaho-Montana-Utah veterinary education program. This technology could provide students with remote access to a variety of animal treatment experiences is a critical part of their education, she said.
The team includes faculty from the agricultural economics and rural sociology department and from the university's information technology department. The grant includes a $63,000 match from the U of I and CALS, Rezamand said.
---
Vandal Giving Day Celebrates U of I April 6-7
The U of I and CALS invite alumni and friends to celebrate the university's efforts to provide students with quality educations and serve Idaho by participating in Vandal Giving Day April 6 and 7.
CALS and U of I also invite dedicated volunteers to sign up as Vandal Giving Day ambassadors to encourage friends and family to help this year's effort surpass the record-setting total set last year.
Vandal Giving Day ambassadors who sign up online will receive everything needed to spread the word in personal networks and encourage others to contribute to the programs they love.
Volunteers can also set up a match or challenge to encourage others to give by creating friendly competition to unlock pledged donations and expand the impact of personal gifts.
CALS offers opportunities to donate to individual academic units at vandalsgive.uidaho.edu/cals. A new opportunity this year also allows individuals to directly support county 4-H offices at vandalsgive.uidaho.edu/idaho4h.
---
Faces and Places
Margaret Ritchie School of Family and Consumer Sciences associate professor Erin Chapman won the University of Idaho's 2021 Virginia Wolf Distinguished Service Award, which is named for Virginia (Ginny) Wolf, a professor of physical education at U of I from 1964-82. Chapman works to create a campus climate of inclusion with her expertise on issues facing women and couples.
---
Events
Feedback or suggestions? Please pass them along through calsnews@uidaho.edu