Catching Up with CALS —March 10, 2021
Dean's Message — CALS Ambassadors
The CALS Ambassadors bring remarkable energy to our efforts to recruit and retain students.
Their efforts and those of our Academic Programs staff helped put the college in a good position this spring — we have more students than ever before who have applied and been admitted to U of I.
Now we must focus as a college on maintaining those prospective students' interest and helping them to enroll in fall semester classes.
Associate Dean and Academic Programs Director Matt Doumit recently invited me to witness an important moment in the ambassadors' year.
The evening session gathered the two dozen CALS ambassadors and a larger turnout of students interested in joining the group. There are rewards for those who do: scholarships and experiences that pay direct dividends as ambassadors prepare for and pursue their careers.
As the oldest ambassadors group at U of I, the CALS operation runs like clockwork. Founded in 1982, the college's program offers important lessons in collaboration to address current issues and networking. The selection process for new members relies on the current ambassadors to evaluate the candidates.
We will see which candidates become ambassadors. I am confident the new additions will dedicate themselves to their mission and to CALS as all the ambassadors have done during my first five years here.
Their reality and that of CALS will mean much work ahead. We need the ambassadors to continue visiting with high school students on Zoom and in person. Those personal connections provide key links to help prospective students decide to become enrolled students this fall.
The ambassadors don't carry all that responsibility, of course. The Idaho FFA program ranks as one of our best recruiting channels, and CALS Department of Agricultural and Extension Education (AEE) plans some enhancements to it later this year.
The FFA State Convention traditionally held in Twin Falls each spring changed significantly in 2020 because of the pandemic. So did career development events (CDE) normally held at U of I in June.
This year, our strong collaboration with FFA and agricultural education teachers statewide may expand the list of CDEs held on the Moscow campus. We believe that FFA and UI Extension 4-H Youth Development program members who visit Moscow for events leave the campus with a very favorable impression of U of I. At the same time, because of their experience on campus, perspective students are more likely to become enrolled students.
The ambassadors' and AEE department's efforts provide the hard work to make that belief reality.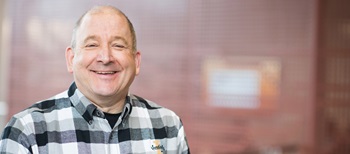 Michael P. Parrella
Dean
College of Agricultural and Life Sciences
---
By the Numbers
29 of 111 or 26% of new freshmen from Idaho who enrolled in CALS in 2020 had attended at least one Idaho FFA career development event in previous years on the Moscow campus, Department of Agricultural and Extension Education statistics show. 31 of 110 or 28% of new freshmen from Idaho who enrolled in CALS in 2019 had attended an Idaho FFA CDE on the Moscow campus.
---
Our Stories — CHS Funds Precision Ag Focus
The U of I plans to create a precision agriculture education certificate program and offer a workshop this summer to help high school teachers include new developments in their classes.
The new program expands on recent CALS efforts to help Idaho's farmers and ranchers operate more efficiently, improve yields and better protect the environment through precision agriculture.
The CHS Foundation boosted the precision agriculture certificate program with a $272,676 gift announced Wednesday to fund expanded college classes and the summer workshop. The foundation donated a total of $1 million nationwide and is funded by gifts from CHS, the nation's largest farmer-owned cooperative.
"We believe precision agriculture and diversity and inclusion are two of the most pressing issues facing the future of agriculture," CHS Foundation President Nanci Lilja said. "The ag industry needs to be innovative in the way we attract talent and how we evolve our agronomic practices for the future. These seven colleges and universities are delivering on those innovations and have unique approaches to reaching the next generation of ag leaders."
The new certificate program will include five new or revised college classes to help students become professionals who better understand the technology, applications and benefits of precision agriculture. The college plans to submit the program to the Idaho State Board of Education for approval this spring.
"Our interest in precision agriculture reflects its use by our researchers, requests from stakeholders to University of Idaho Extension professionals and our students' need to graduate workplace-ready," said Jodi Johnson-Maynard, Department of Soil and Water Systems head.
While the new U of I precision agriculture certificate program will be available to students in all majors, the majority of students are expected to come from six different departments. Nearly 600 students in those disciplines are studying in areas specifically addressed by the new classes. The project is expected to include 11 high school agricultural teachers in the initial phase.
The CHS Foundation grant will fund work to revise existing classes and add new ones focused on hands-on experience with precision agriculture equipment, online learning experiences and integrating experts including farmers, equipment companies and data analysts.
The project aims to offer certification for both online and on-campus students. Certificate holders will be able to install, set up, operate, analyze and troubleshoot precision agriculture systems needed for profitable and sustainable food production systems.
The CHS Foundation funded the U of I project and six others across six states that will affect 10,000 students. More information is at chsfoundation.org.
---
Exhibit Tracks Fashion Migration West
Pre-Civil War to Gilded Age dresses and other apparel displayed on the U of I campus through March 11 offer glimpses of fashion's evolution over five decades more than a century ago.
Organized by CALS Margaret Ritchie School of Family and Consumer Sciences, the exhibit draws on the oldest items from its Leila Old Historic Costume Collection.
"Fashion Migration West: Transformation of Apparel from Civil War to the Gilded Age" is in the Ridenbaugh Hall West Gallery at the corner of Blake Avenue and Nez Perce Drive in Moscow.
The exhibit is free and open to the public Wednesday from 12:30-4 p.m. and Thursday from 4-7 p.m.
One of the oldest items in the exhibit is a wool dress made in about 1840 that was donated by Belle Sweet, the U of I's first professionally trained librarian, who joined the university in 1905 at age 26.
The U of I Library on March 1 tweeted an animated photo of Sweet, who retired in 1948.
The exhibit follows successful events in recent years with live models to display items from the collection, said Sonya Meyer, a professor in the School of Family and Consumer Sciences' apparel, textiles and design program.
"Working with the collection, I soon realized we have several treasures that need to be shared with the public," she said. "A gallery exhibit is the only way to do so with limited stress on the garments."
Meyer thanks the College of Art and Architecture for the use of the oldest brick building on campus as a historic setting for the exhibit.
---
Survey Polls Women Farmers, Ranchers
Women are essential to Idaho farms and ranches, and a new U of I online survey explores opportunities and challenges they face.
The "Women Farmers and Ranchers on the Rise in Idaho" project asks women involved in agriculture to participate in the statewide survey.
The project is the first of its kind in Idaho. The Idaho Women Farmer and Rancher Survey remains open until April 30. Women producers can take the anonymous survey at http://tinyurl.com/id-women-in-ag. A Spanish version is available through the same link (Usar el mismo enlace para Español).
Responses will help the U of I team better understand Idaho's women in agriculture. The survey seeks ways UI Extension educators and other technical assistance providers can better support the success of women farmers and ranchers in Idaho.
The "Women Farmers and Ranchers on the Rise in Idaho" project is funded by a grant from the USDA National Institute of Food and Agriculture (NIFA) Agriculture and Food Research Initiative grant No. 2019-68006-29325.
More information is available from Project Manager Ryanne Pilgeram at rpilgeram@uidaho.edu or Colette DePhelps cdephelps@uidaho.edu.
---
Faces and Places
Two teams of CALS dairy science students Raina O'Leary, Nicole Poxleitner, Morgan Smith and Taylor Stephenson, and Mikayla Heimbuch, Kelsi Houchin, Sadie Hurley, Taythen Larson and Jordan Osborne took first places in the virtual Western Regional Dairy Challenge March 3-5. Animal, Veterinary and Food Sciences Department professor Amin Ahmadzadeh advised the teams.
---
Events
Feedback or suggestions? Please pass them along through calsnews@uidaho.edu