Catching Up with CALS — Feb. 10, 2021
Dean's Message — Investing Wisely
We recently celebrated the generosity of Northwest Farm Credit Services and its $2 million gift to CALS programs.
The gift is remarkable in several ways, not the least of which is its size. The total means the gift will allow the college to make significant progress.
Important, too, is the list of programs that will benefit, ranging from $25,000 for student scholarships to $925,000 to move forward the Agri Beef Meat Science and Innovation Center Honoring Ron Richard.
Both elements will offer important help to students, who will receive immediate help from the scholarships, and long term by creating a dynamic new facility for meat science research and education. Idaho and agriculture will benefit from the improvements by welcoming better-educated graduates to the workforce.
The other half of the gift will include $25,000 to create a new chapter of Minorities in Agriculture, Natural Resources and Related Sciences (MANRRS) and $500,000 for the Idaho Center for Agriculture, Food and the Environment.
Like society in general, agriculture grows more diverse each year. The new MANRRS chapter will support our work to attract a mix of students who mirror the state and the industry.
In addition, with creation of this chapter at U of I, we will be joining more than 60 institutions nationwide, including most land-grant universities in the U.S. who already have MANRRS chapters. This represents a powerful network that cross-links student engagement and interaction at the national level and ultimately speaks to student success.
Finally, Northwest Farm Credit Services' gift provides $350,000 for the Wayne Thiessen Potato Research Professorship Endowment and $175,000 for the Idaho Center for Plant and Soil Health at the Parma Research and Extension Center.
The potato industry's importance to Idaho's economy and its national and international reputation for agricultural excellence cannot be overstated. CALS research and outreach will benefit, and so will the farmers who rely on our work.
I believe Northwest Farm Credit Services rightly foresees a return on its investment through more economic activity.
And while we celebrate a major gift, it is important to consider the company's long record of support for U of I and for CALS. Past gifts, including from NWFCS parent company CoBank, helped expand the Barker Trading Program in the College of Business and Economics to include more programs focused on agriculture and more collaboration with CALS.
We also appreciate support for 4-H programs, student scholarships and internships. It should be noted that NWFCS has already benefited from its relationship with CALS — some of our best students now work for NWFCS.
As dean, Northwest Farm Credit Services' willingness to engage early in the development process has given gravitas to the overall fund-raising effort. On the flip side, their support has helped put a bow on wrapping up fundraising campaigns, with Parma as a notable example.
In short, saying thank you to a major financial institution that demonstrates a commitment to investing in our future, the state's and its own industry's is an easy task. In return, we will do our part to live up to the confidence the gift demonstrates by fulfilling our mission as the state's land-grant university.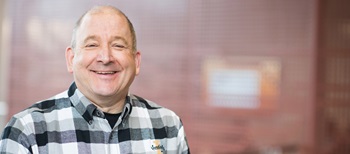 Michael P. Parrella
Dean
College of Agricultural and Life Sciences
---
By the Numbers
230,000 sheep was the Jan. 1 tally for Idaho woolgrowers, a total that held steady from 2020, according to the USDA National Agricultural Statistics Service. The state's breeding flock totaled 155,000 head, down 10,000 from 2020. Producers reported an inventory of 75,000 market sheep on Jan. 1, up 10,000 head from 2020.
---
Our Stories — Northwest Farm Credit Services Donates $2 Million
Major research and education programs, scholarships and a new minority student organization will benefit from a $2 million gift from Northwest Farm Credit Services to CALS.
"The University of Idaho has been an excellent resource for farmers and ranchers throughout the state," said Doug Robison, Idaho president of Northwest Farm Credit Services. "In addition to providing cutting-edge research, the university provides direct support to Idaho's producers through their Extension programs."
"Northwest Farm Credit Services' contribution to the U of I will boost their research efforts and their ability to strengthen all of Idaho's ag sectors. We are excited to see the benefits of our gifts on the university's projects and research."
The long history of support from Northwest Farm Credit Services has helped the university and college solve problems and identify opportunities for agricultural producers through research and outreach, CALS Dean Michael Parrella said.
"The investment in student opportunities helps provide agriculture with the engaged and educated workforce the industry will need to meet future challenges and sustain its role as Idaho's economic foundation," Parrella said.
The gift included $925,000 to support the planned Agri Beef Meat Science and Innovation Center Honoring Ron Richard that will serve as the new home for Vandal Brand Meats on campus.
Student scholarships funded by the gift totaled $25,000, and the college received $25,000 to establish a chapter of the national student organization Minorities in Agriculture, Natural Resources and Related Sciences.
Other programs funded by the gift included: the Idaho Center for Agriculture, Food and the Environment (CAFE), $500,000; Wayne Thiessen Potato Research Professorship Endowment, $350,000; and the Idaho Center for Plant and Soil Health at the Parma Research and Extension Center, $175,000.
---
Women Transfer COVID Antibodies, Not Virus, in Their Milk to Infants
Breastfeeding women with COVID-19 do not pass along the SARS-CoV-2 virus in their milk but do transfer milk-borne antibodies that are able to neutralize the virus, a multi-institutional team of researchers led by the U of I reported.
The team analyzed 37 milk samples submitted by 18 women diagnosed with COVID-19. None of the milk samples were found to contain the virus, but nearly two-thirds of the samples did contain two antibodies specific to the virus.
"Taken together, our data do not support maternal-to-infant transmission of SARS-CoV-2 via milk," the researchers reported Tuesday in the journal mBio published by the American Society for Microbiology.
"These results support recommendations to continue breastfeeding during mild-to-moderate maternal COVID-19 illness," the researchers said.
U of I researchers Michelle "Shelley" McGuire and Mark A. McGuire led the work funded by the Bill and Melinda Gates Foundation. Shelley is a nutrition researcher focused on human milk and directs the U of I's Margaret Ritchie School of Family and Consumer Sciences. Mark is a lactation physiologist and directs the Idaho Agricultural Experiment Station. Both are on the faculty of the College of Agricultural and Life Sciences (CALS). Their research is featured on the CALS website, The Vandal Theory podcast and in U of I presentations.
The research team also includes scientists from the University of Rochester School of Medicine and Dentistry; Brigham and Women's Hospital and Harvard Medical School; University of Rochester Medical Center; and Washington State University. The team now has enrolled nearly 50 women who were diagnosed with COVID-19 and has followed their progress with the disease for as long as two months.
The initial study published in mBio reported on the first group of 18 women who submitted milk samples. Results from the larger study funded by both the Gates Foundation and the National Science Foundation are forthcoming, but the researchers are confident that they will support, expand and confirm the initial findings, Shelley McGuire said.
Earlier, the McGuires and their colleagues published a related review of scientific studies focused on coronaviruses in human milk and found that scant evidence exists about their presence or absence.
That work, published in Maternal & Child Nutrition in May, found only one study that tested human milk for the SARS coronavirus after that virus was detected in 2003. The review found no efforts to detect the subsequent and deadlier MERS (Middle East Respiratory Syndrome) coronavirus in human milk.
The dearth of knowledge spurred this multi-university effort, which is informing national and global guidance related to COVID-19 and breastfeeding, Shelley McGuire said.
---
Faces and Places
Margaret Ritchie School of Family and Consumer Sciences alumnae Chelsea Herting will talk about working for the C.C. Filson Co. in Seattle. Her expertise is in production and product development. She will present during a Feb. 16 Zoom session about her career and the school's apparel, textiles and design program.
---
Events
Feedback or suggestions? Please pass them along through calsnews@uidaho.edu