Catching Up with CALS — Jan. 27, 2021
Dean's Message — Growing Support
The Idaho Beef Council's (IBC) recent support for scholarships shows that Idaho's agricultural industry understands that its future depends on helping future leaders ready themselves for the challenges ahead.
Perhaps no industry leads and follows consumer preferences as closely as agriculture — from producing basic commodities to developing new products that provide healthy, nutritious and novel choices in grocery aisles.
In the IBC's case, the scholarships will support the Department of Animal, Veterinary and Food Sciences (AVFS) and specifically its dynamic meat science program. Our Zoom-era video to celebrate the gift captures some of the enthusiasm for the gift.
A focus on undergraduate education and a real commitment to student success has vaulted AVFS to the position of undergraduate enrollment leader in CALS. I see an exciting future for AVFS and the department's expanding research reputation promises more good news ahead.
One indicator is the work by UI Extension and AVFS faculty member Mireille Chahine in the Magic Valley to help the dairy industry educate its employees. Her expertise helped CALS win the $10 million USDA Sustainable Ag Systems project to make the industry more sustainable.
Researcher Brenda Murdoch recently learned the USDA will provide $500,000 in funding to better understand the sheep genome, essentially the genetic catalog of traits that define the species. Her work will yield new insight into the genetic qualities of eight common breeds. She leads one of the top funded sheep research programs in the country.
Another project by AVFS researcher Amy Skibiel funded at $200,000 will look at heat stress and its effect on basic cell function in mammary cells, the most basic driver of Idaho's multibillion-dollar dairy industry. Researcher Pedram Rezamand also received a competitive grant for $199,400 to better understand how diet and stress affect growing calves.
The merger of our food science research, outreach and education into the AVFS department expands the opportunities for collaboration within and beyond CALS. The food science program recently won recognition as the No. 4 best valued program in the nation by College Values Online.
The list goes on, and the takeaway is AVFS contributes broadly to the mission of CALS and U of I. What is particularly exciting is that the department is building its success and reputation on the hard work of both established and newly-hired faculty.
We remain committed to building support at the state and federal government levels to maintain and advance their good work. The departmental success to date makes this job much easier.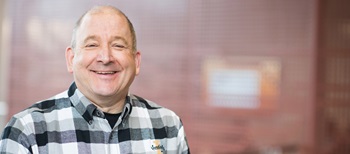 Michael P. Parrella
Dean
College of Agricultural and Life Sciences
---
By the Numbers
Growers planted 1,240,000 acres of wheat in Idaho in 2020, up 4% from the year before, the USDA National Agricultural Statistics Service reported. Growers harvested 1,160,000 acres of wheat, up 3% from 2019. The 113,000,000 bushels of wheat harvested in 2020 was up 14% from 2019, a result of the average yield rising 8.9 bushels per acre in 2020 to an estimated 96.7 bushels per acre.
---
Our Stories — Wind Damage Invites Tree Pests
January 2021 brought some massive windstorms to the Inland Northwest. During high-wind events such as this, it is very common to see trees falling over at the roots or breaking off mid-bole, particularly if there is a deformity or fork in the bole.
Post Falls-based UI Extension forester Chris Schnepf noted many landowners began to ask questions about hazards posed by bark beetles drawn to the damaged and downed trees. He prepared an update for forest owners as part of his role as area Extension educator for forestry for Boundary, Bonner, Kootenai and Benewah counties.
Downed and broken trees are more common on sites that have recently had timber harvest, are exposed to more wind, or have root disease issues. Saturated, unfrozen soils also played a role this year.
Given the timing of the storms, damaged trees may remain green enough in the spring for bark beetles that breed in downed trees to successfully complete their development, emerge and attack nearby green trees.
If enough trees have fallen to make a timber sale viable, that can solve the problem if the stemwood over three inches in diameter is removed before June.
But what if the volume is too small to justify a timber sale? The downed trees may not have to be removed to prevent bark beetle problems, and downed trees do a lot of good in a forest, providing nutrients and adding to forest soil structure.
Downed trees also provide food and habitat for insects and other organisms that further benefit soil fertility and structure. Downed trees must be of a specific species and size to breed beetles that present a hazard to standing trees.
Three beetle species are most likely to breed on downed trees in Idaho's family forests: pine engraver beetle, Douglas-fir beetle and fir engraver beetle. On the rare family forests where Engelmann spruce are common, spruce beetle can also be an issue.
Beyond these types of winter-deposited materials, hazard from bark beetles also depends on the size and species of the trees in the immediate area that might be attacked. For example, fallen Douglas-fir surrounded by green trees that are too small or of a different species may not pose a potential bark beetle problem.
Landowners sometimes cut green trees that have fallen in their forest into round firewood-sized pieces, and stack it up in the woods to cure. Cutting green trees into such pieces does little to control bark beetles, particularly pine engraver beetles.
Bark beetles that breed in downed stem wood can still do so in firewood-sized pieces, although splitting firewood may reduce the risk. If wood is green enough to harbor bark beetles, removing or debarking it is safest.
For more information on bark beetles and other forest insects, your local University of Idaho Extension office has a number of publications with more information. The Idaho Department of Lands offers onsite technical assistance to address bark beetle problems created by fallen or broken trees resulting from winter storms.
---
Faces and Places
The Idaho Nursery and Landscape Association awarded UI Extension, Ada County educator Susan Bell its Gold Medal of Horticulture during its annual conference that was held online this year. Susan, an Extension faculty member for 36 years, provides dedicated service to horticulture groups and the landscape industries of Idaho. She provided expert consulting, engaging presentations and outstanding educational programs.
The weedy annual grass ventenata's infestation of Palouse prairie and canyon grasslands may contribute to declines, even extinctions, of native species, U of I researchers Lisa Jones, Tim Prather and alumnus Cleve Davis reported recently in the Invasive Plant Science and Management Journal.
---
Events
Feedback or suggestions? Please pass them along through calsnews@uidaho.edu