Catching Up with CALS — Jan. 13, 2021
Dean's Message — Better Days
One American tradition merits our full support with this new year: We owe it to ourselves to approach 2021 with optimism and hope.
Surely, no other year comes close to the challenges 2020 presented to our culture and the world. We must continue to do our parts to stay safe and control the threat posed by the virus, but we now can begin to make plans for a return to normalcy.
This year, in this community, I watched our students, faculty and staff adapt to the greatest health threat of our lifetimes. Federal officials say COVID-19 claimed the lives of nearly 350,000 Americans in 2020 and disrupted nearly everything we consider normal.
Yet through wise leadership at the state, city and university level, we found our way to meeting our responsibilities. U of I succeeded in managing the coronavirus and offering in-person classes. Our researchers and outreach specialists continued to address the issues that matter to Idaho.
Idaho agriculture proved again that it is resourceful and a foundation of the state's economy. The annual report prepared by CALS economists Rita Du, Ben Eborn and Garth Taylor projects another solid performance in 2020.
The report again highlights agriculture's role as Idaho's most important industry. One of every five dollars is directly or indirectly created by agribusiness exports.
Their analysis projects cash receipts from crops and livestock hit $8.5 billion, second only to 2014's record performance.
Milk sales rose 2% or $63 million to nearly $2.92 billion to again lead Idaho commodities.
Potato sales topped $1 billion for the first time with nearly $1.08 billion, a 13% increase. Sugarbeets brought in $366 million, a 29% jump from 2019 sales. Wheat tallied $525 million in sales, a 15% increase.
The agricultural industry helped keep the state's economy strong despite the pandemic, and its members showed strong support for CALS. The college closed out 2020 with an incredible fundraising year, a testament to that support.
Gov. Brad Little recognized that support Monday and budgeted state support to modernize the Parma Research and Extension Center. The governor's and state legislators' continuing strong support for agriculture, and by extension CALS, is critical to Idaho's resilience and success.
We have every reason to believe that 2021 will be better than 2020, and that the best is yet to come.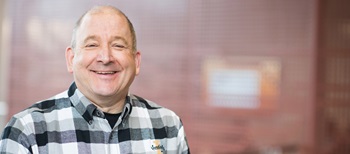 Michael P. Parrella
Dean
College of Agricultural and Life Sciences
---
By the Numbers
$4,762,000,000 or $4.76 billion represents the livestock cash receipts for 2020 projected by CALS economists in the most recent Financial Condition of Idaho Agriculture. Crop sales brought in a projected $3.71 billion. Milk ranks as the top livestock sector with nearly $2.92 billion. Potato sales busted through the $1 billion mark with nearly $80 million to spare. In all, the economists projected that livestock and crop sales generated nearly $8.48 billion and net farm income totaled nearly $3.53 billion.
---
Our Stories — Beef Council Funds Research
The Idaho Beef Council announced today a $250,000 gift to U of I to expand research aimed at strengthening consumer trust in beef production.
The investment of state beef checkoff dollars will establish the IBC Graduate Fellowship Endowment in CALS and provide scholarship support to graduate students conducting research in topics from beef safety and nutrition attributes to quality, consistency and marketability and new product development.
"We believe that supporting students in this way will advance the skills and knowledge of the next generation of beef industry experts, drive sustainable solutions and strengthen the Idaho beef industry's position in the marketplace," said Jeff Johnson, Idaho Beef Council chair.
Michael P. Parrella, CALS dean, added: "The support of Idaho cattle producers, through the Idaho Beef Council's investment, ensures the university will continue to expand the unique and transformative educational, research and outreach opportunities available to our students that, in turn, benefit Idaho's beef industry for generations to come."
Idaho is ranked in the top 15 in the nation for beef cattle production. As protein choices continue to expand worldwide, the IBC is committed to funding beef quality, safety and nutrition research to ensure consumers have confidence in their purchasing decisions.
Beginning July 1, IBC Graduate Fellowship Endowment scholarships will be awarded to graduate students who have applied, been accepted and enrolled full time in a meat science graduate program at the U of I. Recipients will be selected by the U of I's Student Financial Aid General Scholarship Committee.
To qualify for support from the endowment, graduate student projects must align with the requirements of the Federal Beef Promotion Act and Order and seek to strengthen the beef industry's position in the marketplace, to maintain and expand domestic and foreign markets, and to identify new product opportunities.
---
Potato Conference Moves Online Jan. 19-21
The 2021 Idaho Potato Conference will move online to offer farmers and other participants in the industry the opportunity to benefit from educational and research reports.
The free three-day conference will run 8 a.m. to noon MT each day Jan. 19-21. A Spanish-language session will be held 1-3 p.m. MT on Jan. 19. Those interested in attending must register in advance at uidaho.edu/potato-conference.
Those who attend may earn Idaho Pesticide License Recertification credits by completing a short online quiz on Jan. 20. Certified Crop Advisor credits are also available on each day.
The morning sessions will consist of 20-minute prerecorded presentations followed by short question-and-answer sessions. Potato researchers from U of I, USDA's Agricultural Research Service in Wisconsin, North Dakota University, University of Minnesota, Oregon State University and Washington State University will share updates on their current research.
Leading Idaho potato companies will offer five-minute updates throughout the sessions.
The Jan. 19 afternoon sessions in Spanish will focus on reducing potato bruising, potato grading and common storage diseases among other subjects.
The agenda, topics and registration information are on the conference website.
---
UI Extension Mental Health Training Expands
A grant from the Lewis-Clark Healthcare Foundation will help UI Extension expand mental health first aid training and suicide prevention efforts across the state.
The foundation recently awarded $40,000 to U of I to train 10 county Extension educators in the Question, Persuade and Refer Suicide Awareness Program. They in turn will train others to assess when people should seek further help for someone who is having difficulty.
"Even though we are not mental health professionals, we can educate to raise awareness of suicide, help individuals recognize warning signs when friends and family members may be considering suicide and can refer individuals and families to professionals where they can receive help," UI Extension Director Barbara Petty said.
"This grant is a great example of the many important projects the foundation funds each year," Idaho Trust Bank CEO Thomas Prohaska said. Idaho Trust Bank is the trustee of the Lewis-Clark Valley Healthcare Foundation. Since 2017 the Lewis-Clark Valley Healthcare Foundation has funded over 150 grants exceeding $2.2 million in its Idaho, Washington and Oregon service area.
The funding will allow UI Extension to expand its mental health and suicide prevention training in the state's five north central counties, Latah, Nez Perce, Clearwater, Lewis and Idaho, served by the foundation. Extension educators serve residents in all 44 Idaho counties.
The new funding will build on a university program established earlier in southern Idaho.
The foundation also serves Whitman, Asotin and Garfield counties in neighboring Washington state and Wallowa County in Oregon.
The foundation was established in 2017 after Ascension Health sold the St. Joseph Regional Medical Center in Lewiston to a subsidiary of RCCH HealthCare Partners. Ascension Health agreed to transfer $23 million of the $75 million net proceeds into a healthcare foundation that would be administered for the benefit of communities within the hospital's service area.
As a gesture of goodwill, the new for-profit owner, RCCH, also agreed to donate $2 million, bringing the foundation's total principal balance to $25 million.
---
Faces and Places
The pre-holiday CALS Food Pantry fundraising effort generated $2,520 in cash and donations of 400 pounds of dried pulses and Vandal Brand Meats products. UI Extension faculty and staff donated $375 to lead CALS-based units in the effort. A very special thanks to CHS Primeland and the Brocke family for the pulses and to Latah County Farm Bureau for their gift of $500 to this effort. The CALS Food Pantry is facilitated by Agricultural Economics and Rural Sociology academic advisor and peer leader Gayle Gleason.
---
Events
Feedback or suggestions? Please pass them along through calsnews@uidaho.edu