Catching Up with CALS — Sept. 19, 2018
Dean's Message — There and Here
This past year has been a whirlwind with responsibilities as dean as well as being president of the Entomological Society of America (ESA). This is the largest entomological society in the world, with 7,000 members. Leadership in ESA is actually a four-year process: after the national election you move from vice president elect to vice president to president and then to past president. This year is my presidential year. As such I have traveled to all of our six branch meetings around the U.S.
In addition, as ESA President I traveled to Brazil for the XXVII Brazilian Congress of Entomology and XV Latin American Congress of Entomology and then on to Chile for four days. I attend these meetings and make presentations representing ESA. I am able to showcase CALS and the University of Idaho in these presentations. For example, it appears CALS will gain a graduate student from Chile as one reward for the time spent in South America.
In November, the entomology societies of the U.S., Canada and British Columbia will meet jointly in Vancouver, B.C., and I will preside over that meeting. This will also signal that my term as ESA president will come to an end and I will assume the reduced responsibilities of past president.
I have been a member of ESA for more than 40 years, beginning as a graduate student. It has helped me grow professionally by being exposed to cutting edge science and as a person through networking and developing life-long friendships. Not everyone is into insects, but for those who are there is a camaraderie that cannot be denied.
With other scientific organizations and as a member of a university community, there is an expectation of service to your society. Many other faculty in CALS have chosen to support their discipline as officers, participate on committees, develop symposia at national meetings and in other roles.
They deserve respect for their efforts that expand their reputation and impact, and does the same for the department, college and university they represent. Some have become fellows of their associations, usually their highest award, in recognition of their expertise and their service. I am proud to say that in CALS we have three ESA fellows: Sanford Eigenbrode, Nilsa Bosque-Perez and myself. Not many entomology departments across the U.S. can make that statement.
The year beyond ESA has been a full one. A month ago, CALS took a major step forward in addressing an opportunity in Sandpoint with the acquisition of the Sandpoint Organic Agriculture Center to enhance opportunities for education, outreach and UI Extension in North Idaho.
We have also made major progress on the new classroom and office building at the Nancy M. Cummings Research, Extension and Education Center near Salmon. We break ground for this facility this month. Sometime this semester we will mark a major advance with the Rinker Rock Creek Ranch, an important opportunity for range and cattle research located near Hailey.
Earlier this year, the new seed potato germplasm facility in Moscow received legislative funding and is moving along. CAFE, the Center for Agriculture, Food and the Environment, is evolving with a regional model and improved fundraising potential.
I mention the college's big initiatives because we can move these forward while still being active in our professional organizations. As rewarding and valuable as organizations can be to our individual careers and to enhance the reputation of our university, our commitments at home continue and are the ultimate measure of success.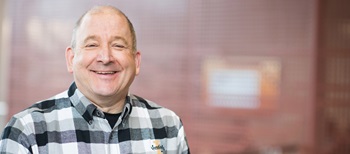 Michael P. Parrella
Dean
College of Agricultural and Life Sciences
---
By the Numbers
99.2 million hundredweight is a lot of potatoes. 9,920,000,000 or 9.92 billion pounds to put it another way. That's how much the 2017 fall crop in Idaho, Oregon and Washington weighed in at, according to the U.S. Department of Agriculture's National Agricultural Statistics Service. Russet Burbank, for a century the top tater on many tables, still reigned supreme in Idaho with 44.9 percent of acres planted in Idaho and 29.6 percent in Washington. Clearwater Russet made an up-and-comer bid with an 8.3 percent increase in Idaho acres planted but doubled in Washington and jumped nearly 4-fold to 10 percent of potato fields in Oregon.
---
Our Stories — Steer-A-Year Wraps Up Its 30th Season
The Steer-A-Year program generated $47,132 for scholarships and beef research in 2018, its 30th year of helping students and providing quality meat.
The long-running program generated nearly $900,000 in revenues during its three decades to invest in endowments to fund the scholarships and research.
The major beneficiary of the program with nearly $20,000 contributed this year is the Idaho Cattle Association Steer-A-Year Scholarship Endowment Fund. It generated $24,288 for scholarship awards available this year. That endowment grew to nearly $576,000 in 2018.
Steer-A-Year revenues contribute a significant share, nearly $9,800, to the Vandal Scholarship Fund for athletes. The program donated $271,357 to that fund during the 30 years.
The Beef Industry Research Endowment distributed $8,306 to support projects during the past year. The endowment totals nearly $210,000 with this year's addition.
Through the 30 years, ranchers, agricultural industry representatives and CALS alumni and friends contributed 1,595 steers to the program either through donation of a calf or the equivalent in cash to buy one. This year's herd of 65 steers ranked among the largest in the program.
This year's most valuable steer generated a carcass value of $1,926 on an average gain of 5.4 pounds a day, finishing at 1,577 pounds on the hoof. It was donated by Carl Dixon, Ivan and Megan Rivas, Pat and Cami Dixon, Truman and Marilee Kohtz, and Brett Tolmie.
---
Faces and Places
Science magazine published a paper by CALS water engineer Rick Allen at the Kimberly Research and Extension Center, and 10 colleagues worldwide in its Policy Forum Insights, "The paradox of irrigation efficiency." The authors represented from 10 institutions in Australia, China, Egypt, England, France and the U.S.
---
Events
Sept. 28-29 — Ag Days and Celebrating Idaho Agriculture
Sept. 28 — CALS Alumni Awards Luncheon, Summit Room, Idaho Commons, 11 a.m. to 1 p.m.
Sept. 28 — CALS Speaker Series "Sustainable Agriculture: What is it? Where has it been? Where is it going?" at the Kenworthy Performing Arts Centre featuring Cliff Ohmart, a renowned scientist in implementing sustainability programs for many cropping systems, 4:30-6 p.m.
Sept. 29 — Celebrating Idaho Agriculture Tailgate, Agricultural Science Building lawn, 606 Rayburn Ave., 11 a.m. to 1:30 p.m.
Feedback or suggestions? Please pass them along through calsnews@uidaho.edu