Catching Up with CALS — Aug. 8, 2018
Dean's Message — Town and Gown
Summer is an ideal time to think about CALS' ties to the community. A visit to the Moscow Farmers Market offers the chance to connect with U of I colleagues and enjoy a vibrant reminder that agriculture is important in our community.
Our tent at the market is usually crowded with children and adults eager to learn more about topics as diverse as edible insects, strawberry DNA, textile dyeing and birds of prey.
We also provide information on Eat Smart Idaho to improve people's understanding and access to high quality food. And our faculty and staff participate in market activities as volunteers for many organizations.
Summer Saturdays, however, are far from the only times CALS forges town-and-gown connections.
Last fall we organized a thought-provoking discussion of GMOs with National Academy of Sciences member Fred Gould at the Kenworthy Performing Arts Center.
The 4-H State Teen Association Convention included several tours of downtown businesses and attractions, including the Kenworthy, when delegates visited Moscow in June.
As a fly fisherman, I have enjoyed the camaraderie of the Clearwater Flycasters meetings both as a presenter and audience member several times. In addition to gathering information about local fishing opportunities, the meetings allow me to talk about the college and its virtues.
Many other faculty and staff members do the same. We recognize that as citizens we can help make Moscow and Latah County a better place through our participation in government and civic groups like the Moscow Chamber of Commerce, which enthusiastically tries to help the college and university.
We will continue to do our part in sharing opportunities to learn and contribute to the community discussion.
Another outstanding scientist, Alison Van Eenennaam of University of California, Davis, is scheduled to visit campus Sept. 11 as part of the CALS Speaker Series at 6 p.m. in Ag Science 106. We also will show the film "Food Evolution" in which she provides a powerful voice for biotechnology.
Our efforts to be part of Moscow's community keep us connected with the world here and beyond to both reflect and inform the place we call home.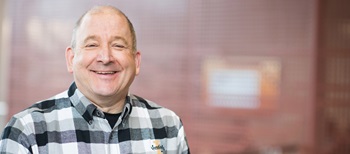 Michael P. Parrella
Dean
College of Agricultural and Life Sciences
---
By the Numbers
59 million bushels of winter wheat, a 10 percent increase from 2017, was Idaho's expected harvest for 2018, according to the USDA National Agricultural Statistics Service in its July 1 forecast. The yield was predicted to average 82 bushels an acre, 2 more than in 2017. Idaho's spring wheat harvest was expected to yield 35.7 million bushels, up 1 percent from last year and yield was predicted at 86 bushels an acre, even with last year. Barley production was forecast at 49 million bushels, up 1 percent from 2017, with an average yield of 98 bushels an acre, up 3 bushels an acre.
---
Our Stories — International Students Work on Organic Farm Project
Students from Spain and Ireland have spent much of the summer focused on a project to improve the productivity of the CALS organic farm adjacent to the Sheep Center.
Organized through CALS International Programs Director Bob Haggerty, the students from the Public University of Navarra in Pamplona, Spain and University College Dublin in Ireland spent June and July in Moscow.
The five students worked with Department of Soil and Water Systems head Jodi Johnson-Maynard, faculty and others to test soil samples from the organic farm and use the results to develop planting, irrigation and fertility plans to maximize yields while minimizing water and nutrient applications.
Two of the four Navarra students headed south to the Treasure Valley and the Caldwell Research and Extension Center there at the end of July.
Pablo Aicua Aicua and David Suberviola Arroniz will learn more about food product development and technology there and explore local food and beverage businesses with Josh Bevan at the Food Technology Center and Jim Toomey at the Agribusiness Incubator there.
Both students come from families with vineyards and are interested in learning more about how Americans develop food products.
Their two fellow students from Navarra, Martin Ecay Narvaiz and Pablo Claveria Benito will continue to develop management practices for the farm in Moscow until mid-August with Ferdia J. O'Leary of UC Dublin. The three will then spend the rest of their time in Idaho in the Treasure Valley before heading home.
The students' visit is a mirror image of a student exchange last year by Spanish and Irish students who spent most of their time in the Treasure Valley, then visited Moscow briefly.
"The feedback we had from last year is students were interested in spending more time on the Moscow campus to work with faculty and other students. They valued their time at Caldwell, too, but wanted more time at the university and in Moscow," Haggerty said.
---
Soil Orders Website Evolves to Serve a Wider Web
In 2000, CALS soil scientist Paul McDaniel launched a website, The 12 Soil Orders uidaho.edu/cals/soil-orders, to help students learn about different soil types.
This summer he completed a refresh of the site that has grown beyond its original purpose and now attracts the attention of a broad audience from far beyond Idaho.
As an emeritus professor, McDaniel invested months this year updating the information on the site, searching out better photos to illustrate the site and adapting it to the university's new content management system with help from CALS web coordinator Debra Rumford.
Although the old site was updated periodically, the new version is completely redesigned, McDaniel said. He tracked down photos to illustrate 54 soil suborders and hopes to find photos for all 68 soil suborders before he finishes the job.
He also added maps and landscape photos to help users visualize where soil types are found and how they appear. He added information about how plants, climate, location, age and parent materials influence soil types and their uses.
For mobile users, the new website is more compatible with smart phones and tablets.
"The website was really designed as a resource for students, but we realized it was getting a lot of hits from outside of U of I," he said.
McDaniel first began thinking seriously about a redesign about five years ago while serving as the head of the former Plant, Soil and Entomological Sciences Department. It wasn't until retirement that he was able to devote the time the project required to complete it.
The 18 years since the site first appeared brought a wealth of new material. Photos of soil suborders that were hard to find nearly two decades ago are now available. In all, the new site includes more than 250 images that illustrate the 12 soil orders and 55 suborders.
The website includes an expanded section on human-influenced soils, such as European soils altered by centuries of manure applications.
The audience includes people who want to learn more about their soils for a specific purpose including farming or gardening. Some, like the vertisols, shrink and swell as their water content changes. They can present serious engineering challenges.
"In other cases I think they are just folks with a thirst to learn. When it was set up, it was one of the few sites available about soils," McDaniel said.
There are more sites now but few have the range of information about where particular soils are found and their characteristics.
McDaniel still plans to stay involved, answering questions from those using the website.
---
Entomology Club Plans Beneficial Insects, Solitary Bee Programs
CALS students in the Aldrich Entomology Club will present a Science Saturday in the Arboretum program Aug. 11 from 9:45-11 a.m. near the Red Barn at the south end of the U of I Arboretum and Botanical Garden off West Palouse River Drive.
The program will focus on the diversity of insects on the Palouse through interactive stations. Children attending will receive live lady beetles to release. Children 12 and younger must be accompanied by an adult.
The club will also conduct a Solitary Bee Hotel Workshop with the Washington State University Entomology Graduate Student Association on Sept. 8 from 2-4 p.m. The location is still being determined. More information is online at www.facebook.com/events/187058791945151.
---
Cascadia Grains Conference East Pilot Program Aug. 20 in Moscow
UI Extension Community Food Systems will join the Washington State University Food Systems Program and Spokane-based LINC Malt to present a Cascadia Grains Conference East Pilot Program Aug. 20 at the 1912 Center in Moscow.
The short mini-conference from 9 a.m. to noon will demonstrate the Cascadia Grains Conference structure. The pilot program will seek feedback from participants for a potential Cascadia Grains Conference East in 2019.
The Cascadia Grains Conference is committed to revitalizing a grain economy in the Cascadia biogeographic region from Northern California to British Columbia and Idaho.
The organizers want to convene and connect growers, processors, brokers, investors and policy-makers across the value chain.
The goal is to provide a platform for the latest science, techniques, research, market opportunities and hands-on learning. The intent is to cultivate an economically viable network of market opportunities for locally-sourced value-added products.
More information is available from www.cascadiagrains.com. Those interested may register online at https://www.brownpapertickets.com/event/3531414.
---
Faces and Places
CALS Dean Michael Parrella will meet with the Idaho Milk Processors Association during its annual meeting in Sun Valley on Friday, Aug. 10, to provide an update on the Center for Agriculture, Food and the Environment.
---
Events
Aug. 11 — Beneficial Insects of the Palouse, Aldrich Entomology Club, Science Saturday in the Arboretum, U of I Arboretum and Botanical Garden south entrance off Palouse River Drive by the red barn, 9:45-11 a.m.
Aug. 20 — Cascadia Grains Conference East, 1912 Center, 412 E. Third St., Moscow, 9 a.m. to noon
Sept. 8 — Solitary Bee Hotel Workshop, location to be determined, 2-4 p.m.
Sept. 11-14 — Lost River Grazing Academy, Salmon. Contact: Scott Jensen, scottj@uidaho.edu
Sept. 28-29 — Ag Days
Feedback or suggestions? Please pass them along through calsnews@uidaho.edu