Catching Up with CALS — Aug. 22, 2018
Dean's Message — Sandpoint Opportunity
Organic food production is an important and growing economic sector of Idaho agriculture for fresh and processed foods. Organic agriculture in Idaho was valued at more than $85 million in 2015.
This week we are excited to announce the successful addition of the Sandpoint Organic Agriculture Center to U of I and CALS. The acquisition of this beautiful new facility makes real a new leadership role for CALS in the areas of organic and sustainable agriculture in local food systems.
Developed by Sandpoint resident Dennis Pence and his family, the Sandpoint Orchard offered a view of sustainable, organic agriculture focused on heirloom apples and other varieties. It is one of the few orchards certified as organic by the Idaho State Department of Agriculture.
With Dennis and his family's generosity, the transfer Aug. 1 of a 48-acre parcel that includes the orchard is establishing CALS and the U of I as one of the leading universities in the realm of organic and sustainable agriculture education, research and outreach.
In 2007, Dennis donated an adjoining 18 acres to CALS as a starting point. Also certified for organic production, it will multiply the education, outreach and research opportunities available at the Sandpoint Organic Agriculture Center.
In addition to the orchard with more than 600 apple trees along with pear, plum, apricot and cherry trees and raspberries, the center offers first class facilities for conducting classes and research, and housing visiting researchers. The orchard made real his desire to encourage and create a more robust local food system.
The center offers many opportunities. Our new departments, entomology, plant pathology and nematology; soil and water systems; and plant sciences, examined the orchard and related property early this year and sketched out an impressive list of possible research and education initiatives.
UI Extension is already active in Sandpoint and Bonner County and will find more advantages to using the center.
The center can provide new internship and class opportunities for our own students and stronger partnerships with North Idaho College and other institutions. In addition, it gives CALS a larger focal point of operations that will benefit stakeholders to the north.
Much of what is learned at the Sandpoint Organic Agriculture Center can be applied to conventional farming operations across Idaho. What constitutes a "healthy soil," soil fertility, use of safer pesticides, etc., are just a few examples of work that has broad applicability.
Those who have visited our new base in Sandpoint enthusiastically point to many more opportunities for education and outreach. I hope CALS faculty and staff will join us Oct. 23 at Sandpoint for your own chances to see for yourselves new options to advance our efforts to serve our stakeholders.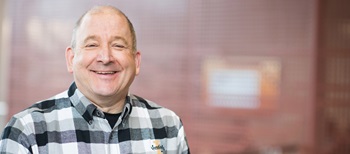 Michael P. Parrella
Dean
College of Agricultural and Life Sciences
---
By the Numbers
333 certified organic farming operations were in this month's tally by the U.S. Department of Agriculture. In 2016, the Idaho State Department of Agriculture reported 312 organic operations and certified 262. From 2014-2016, ISDA saw 28 percent growth in certified organic operations. From 2014-2015, organic production grew 14 percent to 212,924 acres from 185,581 acres. The number of milk cows on organic operations grew 207 percent and other cattle numbers grew 127 percent. Organic dry bean production grew 130 percent, barley 57 percent, corn 43 percent, alfalfa 32.7 percent and wheat 32.5 percent.
---
Our Stories — CALS Adds Sandpoint Organic Agriculture Center
The University of Idaho College of Agricultural and Life Sciences has established a new presence in Sandpoint and Bonner County with the acquisition of the Sandpoint Orchard.
The 48-acre orchard was acquired by U of I through a donation from Dennis Pence of Sandpoint and his family. He established the orchard to demonstrate agricultural opportunities in North Idaho. It will be known as the Sandpoint Organic Agriculture Center and be the first in the U of I system to focus on organic farming and organic-certified production systems.
"We are excited about conducting agricultural research and providing new learning opportunities at the Sandpoint Organic Agriculture Center," said Michael Parrella, College of Agricultural and Life Sciences dean. "The center will expand our ability to conduct community-focused programs and offer new ways to enhance undergraduate and graduate education."
A celebration will take place Oct. 23 to highlight planned outreach and education opportunities at the new U of I center. The center would be the first in the U of I system to focus on organic farming and organic-certified production systems. It will position the college to become a leader in community-based programs focused on the growing industry.
"I am extremely pleased with the interest and enthusiasm for expanding the university's educational activities in regards to organic and sustainable agriculture shown by Dean Parrella and the faculty and staff of the College of Agricultural and Life Sciences," Pence said. "The creation of the Sandpoint Organic Agriculture Center places the university among an elite group of U.S. institutions of higher learning, and the center will be an immensely useful asset for education, research and public outreach in the years to come."
The orchard is one of the few in the state to receive certification from the Idaho State Department of Agriculture. State statistics show more than 300 certified organic operations in Idaho with 28 percent growth since 2014. Idaho ranks seventh among all states in certified organic acreage with 167,000 acres in 2015 valued at $85 million.
The Sandpoint Organic Agriculture Center will offer educational programs in organic and sustainable agriculture production. Public programs are expected to focus on biological control, pollinators, soil health, native plant landscaping, horticulture, organic food processing and marketing, food safety and nutrition.
Plans call for the center to offer hands-on internships for U of I and North Idaho College students to help boost enrollment in agricultural programs and strengthen the university's presence in North Idaho. Other U of I colleges will have access to the center for programs that are consistent with the center's mission. The center is along the northwest side of Sandpoint near the Schweitzer Mountain Resort.
The 48 acres acquired from Pence Aug. 1 includes an office building and meeting center, residence for visiting researchers, dormitory, shop and cider house. Pence previously donated 18 acres of adjacent land to the college in 2007.
The Sandpoint Orchard grows 68 varieties of apples, most of them heirloom varieties that originated a century ago or more. The orchard also grows cherries, plums, pears and berries. Products from the orchard are marketed locally.
"The center will focus on organic agriculture," Parrella said, "but both conventional and organic agriculture share many common themes such as soil health and sustainability. Strategies that work for organic production often translate to conventional farming methods."
College scientists say the center offers opportunities to study ways to increase beneficial insects and pollinators, crop rotation systems, pest management and uses of native plants with an emphasis on organic methods. Soil-related projects could emphasize what constitutes healthy soil with a focus on use of cover crops, nutrient availability and uptake, and water-use efficiency.
---
Faces and Places
Kate Painter, an assistant professor and agricultural Extension educator based in Bonners Ferry for UI Extension, Boundary County, is among four Extension professionals nationwide selected for the SARE/NACAA Sustainable Agriculture Fellows Program. Painter and Extension colleagues from Alabama, Penn State and Wisconsin will spend two years enhancing their understanding of sustainable agriculture through broad-based training and hands-on exposure to successful and unique sustainable agriculture programs. The selection of the fellows candidates was announced in July at the 2018 National Association of County Agricultural Agents (NACAA) Annual Meeting and Professional Improvement Conference in Chattanooga, Tennessee. SARE is the Sustainable Agriculture Research and Education grants program funded by the U.S. Department of Agriculture.
---
Events
Sept. 5 — CALS Welcome Back Picnic, Parker Farm, 1025 Plant Sciences Road, Moscow, 4-7:30 p.m.
Sept. 7 — Parma Pomology Program Annual Fruit Field Day, Parma Research and Extension Center Pomology Orchard and Vineyard, 31727 Parma Road, Parma. Contact: Essie Fallahi, efallahi@uidaho.edu. 8:30 a.m. to 1 p.m.
Sept. 8 — Solitary Bee Hotel Workshop, location to be determined, 2-4 p.m.
Sept. 11 — CALS Speaker Series program by biotechnology expert Alison Van Eenennaam of the University of California, Davis, in Agricultural Science Auditorium Room 106, followed by a screening of "Food Evolution" and Q and A session with Van Eenennaam and Margaret Ritchie School of Family and Consumer Sciences Director Shelley McGuire. 5:30-8:30 p.m.
Sept. 11-14 — Lost River Grazing Academy, Salmon. Contact: Scott Jensen, scottj@uidaho.edu
Sept. 28-29 — Ag Days and Celebrating Idaho Agriculture
Feedback or suggestions? Please pass them along through calsnews@uidaho.edu