Catching Up with CALS — July 25, 2018
Dean's Message — Welcome, Shelley
The Margaret Ritchie School of Family and Consumer Sciences (FCS) represents one of the most important departments in the College of Agricultural and Life Sciences. This department has a very strong undergraduate program. It has been the department with our largest undergraduate enrollment. The department's research and extension activities reach across Idaho.
Each year FCS attracts more students interested in food, dietetics and nutrition, mirroring a greater interest among many parts of society in health and eating well.
That is a major reason I was pleased to announce Monday that Michelle "Shelley" McGuire will be joining the school as its new director on Aug. 13.
After earning her doctorate in human nutrition from Cornell University, Shelley has earned widespread recognition as an expert on how mothers' diets and nutritional status affect maternal and infant health during breastfeeding and the composition of human milk.
As a professor of lactation physiology and nutrition at Washington State University, she collaborated with colleagues at U of I, including her husband, Mark, on important studies about human milk and led international efforts on the topic.
Shelley is the lead author of the textbook "Nutritional Sciences: From Fundamentals to Food." This is the primary textbook used in nutrition courses in academic institutions across the U.S.
In addition to raising CALS' and U of I's research profile in her subject area, her expertise as a professor and teacher will help us meet the rising interest among students who want to enroll in our dietetics and nutrition offerings.
Beyond that specific program, her focus on child health will help support the school's early childhood development program and its nutrition and feeding efforts.
From a state agriculture perspective, I also am confident that increasing our research and education capacity focused on lactation, nutrition and milk will further align us with one of Idaho's largest industries: dairy.
Finally, I know that she is committed to improving other FCS undergraduate programs that are the core of the school's mission: Apparel, Textiles and Design; Consumer and Community Development; and Family Development and Aging.
Please join me in welcoming Shelley McGuire to the leadership team in CALS.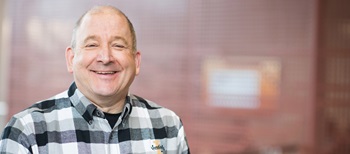 Michael P. Parrella
Dean
College of Agricultural and Life Sciences
---
By the Numbers
86 soil profiles representing 12 soil orders and 54 suborders are illustrated with photos on the updated and expanded version of the new website "The 12 Soil Orders" revamped by retired soil scientist Paul McDaniel. The new site includes distribution maps and landscape images. The redesigned website replaces the original launched in 2000.
---
Our Stories — Nutrition Researcher McGuire to Lead FCS
Michelle "Shelley" McGuire will serve as director of the Margaret Ritchie School of Family and Consumer Sciences beginning Aug. 13.
McGuire was a professor in lactation physiology and nutrition in Washington State University's School of Biological Sciences before accepting the U of I position. Her research focuses on better understanding how maternal diet and nutritional status influence human milk composition and maternal and infant health during breastfeeding.
More recently, she has worked with colleagues at the University of Idaho to study the presence and variability of bacteria in human milk and the resulting impacts on infant health in the U.S. and worldwide. As a seasoned science writer, she is also passionately committed to bettering human health by providing user-friendly, high-quality, evidence-based nutrition information to the press and public.
She received her bachelor's in biology from the University of Illinois in 1986, master's in nutritional sciences from the University of Illinois in1988 and doctorate in human nutrition from Cornell University in 1994.
She lives in Moscow with her husband, Mark, and their Nova Scotia duck tolling retrievers while enjoying travel, cooking and eating, music, running and practicing Iyengar yoga.
"I am confident her skills and expertise will serve to advance the college and the Margaret Ritchie School of Family and Consumer Sciences as we look forward to the coming years," said CALS Dean Michael Parrella.
---
Faces and Places
Don Morishita and the Kimberly Research and Extension Center staff raised over $6,000 through crowdfunding to support this year's July 18 Twilight Tour.
---
Events
July 27 — Forest Insect and Disease Field Day. Bonner County Fairgrounds, Sandpoint. Contact: Chris Schnepf, 208-446-1680. $15 per person. 8 a.m. to 5 p.m.
Sept. 11-14 — Lost River Grazing Academy, Salmon. Contact: Scott Jensen, scottj@uidaho.edu
Sept. 28-29 — Ag Days
Feedback or suggestions? Please pass them along through calsnews@uidaho.edu