Catching Up with CALS — June 27, 2018
Dean's Message — Intense June
Surely this June has been one of the most intense Junes in the college's long history.
With the busy schedule of events on campus including the UI Extension 4-H Youth Development program's State Teen Association Convention this week, Moscow has been hopping.
Events in Boise, Idaho Falls, Picabo, Hailey and beyond made things even more interesting.
One of the big events was the National Agricultural Alumni and Development Association annual meeting in Boise that was planned and executed flawlessly by a CALS crew led by Carly Schoepflin as conference chair.
Among the takeaways for me was that hardly any of the 200 attendees from land-grant universities nationwide had been to Idaho before, much less knew much about U of I, CALS or agriculture in the state.
The CALS crew made sure that our visitors from major universities including The Ohio State University, Purdue, Iowa State, Iowa, UC Davis, Florida, Clemson, Auburn and many more left with a better understanding and appreciation.
The participation by J.R. Simplot Co. CEO Bill Whitacre and many other Idaho ag leaders, the range of Idaho ag expertise from wine, hops, beef and potatoes and an evening at Indian Creek Winery in honor of Idaho Wine Month kept attendees engaged, too.
I enjoyed my chance to speak to the group and the opportunity to recall a fellow entomologist's take on Idaho. Marlin E. Rice, a noted Iowa State University researcher and past president of the Entomological Society of America, spent some time at U of I.
Rice once joked that God farms in Iowa but vacations in Idaho. Certainly, we in CALS could thank divine providence and a good ground game for bountiful support in June.
The Northern Idaho Field Day we co-sponsored by Limagrain Cereal Seeds and CHS Primeland went well, concluding with a check for $1.1 million from Limagrain for sales of wheat varieties developed here. We share a sizeable chunk of that with BASF, but nearly two-thirds of the university's share returns to CALS to fund wheat research and extension programs.
So did the State Board of Education's June meeting in Idaho Falls where plans for the Sandpoint Orchard and the Germplasm and Seed Potato Laboratory both advanced.
In Picabo, we helped celebrate Pat Purdy's six years on the Barley Commission and that body's decision to continue contributing to the endowment to support barley research.
Nearby in Hailey, CALS joined U of I College of Natural Resources colleagues in the Idaho Rangeland Center and the Wood River Land Trust and The Nature Conservancy in honoring Harry Rinker and his family. The Rinker Rock Creek Ranch plays an important role in U of I efforts and in broader efforts to help people understand the value of Idaho's magnificent rangelands.
And while UI Extension Director Barbara Petty and others labored in God's vacationland, Mark McGuire braved the wilds of Washington, D.C. He attended a U.S. Department of Agriculture session there to seek critical financial support for the Center for Agriculture, Food and the Environment.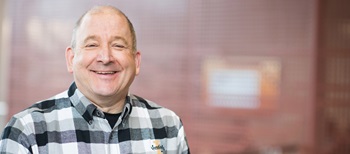 Michael P. Parrella
Dean
College of Agricultural and Life Sciences
---

By the Numbers
215 youth and adults, including 64 from UI Extension's Central District, turned out for the 4-H Youth Development program's State Teen Association Convention this week on the Moscow campus. The 178 youth came from 32 counties. 78 are going into 9th grade, 39 into 10th, 28 into 11th, 20 into 12th and 13 graduated from high school in 2018. 21 state 4-H officers and planning committee members organized the 4-day convention conducted with the help of 14 chaperones and 8 college staff members.
---
Our Stories — Royalties Equal Payback in the Best Possible Way
One of the world's largest seed companies Tuesday gave U of I CALS leaders a $1.1 million check from sales of wheat varieties developed by U of I researchers.
Frank Curtis, chief operating officer of Limagrain Cereal Seeds, noted the royalty payment during one of the largest field days for wheat growers in recent memory held near Lewiston.
The royalty payment reflects a licensing agreement between U of I and Limagrain to market wheat varieties developed solely by the university or jointly by both. The Limagrain group is a farmer-owned cooperative based in France and operates Limagrain Cereal Seeds as a U.S. subsidiary.
A proportion of the licensing revenues from Limagrain are shared with BASF, which developed the herbicide-tolerant Clearfield technology used by the top selling variety, UI Magic CL+.
Within the university the royalties are shared between the Office of Research and Economic Development and the College of Agricultural and Life Sciences, with 60 percent of the university share returning to the wheat program.
The value of intellectual property is important in funding research. In the past the amount of federal and state funding for wheat breeding programs was significant and enough to pay for the technology used at the time, "but technology is much more expensive these days, overheads are higher," Curtis said.
"State funding and federal funding can't pay for everything. Intellectual property is important, and royalties are important," Curtis added. "I want growers to know that every time you buy a load of certified seed, you are investing money in the next generation of varieties and the next set of Extension research."
"Our partnership with Limagrain Cereal Seeds is transforming the research capabilities of the College of Agricultural and Life Sciences," said Michael Parrella, the college's dean. "The royalties our research generates will significantly expand funding to develop and test new wheat and barley varieties to take advantage of market opportunities and meet future challenges."
The university, Limagrain and agricultural products supplier CHS Primeland joined forces for the first time to sponsor the Northern Idaho Field Day. It drew more than 150 participants to view the field plots and an event at nearby Lindsay Creek Vineyards.
Farmers, researchers, marketers and suppliers gathered near Lewiston to review the performance of scores of wheat varieties growing in test plots.
University of Idaho Extension holds field days for the state's most important crops each year to help farmers evaluate varieties and research-based advances in ways to grow them.
The U of I-Limagrain partnership was launched with the support of the Idaho Wheat Commission in 2012. The commission, which remains a supporter of the pact.
The commission funds a large share of the university's research on wheat, one of Idaho's most valuable crops with estimated sales of more than $400 million in 2017.
---
Faces and Places
The National Agricultural Alumni and Development Association honored retired CALS professor Carl Hunt and U of I alumni and eastern Idaho farmers Clen and Emma Atchley during the group's annual meeting in Boise June 14.
Hunt, a cattle physiologist, retired from the U of I College of Agricultural and Life Sciences
as head of the Animal and Veterinary Science department. He continues to oversee and support the college's Steer-A-Year program that supports scholarships for Idaho Vandals athletes and agricultural students.
Hunt received the group's Above and Beyond Partner Award, which is given to faculty or staff members who give freely of their time to further the goals of the institution's alumni, communications, development or student services programs.
The Atchleys operate the Flying A Ranch near Ashton, Idaho, and produce seed potatoes, grain, alfalfa, canola and cattle. Clen received a bachelor's degree in agriculture and Emma received a bachelor's degree in English from U of I.
Clen and Emma Atchley received the Ruby C. McSwain NAADA Outstanding Philanthropist Award. It is given to those with sustained giving to support agriculture, agricultural higher education, Extension or land grant universities.
---
Events
June 29 — Master Gardener Regional Convention, Thomas E. Ricks Garden, BYU-I. Pre-registration deadline June 25. $35. Contact Lance Ellis, 208-624-3102, ellis@uidaho.edu 8 a.m. to 4 p.m.
July 18 — Kimberly Research and Extension Center Twilight Tour, 3806 N 3600 E, Kimberly, 5-8 p.m.
Feedback or suggestions? Please pass them along through calsnews@uidaho.edu