Catching Up with CALS — June 13, 2018
Dean's Message — Keeping Busy
Campus may seem quiet, but summer is the busy time for CALS and UI Extension. It is the peak of the agricultural calendar.
The influx of FFA members from across the state brought campus to life last week. Interacting with these high school students and their focus on education and professionalism is always rejuvenating.
Next Tuesday, June 19, CALS and UI Extension will take part in the first collaborative field day with Limagrain Cereal Seeds and CHS Primeland near Lewiston. This will be a new episode in a familiar program that all of the partners have used before.
The difference will be that farmers and others who typically participate will benefit by having the university, Limagrain and CHS Primeland together in the same venue.
And the venue itself will be something new, too. Lindsay Creek Vineyards will be the setting for the Northern Idaho Collaborative Field Day from 8:30 a.m. to 2 p.m.
At month's end, CALS will mark another milestone with the first training course on vector-borne diseases on campus sponsored by the Center for Health in the Human Ecosystem.
The course will bring together experts from across the country and around the world to encourage collaboration among researchers at all levels who deal with diseases affecting plants, animals and people.
These efforts are all part of our mandate as a land-grant university.
We work closely with children to prepare the next generation to continue the agricultural progress that makes our nation strong. We work with adults to take advantage of the science and technology we have developed. And we serve as a beacon for researchers worldwide who will generate the knowledge that the FFA members on campus this month will use during their lifetimes.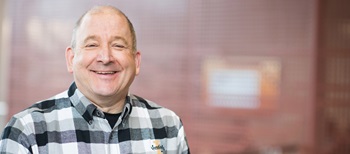 Michael P. Parrella
Dean
College of Agricultural and Life Sciences
---

By the Numbers
828 members and advisors visited the University of Idaho campus last week for the Career Development Events. The 737 FFA members and 91 FFA advisors hailed from 52 chapters statewide. The top 3 events were livestock evaluation, dairy cattle evaluation and meats evaluation. 6 CALS department participated including agricultural and extension education, agricultural economics and rural sociology, animal and veterinary science, soil and water systems, plant sciences and the Bi-State School of Food Science.
---
Our Stories — CHHE Training Course Draws Global Turnout
Plants, people and animals all contract disease agents from vectors, including insects, ticks and even nematodes.
Late this month, 38 instructors and 36 participants, many of them experts in their own right, will gather in Moscow for a six-day training course organized by the Center for Health in the Human Ecosystem.
"What we want to do is create this community of expertise and establish this group of trainees, who I think will become instructors. That's as important as the training aspect," said Edwin Lewis, the center's co-director with fellow co-director and entomologist Shirley Luckhart.
"And we'll do this every year," Luckhart said. "We already have the date set for next year and some people have already signed up for next year's."
Nearly three-quarters of the participants are from the U.S. The 10 others come from Canada, China, France, Trinidad and Tobago, Nigeria, Thailand, Benin and the United Kingdom.
Of the 38 instructors, a dozen are from the University of Idaho. One hails from the United Kingdom and the rest are from California, Washington, Arizona, Pennsylvania, Georgia, Colorado, Montana and Texas.
In addition to Luckhart and Lewis, the organizing committee includes Glen Scoles of the U.S. Department of Agriculture Animal Disease Research Unit, and Sanford Eigenbrode, Cassandra Olds, Glen Stevens, Alex Karasev and Kathy DeRiemer, all of U of I.
The training course evolved from a series of related workshops organized by Luckhart, Lewis and colleagues at Penn State, Texas A&M and the University of Georgia.
The biological parallels and ecosystem drivers among plant, animal and human disease vectors and the scientific approaches to understanding the associated disease threats to food supplies and to animal and human health are a focus of the trainings.
The community approach will help researchers across all of the specialties share insights and approaches by gaining a common vocabulary to talk about their work.
The course will run from June 24-29 and will include problem solving, case studies and lecture sessions focused on topics ranging from virulence and resistance mechanisms to human-caused environmental changes that are influencing vectors and diseases.
The scope is enormous, Luckhart said, with estimates of people infected with vector-borne disease numbering in the hundreds of millions each year. Some 200 million worldwide suffer bouts of malaria alone.
Impacts of vector-borne diseases of livestock include direct animal losses, losses in productivity, costs of trade embargoes and vaccination. African sleeping sickness, for example, affects both people and cattle, with more than 60 million people and 50 million head of cattle at risk in sub-Saharan Africa. Losses in crop yield due to plant vector-borne diseases are measured in the billions of dollars annually, with clear impacts on food security, Lewis said.
Clearly the need is great, Luckhart and Lewis said. They hope to help to create a new workforce with the skills to address these complex diseases in a much more holistic way.
---
Chobani Foundation Funds Scholars Program at U of I, Cornell
The Chobani Foundation will provide $160,000 for scholarships to the University of Idaho to help educate the next generation of dairy professionals.
The Chobani Scholars program will focus on students from Idaho's Magic Valley surrounding Twin Falls, where the Chobani company operates the world's largest yogurt plant.
"Chobani has been a great corporate citizen for Idaho from the start. This investment in the people of the Magic Valley — and its own future workforce and supply chain partners — is a perfect example of the culture behind that civic virtue," Idaho Gov. C.L. "Butch" Otter said. "Working together with the University of Idaho to build a better educated and more highly skilled ag sector will yield personal and economic rewards for years to come."
The foundation's goal is to support students, including children of migrant workers, who have family ties to the dairy industry and plan to pursue their own dairy careers.
"As an independent food company with deep ties to our dairy communities, it's important to us all that we do everything we can to support the next generation of dairy farmers," said Michael Gonda, Chobani's senior vice president of corporate affairs. "The Chobani Foundation's mission is to strengthen the communities we call home, which makes this investment in the future of farmers so important. We can't wait to meet the Chobani Scholars and welcome them into our family."
The donation will fund eight $20,000 scholarships split between students who begin college in 2019 and 2020. The scholarships are for students whose family members work on dairy farms and who intend to pursue a career in dairy farming.
"This will help students realize their dreams of finding their place in the rapidly evolving dairy industry, one of Idaho's most important agricultural enterprises," said Michael P. Parrella, dean of the U of I College of Agricultural and Life Sciences.
The Chobani Foundation is funding an identical program at Cornell University. Each university will manage the selection of specific scholarship recipients.
---

Faces and Places
The National Association of County Agricultural Agents has announced its 2018 award winners:
Carmen Willmore, Fact Sheet, State Winner; Iris Mayes, Feature Story, Regional Winner; Kate Painter, SARE/NACAA Sustainable Agriculture Fellows Program, National Winner; UI Farm/Ranch Management Team, Search for Excellence in Farm and Ranch Financial Management, National Finalist, Steven Harrison, Ben Eborn, Reed Findlay, Steven Hines, Jon Hogge, Les Nunn, Joel Packham and Carmen Willmore; UI Small Farms Team, Learning Module, National Finalist, Ariel Agenbroad, Colette DePhelps, Lauren Golden, Melissa Hamilton, Jennifer Jensen, Iris Mayes, Soren Newman, Kate Painter, Rikki Ruiz, Amanda Snyder, Eileen Stachowski, Jen Werlin, Cinda Williams and Montessa Young.
---
Events
June 16 — Sagebrush Saturday, Rock Creek Ranch near Hailey. Summer Kick-off Barbecue, 6 p.m.
June 19 — Northern Idaho Collaborative Field Day sponsored by University of Idaho, CHS Primeland and Limagrain Cereal Seeds, Lindsay Creek Vineyards, 3107 Powers Ave., Lewiston. RSVP by June 8 to dougf@uidaho.edu or 208-799-3096, 8:30 a.m. to 2 p.m.
June 29 — Master Gardener Regional Convention, Thomas E. Ricks Garden, BYU-I. Pre-registration deadline June 25. $35. Contact Lance Ellis, 208-624-3102, ellis@uidaho.edu 8 a.m. to 4 p.m.
July 18 — Kimberly Research and Extension Center Twilight Tour, 3806 N 3600 E, Kimberly, 5-8 p.m.
Feedback or suggestions? Please pass them along through calsnews@uidaho.edu