Catching Up with CALS — May 30, 2018
Dean's Message — Summer of Science
CALS is back at the Moscow Farmers Market again this year. The big show that we hope will interest children in science, the Summer of Science, will begin June 2.
The Summer of Science attracted more than 1,000 children last summer at the market. Most were ages 5 to 11, in kindergarten through fifth grades.
Our program's main motive is to encourage boys and girls to explore their natural curiosity about the world. We hope they learn something about nutrition, insects, plants, soil and dairy cows.
More importantly, we hope they feel a sense of wonder and an excitement about learning something new. Finally, following the oldest of Extension models, we know that as children learn, so do parents.
I believe we are accomplishing those goals from my own experiences watching dozens of children and their families flock to our tent on Friendship Square near the clock last summer.
Certainly the privilege of showing off our stock of walking stick insects and hissing cockroaches during the first session last year helped form that perception.
Boys and girls fascinated by something totally foreign to their own experience was a joy.
I am confident that this season's opening day will attract plenty of fans. We are drawing on the Margaret Ritchie School of Family and Consumer Sciences dietetics and nutrition program for an experiment children will love to sink their teeth into — literally.
I won't say much more than it involves chocolate chip cookies.
It will help having Antrim Caskey, who staffed the neighboring Backyard Harvest booth at market last summer, as this year's market coordinator. She is entering the dietetics program's fifth year and is well versed in the market and communication, having worked on six continents as a photo journalist.
CALS faculty and staff already have stepped up to provide another excellent summer schedule. Faculty from the College of Science, College of Natural Resources, College of Engineering and the College of Art and Architecture will also join us at market to share their science.
As we enter our second season, it is also important to say thanks to the City of Moscow and its Commission on the Arts and the Farmers Market Commission. The city encouraged CALS' efforts and provided a stage to help our community make science accessible.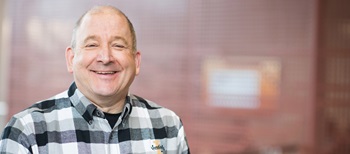 Michael P. Parrella
Dean
College of Agricultural and Life Sciences
---

By the Numbers
310,000 acres of potatoes were planted in 2017 by Idaho farmers, who harvested 131,325,000 hundredweight of potatoes from 309,000 acres, an average of 425 hundredweight per acre, according to the National Agricultural Statistics Service of the U.S. Department of Agriculture.
---
Our Stories — CALS Shifts Focus to Kids in Moscow Saturday
It's time for another Summer of Science!
In cooperation with the Moscow Farmers Market Commission, the College of Agricultural and Life Sciences began its season on Main Street May 5 offering Saturday morning programs from 9 a.m. to noon.
This Saturday, June 2, the Moscow Farmers Market programs shift gears to bring the excitement of science to children ages 5-11.
Each week faculty, staff and students occupy the college's tent in Friendship Square under the clock to highlight the college's research, extension and teaching.
Saturday's program will feature a chocolate cookie tasting to compare the traditional Toll House recipe with another using an unusual ingredient. The recipe was developed by Margaret Ritchie School of Family and Consumer Sciences faculty and students.
Other programs in June's lineup include bumble bees, June 9; water quality and aquatic insects, June 16; plant propagation, June 23; and fabric dyes, June 30.
Children who attend market programs will receive a Summer of Science passport. Those who attend five programs will be eligible for a drawing for prizes at season's end.
This year's programs reach across the U of I this season. Other topics and colleges will include sessions on American kestrels or sparrow hawks with the College of Natural Resources, an urban tree walk with the College of Art and Architecture, biodiesel with the College of Engineering and wild yeasts with the College of Science.
More than 1,000 children joined programs during the Summer of Science during the 2017 season.
The program began with an invitation from the Moscow Arts Commission, which originally operated the Farmers Market. CALS Dean Michael Parrella underwrote the college's participation with contributions to the Dean's Excellence Fund and an online fundraising drive.
This year's programs are also supported by a grant from the CHS Foundation and CHS Primeland through their Seeds of Stewardship Program.
"It is fun and rewarding to see children who are fascinated by science and the world around them," Parrella said. "We hope to encourage them to continue that interest as they grow up and choose what they want to do as adults."
University of Idaho Extension programs during the market season will feature Idaho Master Gardeners every third Saturday and others including IdaH2O, which trains citizen volunteers to monitor water quality in local streams and lakes.
---

Faces and Places
The American Meat Science Association honored Phil Bass, CALS assistant professor of meat science, with its the Distinguished Achievement Award. The award was established in 1992 and is designed to recognize and foster the development of young AMSA members who have demonstrated significant scientific skills in muscle foods research and technology that contribute to the animal products industry and the association. The award is sponsored by Burke Corporation.
---
Events
June 7 — Vandal Voices: "What to Eat (and Drink) to Live to 100," SeAnne Safaii-Waite, CALS associate professor of food and nutrition, U of I Boise, Boise Brewing, 521 W. Broad St., Boise. 6-7 p.m.
June 19 — Northern Idaho Collaborative Field Day sponsored by University of Idaho, CHS Primeland and Limagrain Cereal Seeds, Lindsay Creek Vineyards, 3107 Powers Ave., Lewiston. RSVP by June 8 to dougf@uidaho.edu or 208-799-3096, 8:30 a.m. to 2 p.m.
Feedback or suggestions? Please pass them along through calsnews@uidaho.edu