Catching Up with CALS — May 2, 2018
Dean's Message — Celebrating a Journey
Graduation on May 12 gives us reason to celebrate CALS faculty, staff and students many accomplishments as the academic year winds down.
Our graduates will head out for bright futures and prepared for a strong job market thanks in no small part to the help and opportunities they received from CALS.
Faculty members deservedly get most of the credit for the students' educations. Professors and instructors provide an outstanding connection to the scientific world through knowledge and method.
Our staff members play an important role, too, by helping students navigate their academic journey.
We take particular pride in the excellence of our advising. The university recently sent out a survey asking students to rate their advisers.
CALS students responded in an admirable way. Although the college enrolls 10 percent of the U of I student body, CALS students comprised 24 percent of the responses.
Even more gratifying was that 86 percent ranked CALS staff and faculty advisers as good to excellent.
The response and the ratings led the university overall. We will try our best to continue to live up to CALS students' confidence.
No doubt many have read Provost John Wiencek's end of the year congratulatory note from Monday. I sincerely appreciate his efforts to make the university and all of us better in our endeavors.
We believe that CALS' efforts to help students pursue their careers and their enthusiasm for those efforts deserve support.
What better time is there to endorse success than when we celebrate our contributions to Idaho, society and the future — graduation.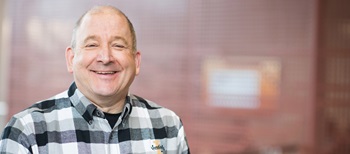 Michael P. Parrella
Dean
College of Agricultural and Life Sciences
---

By the Numbers
131 undergraduate students are eligible to graduate from CALS May 12. 19 master's degree candidates and doctoral degree candidates are also eligible to graduate. A total of 1,478 University of Idaho students statewide are eligible for graduation this spring, earning a combined 1,564 degrees. U of I students have applied for 1,155 bachelor's degrees, 93 law degrees, 35 doctoral degrees, nine specialist degrees and 274 master's degrees. Some students will have earned multiple degrees. This year's commencement brings the university's all-time total to 117,335 graduates and 125,567 degrees.
---
Our Stories — Luckhart Wins ESA Honor, Fetes Walter Reed
CALS entomology professor Shirley Luckhart will recount Army physician Walter Reed's impact on entomology and medicine during her Founders' Memorial Lecture at Entomology 2018, the Joint Annual Meeting of the Entomological Societies of America, Canada and British Columbia in November in Vancouver, British Columbia.
The Entomological Society of America announced in April that Luckhart was chosen to receive its prestigious Founder's Memorial Award and to deliver the lecture. She is co-director of the Center for Health in the Human Ecosystem at the University of Idaho.
The Founders' Memorial Award was established in 1958 to honor the memory of scientists who made outstanding contributions to entomology. Each year at the Entomological Society of America (ESA) Annual Meeting, the recipient of the award delivers the Founders' Memorial Lecture, the topic of which is always a deceased entomologist.
Among past recipients of the Founders' Memorial Award is Harvard University entomologist E.O. Wilson. (See the list of past Founders' Memorial Award winners and honorees.)
At Entomology 2018, the subject of her lecture will be Walter Reed (1851-1902), a U.S. Army physician who led the team of researchers that first confirmed the link between mosquitoes and the spread of yellow fever.
Though trained as a medical doctor and not an entomologist, Reed's impact on entomology was profound and contributed significantly to the field of vector biology.
Benefits of his work were realized almost immediately: yellow fever outbreaks in the United States were contained by 1905, and construction of the Panama Canal — which had previously failed in large part due to workers falling victim to yellow fever and malaria — proceeded successfully under new efforts to minimize exposure to mosquitoes and the pathogens they carried.
Luckhart got her start in entomology more than 30 years ago. Her research on the biochemistry and molecular cell biology of Anopheles mosquitoes has continued the scientific progress sparked by Reed more than a century ago. Her work has been continuously funded by the U.S. National Institutes of Health since 1997 and focuses broadly on understanding the transmission of the causative agent of malaria by Anopheles mosquitoes.
Many of her findings have led to interventions that block both infection and transmission, and as a result, she has several patents in process.
Luckhart first made strides early in her career as a National Research Council postdoctoral scientist at the Walter Reed Army Institute of Research after she completed her doctorate at Rutgers University in 1995. Since then, Luckhart has served in research and teaching roles at the Uniformed Service University of the Health Sciences; Virginia Tech; and the University of California, Davis.
In 2017 she joined the faculty of the University of Idaho as a professor in both the Department of Entomology, Nematology and Plant Pathology and the Department of Biological Sciences and as a founding co-director of the university's Center for Health in the Human Ecosystem. In 2014 Luckhart was named a fellow of the American Society for Tropical Medicine and Hygiene, and in 2017 she received a career excellence award in medical, urban and veterinary entomology from the ESA Pacific Branch.
"Shirley sees her work as being part of not only her department, school and university but of the universe of science. She is always interested in what other people do and seems to have innumerable collaborators," says Ronald Rosenberg, associate director for science at the U.S. Centers for Disease Control's Division of Vector-Borne Diseases.
Rosenberg was director of the entomology division at the Walter Reed Army Institute of Research when Luckhart was there in her postdoctoral position. "We often spoke of what an extraordinary and brave scientist Reed was. I think Shirley Luckhart is a superb choice to honor his legacy while looking into the future."
Luckhart will deliver the Founders' Memorial Lecture at the Entomology 2018 Awards Breakfast, beginning at 7:30 a.m. on Tuesday, Nov. 13.
Entomological Society of America
---

Faces and Places
Margarita Cardona, formerly at SEL, joined CALS as the director of administrative services and fiscal officer.
CALS associate professor of agricultural economics Aaron Johnson was elected as chair of Faculty Senate.
---
Events
May 3 — Retirement reception for Extension Professor Erik Anderson, Ag Biotech Courtyard, 3-4:30 p.m.
May 4-5 — Plant and Soil Science Club Bedding Plant Sale, Sixth Street Greenhouse, 11 a.m. to 5 p.m.
May 5 — CALS returns to Moscow Farmers Market, Saturdays through October, 9 a.m. to noon
May 7-11 — Food for Finals, Ag Biotech Interaction Court
May 12 — CALS Commencement Reception immediately after ceremony, Ag Biotech Interaction Court
Feedback or suggestions? Please pass them along through calsnews@uidaho.edu