Catching Up with CALS — May 16, 2018
Dean's Message — Growing Connection
Nearly two dozen CALS faculty made the trek to Rexburg and Brigham Young University - Idaho recently. The luncheon welcome by President Henry Eyring, College of Agriculture and Life Sciences Dean John Zenger and others was warm and impressive.
Catalyzed by U of I's outreach for the Center for Agriculture, Food and the Environment, our growing connection with BYU-I makes sense on many levels. BYU-I with its 20,000 undergraduates is a natural partner for U of I. In addition, BYU-I now represents the major agricultural program in the Brigham Young University system.
Both universities serve Idaho agriculture and help the state's farmers, ranchers, food processors and others involved in Idaho's largest industry find qualified employees.
Our role at U of I differs because of our land-grant university status and our extensive research and extension system that goes with it. We function as the research and development arm of Idaho agriculture and use our extensive system of UI Extension and Idaho Agricultural Experiment Station facilities to directly address local needs throughout the state.
For CALS and U of I, the connection with BYU-I may offer long-term impact on our enrollment growth, undergraduate and graduate. That's a strategic pillar for the campus, and it's part of our cascaded plan.
And it increases U of I's profile in Eastern and Southern Idaho, which we have to do to increase our ability to recruit undergraduates and to better serve agriculture in that part of the state.
We continue to focus on opportunities beyond Rexburg to expand enrollment. We are doing a big enrollment event in Boise this week to connect with prospective students who have been admitted to U of I but have not yet enrolled.
A sample of 400 prospective students has shown that as many as half are still undecided about where they will enroll. We have invited them to a session with CALS Academic Programs to answer questions and offer more information.
We hope the trip will help sway some of them to decide to enroll in CALS programs.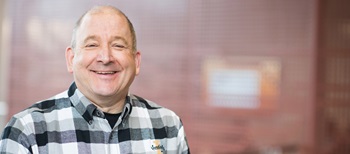 Michael P. Parrella
Dean
College of Agricultural and Life Sciences
---

By the Numbers
905 students lined up for nutritious snacks and meals during CALS' Food for Finals May 7-10. 253 students ate breakfast and lunch that Monday, the week's highest turnout. By Friday morning, breakfast turnout dropped to half as most students completed spring semester finals and the campus exodus concluded.
---
Our Stories — Water Summit Draws Regional High Schoolers
COEUR D'ALENE, Idaho — Nearly 400 students from seven northern Idaho high schools will gather for the second annual Youth Water Summit May 22 on the North Idaho College campus.
The students spent the school year involved in The Confluence Project learning about local watersheds. Students tested water quality in streams and lakes, learning about factors that affect water quality.
"The Wave of the Future" summit will feature student research projects from 10 a.m. to 1 p.m. in the Student Union Building. The poster display session is free and open to the public.
Water summit participants will report on their efforts to collect water quantity measurements from snowpack. After a year of honing their investigative skills, students selected local watersheds important to them, their communities and the ecosystem, then studied specific issues.
After learning about the science behind the issues, the students proposed solutions to present at the water summit.
The Youth Water Summit gives students the opportunity to experience a professional scientific conference and learn about higher education opportunities. The Youth Water Summit will highlight what these students have learned after a year of field-based and project-based education in their local watersheds.
Students worked with scientists and professionals from the University of Idaho Water Resource Center, UI Extension, Kootenai Environmental Alliance, The Lands Council, Coeur d'Alene Tribe, Idaho Department of Environmental Quality and other local partners.
"Connecting high school youth to local experts is incredibly powerful, and through this process we are able to enhance science education and critical thinking skills in participating classrooms," said Laura Laumatia of the Coeur d'Alene Tribe Lake Management Team.
A grant from the Women's Gift Alliance helped the Kootenai Environmental Alliance expand the program, involve more schools and almost doubling the number of students participating. Science classes from Coeur d'Alene, Post Falls, Lake City, Moscow, Wallace, Timberlake and Paradise Creek high schools will attend.
Students will use media from posters to phone apps to videos to present their findings, topics including:
impact of declining snowpack on hydropower generation
wastewater treatment plant capacity to handle growing populations
ways to increase public engagement in these issues
University administrators, professors, local water resource professionals, agency scientists, local politicians and others will judge student projects.
The Youth Water Summit is supported by Kootenai Environmental Alliance, University of Idaho Water Resource Center, IdaH2O Master Water Stewards, Coeur d'Alene Tribe, Idaho Department of Environmental Quality, Women's Gift Alliance and LUSH.
---

Faces and Places
The Idaho Vandals women's team at the College National Finals Rodeo will include Janey Reeves, Shandie Britt, Rayna Longeway and Ryan Barnett. Reeves finished in the top three in regional standings. The CNFR will be June 10-16 in Casper, Wyoming. The U of I team finished second regionally among seven Northwest women's college teams.
Student, faculty and staff winners of CALS awards were announced April 23.
Undergraduate student award recipients included Logan Heflin of the U of I/WSU School of Food Science, Outstanding Freshman; Bishal Thapa of Agricultural and Extension Education, Outstanding Sophomore; Cole Lickley of Agricultural Economics and Rural Sociology, Outstanding Junior; and Shannon Royals of Plant Sciences, Outstanding Senior. Lizbeth Bumstead of Agricultural and Extension Education was named Club Member of the Year. CFFA was named Club of the Year.
Graduate students Chia Yu Tsai of Animal and Veterinary Science won the Outstanding Graduate Student award and Alexander Wixom of Plant Sciences won the Gamma Sigma Delta Outstanding Graduate Student award.
Faculty award winners included Aaron Johnson of Agricultural Economics and Rural Sociology, Outstanding Academic Advisor award; Paul McDaniel of Soil and Water Systems, R.M. Wade Excellence in Teaching award; and Dojin Ryu of the U of I/WSU School of Food Science, the Dr. Richard C. Heimsch Outstanding Research award.
Staff award recipients included Martin Baker of the U of I/WSU School of Food Science, Outstanding Professional Support award; Natalie Klassen of Plant Sciences, Outstanding Service/Maintenance Support award; Marty Lunt of CALS Administrative Services, Outstanding Administrative Support award; Clarence Robison of Soil and Water Systems, Outstanding Technical Support award.
U.S. Secretary of Agriculture Sonny Perdue announced Tuesday the reappointment of CALS microbiologist Carolyn Hovde Bohach of the U of I/WSU School of Food Science to the National Advisory Committee on Microbiological Criteria for Foods. The panel includes experts from universities, government and industry.
---
Events
May 22 — Dedication of the Idaho Farm Bureau Foyer to the Future outside the Ag Science Auditorium Room 106, 4:30-5:30 p.m.
Feedback or suggestions? Please pass them along through calsnews@uidaho.edu