Catching Up with CALS — April 4, 2018
Dean's Message — Making Progress
Today is All-CALS Day on campus to launch the annual UI Extension Conference. Together the events strengthen ties among faculty and staff who provide the University of Idaho with its strongest statewide ties and most sustained outreach efforts.
Preparing for a report this morning on the state of the college reminded me of how remarkable the past two years have been during my time as CALS dean.
The college's leadership team set ambitious goals early on to improve the way CALS operates.
Three new departments: entomology, plant pathology and nematology; plant sciences; and soil and water systems formed. The goal was to expand opportunities for grants, attract new faculty and provide a logical organization for faculty.
We are optimistic that as the number of new and transfer student applications increase, enrollment will follow and reflect the logic of those changes.
Our list of initiatives is producing substantial progress.
Our planned germplasm and seed potato laboratory cleared another key step in recent days. The $6 million facility in Moscow will significantly improve our existing operation and allow expansion. It will be built with funding from the state, college and industry partners.
We celebrated a ceremonial groundbreaking last November at the Nancy M. Cummings Research, Extension and Education Center to signal progress on a new classroom and laboratory building there. Key support for that project comes from the Auen Foundation and H.N. and Frances C. Berger Foundation, from cattle industry partners and others.
Early last month, we celebrated the Idaho Wheat Commission's decision to fund an endowed chair in ag commodity risk management. It will be the first shared by two colleges and reflects CALS partnership with the College of Business and Economics through the Barker Capital Management and Trading Program.
None of these accomplishments would have advanced without the exceptional work of faculty and staff.
The outstanding CALS leadership team and initiatives like the CALS Distinguished Speaker Series that is bringing science communicator Randy Olson to campus this week are successes, too.
It will take me nearly an hour to summarize all of the accomplishments I have witnessed, too many to list or explore in detail here.
Let me summarize: I am grateful for the opportunity to serve as dean. And I am proud to work with the college's faculty, staff and students who have accomplished such remarkable progress.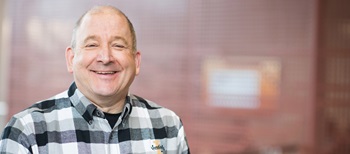 Michael P. Parrella
Dean
College of Agricultural and Life Sciences
---

By the Numbers
117 donors gave $23,588 to CALS during the most recent Vandal Giving Day in 2016. The 127 gifts included 74 for scholarships, 37 for Friends of 4-H, 7 for the CALS Excellence Fund and 13 for an array of other programs.
---
Our Stories — Olympian Armstrong Talks Excellence April 11
Three-time Olympic gold medalist Kristin Armstrong will present the Margaret Ritchie Distinguished Speaker Series event in the Agricultural Sciences Auditorium, Room 106, Wednesday, April 11 at 6 p.m.
A University of Idaho alumna, Armstrong won gold in the cycling time trial in three consecutive Summer Olympics in Beijing in 2008, London in 2012 and Rio in 2016. She won her third gold medal the day before she turned 43.
"Committed to Excellence" is the title of her lecture, which is sponsored by the Margaret Ritchie School of Family and Consumer Sciences.
Armstrong, who serves as women's high-performance director for USA Cycling, earned a bachelor's in exercise physiology in 1995 from U of I.
Katie Brown, assistant professor of food, nutrition and dietetics, said the school chose Armstrong for this spring's Margaret Ritchie Distinguished Speaker Series event because of her holistic approach to sport and life.
The two met during the ceremony to dedicate the bike path along Sixth Street and Paradise Creek in Armstrong's honor last October.
Brown said Armstrong's approach applies to the highest echelon of sport, and it applies to life. Armstrong said that if she ever writes a book it's going to be about the 1 percent, the small things that separate champions from great athletes.
Athletes who are most successful often pay attention to all of the details, focusing on sleep, nutrition, training and all of the things that apply to performance.
"Kristin said everything she will talk about can apply to everyone. People who are not athletes can still apply this commitment to excellence regardless of what their goals are," Brown said.
"Do you have to, or do you get to?" she asked as she began her U of I commencement speech in 2010. She encouraged graduates to lead "get-to" lives.
"It's all about your attitude. By changing your attitude to a get-to attitude, you will find you will be more happy, and the people around you will be more happy," she said.
"Never give up on your dreams," Armstrong said. "Always keep the things that you are passionate about in your life. View life as an adventure, never as a struggle."
Armstrong's visit is part of Brown's Integrated Seminar (ISEM) 301 class, "The Holistic Athlete." The class hears from a wide array of those who work with athletes from ethicists to nutritionists.
"We thought that having Kristin Armstrong, who has the perspective of an elite Olympic athlete but also has experience in community health, would be a great person to talk about the holistic athlete from both ends of that spectrum," Brown said.
Having a three-time Olympic champion speak would be a plum for any campus. "She is very high profile, and just thinking from that perspective, it's 'Wow! She's coming!'" Brown said.
"But in my interactions with her, I've learned she is very down to earth, she values the university and is supportive of the university. So in that regard, I'm not surprised that she was willing to come speak," Brown added.
---
Wine and Cheese Gala Features Local Wines April 20
Idaho wineries will provide tastes of regional enological delights Friday, April 20, during U of I Moms' Weekend.
The annual Wine and Cheese Gala sponsored by CALS will benefit student groups. Guests are invited to purchase bottles of wines sampled and participate in a silent auction featuring local artists. A wine pull will add some fun with the chance to buy a mystery bottle of wine.
Lindsay Creek Winery and Clearwater Canyon Cellars of Lewiston and Camas Prairie Winery of Moscow will provide wines ranging from a blended red, syrah, lemberger and cabernet sauvignon to a blended white, riesling and sauvignon blanc. Two meads, huckleberry and raspberry, will round out the early selections with more anticipated to join the list.
Guests are invited to purchase bottles of wine they enjoyed, participate in a silent auction featuring local artists, and purchase a mystery bottle of wine during the wine pull.
The event is open to all ages, but only those 21 and older may sample wines.
The gala will be held at the Best Western Plus University Inn at 1516 Pullman Road from 4 to 7 p.m. Tickets cost $25 each or $45 a pair.
---
Vandal Giving Day: 1,889 Minutes to Benefit CALS April 24-25
The College of Agricultural and Life Sciences will participate in Vandal Giving Day, a 1,889-minute online giving event benefitting our students and enhancing the outstanding programs we offer. From April 24 at noon through April 25 at 7:30 p.m. (Pacific Time), you can support funds such as the College of Agricultural and Life Sciences Excellence Fund and our scholarships, among many others. If you have any questions or are interested in being an ambassador for Vandal Giving Day to help spread the word, please contact vandalsgive@uidaho.edu. Watch for more information coming soon.
---

Faces and Places
CALS faculty were honored with university awards this spring, including an outreach honorable mention for Joey Puetz, distinguished university professor for Ron Hardy and mid-career awards for Jianli Chen and Phil Watson.
---
Events
Feedback or suggestions? Please pass them along through calsnews@uidaho.edu