Catching Up with CALS — April 18, 2018
Dean's Message — Our Narrative
The CALS Speaker Series is living up to my hopes for providing the college and U of I community with inspiring, interesting and informative programs. All three speakers who visited during the past three weeks presented powerful stories of themselves and how we all can benefit from their experiences.
Those who attended Olympic Gold Medalist Kristin Armstrong's presentation as the Margaret Ritchie Family and Consumer Sciences Distinguished Speaker could learn from her approach. As the most decorated women cyclist in Olympic history, she seized opportunity (at a later age than when most cyclists start) and set her mind to do the hard work that champions must to compete in four Olympics, coming away with three gold medals.
Science communicator Randy Olson's presentation during All-CALS Day and his story circles that followed offered insights into the power of narrative. Whether in formal scientific papers or in casual conversation, all of us assemble ideas and facts into what we hope express a coherent and true story.
And with environmental economist Cathy Kling's visit, the speaker series brought another member of the National Academy of Sciences to campus. Her expertise relates directly to one of Idaho's most essential natural resources, water.
If there is any place in the West where narrative has shaped destiny, it is water. In a narrative as old as the Bible, the earliest water management projects in Idaho were credited with making the desert bloom. The Magic Valley in southern Idaho is called that for a reason.
Through the decades, it is clear that while the control and distribution of water still holds the key to prosperity, there are many more levers to pull and actions to take to create a sustainable system.
One of the reasons Cathy Kling's visit fit our narrative as a college is her work can help us better understand and communicate the value of the Idaho Center for Agriculture, Food and the Environment.
The truth is that the center will not succeed with just one or two of the three legs, it must have all three. And each of those legs, agriculture, food and the environment, relies on water in sufficient quantity and quality.
Our story reaches back to the U of I's founding as a land-grant university and remains focused on finding ways to support agriculture and the environment to provide food. A story so simple and ingrained in our culture that we sometimes forget its importance.
One person who has been busy elsewhere the past few months needs recognition here, too.
Congratulations to environmental chemist Greg Moller, who was inducted into the National Academy of Inventors on April 4. It is a high honor and outstanding recognition for his work and for CALS to claim him as a faculty member.
Greg and engineer Martin Baker are approaching completion of a four-month stint in Ontario, Canada, as part of the George Barley Water Prize competition. Moller, Baker and CALS soil scientist Dan Strawn created the U of I Clean Water Machine, an inventive way to remove phosphorus from public waters. It is a vital mission that will help agriculture face future challenges.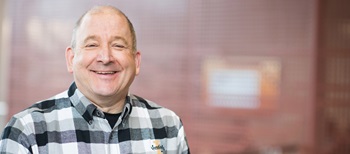 Michael P. Parrella
Dean
College of Agricultural and Life Sciences
---

By the Numbers
43 freshmen and 10 transfer students from 4 states enrolled in CALS programs during the April 14 UIdaho Bound. States represented Saturday were Idaho, Washington, Oregon and California. So far this spring 121 new students attended and enrolled in CALS. 4 more UIdaho Bound events are planned in June and July.
---
Our Stories — Conference to Focus on Milk Composition
PULLMAN, Wash. — A team of researchers from Washington State University and the University of Idaho has received a $50,000 grant from the USDA Agriculture and Food Research Initiative Competitive Grants Program to organize a national conference on the compositions of bovine and human milk.
Made up of experts in human nutrition, dairy science and lactation, the team will organize and lead the "Conference on Dairy Foods: Management, Production, Bioactive Compounds to Enhance Health" in November in Washington, D.C.
"Understanding the factors that cause variation in the nutrient and bioactive components of bovine milk will aid in our understanding of the optimal intake of dairy products for the human consumer," said Mark McGuire, associate dean in the U of I College of Agricultural and Life Sciences and director of the Idaho Agricultural Experiment Station.
The conference will address the factors regulating the bioactive components in bovine and human milk. By understanding how these factors are regulated, researchers will be able to improve concentrations in milk, which will ultimately lead to better health — such as reductions in inflammation and improved gastrointestinal health in consumers.
"Human milk is the only food ever designed by nature to feed humans, but cows' milk comes close," said Michelle "Shelley" McGuire, professor in the WSU School of Biological Sciences. "The more we can learn about both kinds of milk, the better we'll be able to understand human nutritional needs."
The team includes Mark and Shelley McGuire; Naomi Fukagawa, director of the Beltsville Human Nutrition Research Center in Maryland; and John Finley, WSU alumnus and national program leader for Human Nutrition at USDA-ARS in Maryland.
"This project exemplifies the benefits of interdisciplinary research," said Janet E. Nelson, U of I vice president for Research and Economic Development. "It brings together researchers from anthropology, genomics, proteomics, microbiology and data sciences in a way that can make a positive and significant impact on human health."
The grant builds on dairy and human milk research at both universities and will focus on linking agricultural practices to human health.
"Through this partnership between WSU and U of I, we will build the foundation for this research to have a broad societal impact on human health and agricultural practices," said Chris Keane, WSU vice president for Research.
The project, "Conference on Dairy Foods: Management, Production, Bioactive Compounds to Enhance Health," was funded under USDA NIFA grant No. 2018-67018-27514. The total amount of federal funds for the project is $49,974, which amounts to 100 percent of the total cost of the project.
Washington State University
---

Faces and Places
Sonny Ramaswamy, left, joined Greg Moller, CALS environmental chemist, and Janet Nelson, U of I vice president for research and economic development, during the April 4 ceremony to induct Moller into the National Academy of Inventors. Ramaswamy served as director of the National Institute of Food and Agriculture until his term expired earlier this year.
---
Events
Feedback or suggestions? Please pass them along through calsnews@uidaho.edu