Catching Up with CALS — March 7, 2018
Dean's Message — CAFE Time
The Center for Agriculture, Food and the Environment is gaining traction as more people learn about it and recognize the benefits it will bring to Idaho agriculture.
When the University of Idaho makes it a reality, it will be anything but an overnight success. More than a decade of working for and talking about the need for a major addition to our research capacity will be realized.
I feel fortunate as dean to have CAFE as a university, a college and a personal priority. The center and its broad mission is something I truly believe in. For agriculture to continue as a major economic force in Idaho, it must rely on the university for research, extension and education.
CAFE will allow U of I to educate the workforce needed, find solutions to current production and environmental challenges and help farmers and ranchers compete nationally and globally.
The scale of the effort is daunting. I say that as someone who has spent much of the last two years traveling in search of support and simply to understand Idaho's needs.
It is encouraging to open the university's Friday Letter from President Staben and see CAFE highlighted as a necessary step to live up to our mission outlined by the Hatch Act of 1897. It is encouraging to see the Idaho Barley Commission commit grower dollars to the project.
It is encouraging to meet with major forces in Idaho agriculture, Glanbia, Chobani and the J.R. Simplot Co., and hear that they understand the need and want to help. I believe they and many more will.
Because, frankly, now is the time.
After all of these years, I am convinced that Idaho must make a move or see the opportunity slip away. That is the message I am trying to deliver.
The United States and Idaho are not built on good intentions. We are a society that values action and taking steps to help ourselves. CAFE is clearly a step that we collectively know we must take together.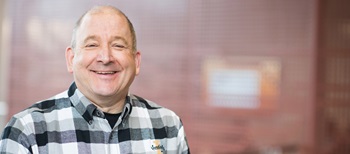 Michael P. Parrella
Dean
College of Agricultural and Life Sciences
---
By the Numbers
$10.1 billion or 16 percent was Idaho agriculture's contribution to the gross state product in 2013. Almost $3 billion came from the crop and animal production sector in GSP in 2016, and $8.8 billion came from cash receipts in 2014, according to a report about the Idaho Agricultural Experiment Station by the Moscow-based economic analysis company Emsi.
---
Our Stories — Report Analyzes IAES' Impact on Idaho Economy
Imagine the farmer who spent $50,000 to buy a pickup. At the end of the season, the farm's accountant reports the truck led to increased sales of $70,500. Most would consider that pickup a
good investment.
An economic analysis of the Idaho Agricultural Experiment Station (IAES) provided to Idaho legislators Feb. 28 reported that 141 percent return on research spending and farm sales.
The station, which celebrated its 125th anniversary in 2017, spent $8.1 million on research that created $11.5 million in additional sales during fiscal 2017.
The station also generated $3.8 million in new grant funding at the Kimberly, Aberdeen and Parma research and extension centers respectively. The three are the station's and by extension the College of Agricultural and Life Sciences' largest research enterprises across southern Idaho.
The station operates nine research and extension centers that house researchers across the state.
In addition, the report estimated the direct impact of intellectual property from IAES that improved the quality and production efficiency of potato and wheat varieties. In addition station research helped combat pests and diseases for those two top crops and others including barley, onions and sugarbeets.
The annual estimated economic impact from intellectual property that can be quantified would generate $11 million in additional income and $37.6 million in additional sales if fully implemented, the report estimated.
In 2011 alone, station researchers' early detection and warning of stripe rust damage to wheat crops generated a one-time economic impact of $178.5 million in income and $230 million in sales for Idaho's wheat industry and the state economy.
The annual economic impact of IAES research spending and from intellectual property totaled $16.1 million in additional income and $49.1 million in added sales.
In addition, the report noted the station's impact can be stated as $5.1 million in additional income, or value added, and an additional 137 jobs across the state. The October 2017 report, "The Economic Impact of the Idaho Agricultural Experiment Station," was prepared by the Moscow-based economic analysis company Emsi.
The report represents the most thorough study of the station's impact conducted in recent years, said Mark McGuire, IAES director.
"The report went through the economic benefits and opportunities created by the centers," McGuire said. "We are probably very conservative in our analysis."
The centers' aging infrastructure and the need to replace retiring researchers prompted the report, McGuire said. "I know it's a responsible thing to do as we look to revitalize and invest in these centers in coming years. People want to know what the return on investment is."
A recording of CALS Feb. 28 presentation to the Idaho Legislature's House Agricultural Affairs Committee and McGuire's report to the House Ag Committee about the report is online at 1:10:15.
---
Faces and Places
During the Water Research Symposium Wednesday, CALS researchers Dan Strawn and Erin Brooks presented their research linking farming-based soil phosphorus with water quality. New CALS professors Alex Maas, assistant professor of agricultural economics and rural sociology, and Zachary Kayler, assistant professor of soil and water systems, also participated.
---
Events
March 8 — Visioning for the Future: Parma Research and Extension Center, Parma Ridge Winery, 24509 Rudd Rd, Parma, contact: Carly Schoepflin, craska@uidaho.edu, 208-885-4037
March 9 — CALS Awards nominations due.
Feedback or suggestions? Please pass them along through calsnews@uidaho.edu