Catching Up with CALS — March 21, 2018
Dean's Message — Looking Ahead
The recent Parma Research and Extension Center visioning session yielded a couple of breakthroughs.
The first was a clear indication of the agricultural community's strong support for CALS.
The CALS-sponsored event drew just about every representative of a crop with a stake in Parma's future: potatoes, sugarbeets, onions, hops, mint, grain, grapes, garlic, seed and others. I personally had high hopes for the meeting, and they were rewarded with a turnout that exceeded expectations.
It was gratifying to see so many interests gather at the beautiful Parma Ridge Winery to start working toward a common goal. Idaho agriculture is diverse, and no place demonstrates that as clearly as Parma.
The vitality of the discussions clearly signaled the willingness of participants to invest time, effort and money to prepare Parma for a changing future.
It is amazing that CALS researchers contributed to important developments in the region's agriculture even while the center was essentially on life support during the Great Recession. It is important to note that it was the agricultural industry that kept Parma open and operating during dark financial times.
Now CALS is hiring a talented new cadre of researchers who are ready to contribute their own expertise. Much of the March 8 meeting focused on what the many agricultural representatives anticipate they will need.
The next steps for CALS and the community will be to create the new laboratories and enhance our existing research facilities to allow our scientists to meet those needs.
I cannot close without acknowledging a major new development in the productive relationship between the University of Idaho and the Idaho Wheat Commission.
We announced last week the Idaho Wheat Commission's decision to fully fund an endowed chair that will enhance existing programs that train students in the areas of agricultural commodity and financial risk management. It is part of the collaboration between the Agricultural Commodity Risk Management Program in CALS and the Barker Capital Management and Trading Program in the College of Business and Economics.
The $2 million investment by the commission will greatly enhance student learning opportunities. The endowed chair will be the first that will benefit multiple colleges at U of I and only the third endowed chair on campus. It will also expand extension and outreach opportunities to agribusinesses, producers and the financial sector to become better equipped to manage risk and strengthen Idaho's ag economy.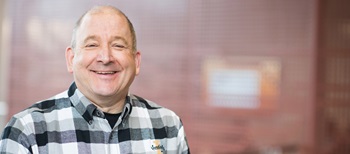 Michael P. Parrella
Dean
College of Agricultural and Life Sciences
---
By the Numbers
150 individuals and representatives of businesses, organizations, government agencies and higher education institutions signed in for Center for Agriculture, Food and the Environment listening sessions in Twin Falls and Nampa in late January. 2 out of 3 had U of I connections, either as alumni, students, faculty or staff. More than 1 in 3 had business connections to the dairy industry or others.
---
Our Stories — IWC Creates Endowed Risk Management Chair
The Idaho Wheat Commission announced a $2 million gift to the University of Idaho March 15 to fund a new effort to expand education focused on risk management.
The Idaho Wheat Commission gift will establish an Endowed Chair of Risk Management to enhance existing programs in agricultural commodity and financial risk management. It will expand collaboration between the College of Agricultural and Life Sciences and the College of Business and Economics (CBE).
The two colleges cooperate on the Agricultural Commodity Risk Management Program and the Barker Capital Management and Trading Program.
"We believe this is an opportunity to fill a gap in the supply chain. It will provide students with the valuable real-life experience to succeed in that area of the industry and, by so doing, strengthen the agricultural industry as a whole," said Blaine Jacobson, Idaho Wheat Commission executive director.
"The support of the Idaho Wheat Commission ensures the university will continue to expand the unique and transformative educational opportunities made possible by this collaboration," said Michael P. Parrella, CALS dean. "This will further enhance our national reputation for educating students on managing agricultural market risks using a wide variety of tools that include futures and options trading and using securities markets to counterbalance agricultural risks."
The endowed chair will also provide valuable outreach to commodity groups, agribusinesses, producers, financial institutions, market participants, policy makers and others who use active risk management practices, Parrella said.
The individual holding the endowed chair will have considerable depth of experience in conducting research related to agricultural commodity and financial security markets on a global, national and regional scale. Their future research in this position may include price forecasting and examining impacts of changing policies, macroeconomic factors and structural changes in commodity markets on risks encountered throughout the supply chain.
"A solid foundation in business benefits students of all disciplines, which is why hands-on learning opportunities in risk management are so valuable," said Marc C. Chopin, CBE dean. "The support of the Idaho Wheat Commission and expanded collaboration with the College of Agricultural and Life Sciences ensures we can continue to provide students with experiences like this and prepare them to make meaningful contributions to Idaho's businesses and economy."
U of I agricultural economics graduate student Brett Wilder of Meridian is among students who benefit from the collaborative programs. He is studying livestock markets as part of his passion to help farmers and ranchers improve profits.
"We are fortunate to have seen first-hand the importance of proper risk management and to have hands-on experience with real-world tools that can be a game changer for farmers and ranchers," Wilder said. "The IWC gift of an endowed chair will make this program even more attractive for students to come to the University of Idaho to learn these important and valuable skills for risk management in both commodities and securities markets."
---
Inspire Tour Brings App Training to 20 Idaho Sites
If people find something interesting, there's probably an app for it. A statewide Inspire Idaho roadshow sponsored by U of I and the Innovation Collective March 26-30 intends to help Idahoans turn their creativity into cash in the apps market.
UI Extension will provide locales next week for "The Experience Tour," an effort to help Idaho residents better understand and explore ways to join the app economy. App development now generates an estimated $1.3 trillion in revenue, organizers said.
More information about the tour is online at www.inspireidaho.com/the-experience-tour/.
The sessions in 20 cities across the state will feature experts in app development and access to Apple software and Sphero Robots.
The Innovation Collective is a cooperative effort to help build economic prosperity led by Coeur d'Alene-based entrepreneur Nick Smoot.
"I can't wait to see young and old alike having a chance to write basic code and then watch it move robots," said Charles Buck, Coeur d'Alene-based U of I associate vice president and center executive for northern Idaho.
"Experiences like this are necessary to remove fear of the changing economy and allow for inclusive opportunities in our country," Buck said. "This kind of reimagining of education is especially necessary for rural states."
The tour is designed to generate awareness and promote the Inspire Idaho program. The learning initiative will launch later this spring with an initial emphasis on app development.
The Inspire Idaho program focuses on increasing technology and education access, equity and workforce readiness for the state's residents.
It provides free training in Apple's Swift code and app development by supplying access to the program, experts and computers during the sessions across the state.
The program will utilize Apple Inc.'s Everyone Can Code curriculum. The intent is to promote the creation of app development teams in each of Idaho's 44 counties. Experts and mentors in the community will also provide guidance and support. Upon completion of the 180 hour curriculum, each team will generate a fully developed app.
"In Idaho, we are one of the lowest average wage states and the shrinking need for humans in certain industries makes a case for us to attempt to connect as many citizens as possible to rapidly growing economies like app development, Smoot said.
"This program is designed to help you make more money, be a part of a new growing economy, and unlock the fullness of your potential," Smoot said.
---
All CALS Day April 4, Register by Friday
All CALS Day festivities on Wednesday, April 4, will begin at 8 a.m. in the U of I Auditorium with a state of the college address by CALS Dean Michael Parrella.
A keynote presentation by science writer Randy Olson will follow at 9:30 a.m.
A hosted All CALS Day lunch will begin at 11:30 a.m. at the University Inn Best Western Plus.
Those planning to attend are asked to RSVP by Friday. More information is available from Amberly Beckman at abeckman@uidaho.edu or 208-885-4038.
---
Faces and Places
University Distinguished Professor and CALS entomologist Nilsa Bosque-Perez received the International Plant Resistance to Insects Lifetime Achievement Award while attending the 23rd IPRI symposium held March 8 and 9 at Rothamsted Research near Harpenden in the United Kingdom.
---
Events
April 2-6 — UI Extension Conference, University Inn Best Western Plus, Moscow.

April 4 — All CALS Day State of the College Address, University Auditorium, RSVP, 8 a.m.
Feedback or suggestions? Please pass them along through calsnews@uidaho.edu