Catching Up with CALS — Dec. 12, 2018
Dean's Message — Finals and Future
It's Wednesday of finals week and the final newsletter of 2018.
The turnout for our semi-annual Food for Finals typically begins to taper off today as students head home. We continue providing meals until lunch on Friday for those who are here until then.
CALS' efforts, including matching all donations, on the behalf of the Vandal Food Pantry Food Drive with the ASUI Center for Volunteerism and Social Action wind up tomorrow, Dec. 13.
Professors begin the final steps of assessing students' performances in classes. Staff take stock of how the necessary work that must be done will get done during the holidays. For our laboratory animal, livestock and greenhouse workers, the chores continue, whatever the calendar says.
This season is particularly demanding for James Nasados, Vandal Brand Meats assistant manager, who has held things together there after our loss of Ron Richard this fall.
I want to thank you all, faculty, students and staff for your efforts on behalf of CALS and the U of I this year.
I hope you had the chance to attend the State of the College presentation Dec. 6 in the Bruce M. Pitman Center. The timing during dead week was a little less than ideal, but the turnout was good and we will have a video up as soon as its ready.
As a brief recap, the main message focused on the many ways we moved the college forward this year.
We see encouraging signs with student enrollment. Our efforts to generate outside funding double the results of any other college. Our outreach improves agriculture and people's lives across the state.
Our efforts are visible. A new classroom-office building is underway at the Nancy M. Cummings Research, Extension and Education Center near Salmon; the Sandpoint Organic Agriculture Center is a major new asset. A new Germplasm Seed Potato Laboratory and U of I ownership of Rinker Rock Creek Ranch are nearing reality. In the Agricultural Sciences Building, a new microbiology lab is complete.
A large part of my report covered progress on CAFE, the Center for Agriculture, Food and the Environment. We strengthened partnerships and made major progress during 2018 toward making this transformational project a reality. I expect to make more gains in 2019.
I'll close with a sincere wish that the break brings you some time to spend with family and to reflect on the good we do collectively. Thank you!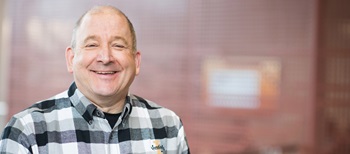 Michael P. Parrella
Dean
College of Agricultural and Life Sciences
---
By the Numbers
487 = 246 + 241. So go the first two days of CALS Food for Finals. On the 1st day of finals week, CALS and caring donors fed 83 students breakfast and 163 students lunch. On the 2nd day of finals week, CALS and caring donors fed 93 students breakfast and 148 students lunch.
---
Our Stories — Man and Mosquito vs. Malaria
A team of researchers from the University of Idaho and University of Arizona have revised their view on how a parasite that causes human malaria manipulates its host mosquito.
Shirley Luckhart of Idaho and Michael Riehle of Arizona led the research that showed human malaria parasites manipulate biochemical signaling in their mosquito hosts to favor their own development and survival. Their paper was published Nov. 29 in the journal PLOS Pathogens.
"The exciting thing about figuring out the parasite is shutting down some metabolism in the mosquito to further its own development is the possibility of providing a novel target for intervention that people hadn't seen before," she said.
"Earlier research identified small molecules to block this biology in the parasite that could have therapeutic potential for malaria," Luckhart said.
Their study shows the most dangerous human malaria parasite, Plasmodium falciparum, succeeds by activating a JNK signaling pathway in the mosquito Anopheles stephensi.
This signaling drives a shift in resources that allows the parasite to reproduce in the mosquitoes and spread to people. Malaria kills hundreds of thousands of people and sickens millions more each year worldwide.
The research counters earlier studies that suggested the parasite shut down this signaling system in the mosquito host.
"Our work could extend the applicability of anti-malarial drugs into activity that we call transmission blocking," she said. "If mosquitoes ingest the drug with blood as they feed on people, the drug could disrupt parasite development in the insects, too."
"This effect could be further enhanced by combining drug delivery with release of genetically engineered mosquitoes that starve parasites of these key nutrients," Riehle said.
"Parasites have to take up things from their hosts to survive — that's why they're parasites," Luckhart said. "There is a finite pool of those resources in a mosquito. To reduce competition with the mosquito for them, the parasite turns off some of the mosquito's metabolism to free up those resources."
The pair's work took seven years.
"To publish our work, we had to generate a large burden of proof because these other studies were out there and published," Luckhart said.
Previous studies underpinned a "lock and key" theory for how malaria so successfully expanded worldwide. "This is a provocative concept in the literature and our paper counters the basic biological underpinnings of their hypothesis about how malaria spreads."
The work was funded by National Institutes of Health (NIH) / National Institute of Allergy and Infectious Diseases (NIAID) R01 AI080799, R01 AI078183 and R56 AI118926, and by St. George's University (Grenada, West Indies) Postdoctoral Scholar Program. The article is available online at https://journals.plos.org/plospathogens/article?id=10.1371/journal.ppat.1007418.
---
Christmas Cookies Launch FCS Expert in Residence Program Series
Candi Bailey loves making cookies. Her highly decorated confections began as a hobby little more than a year ago, then developed into a hobby business catering festive events.
Earlier this month, her reputation landed her a gig as the inaugural expert in residence for the CALS Margaret Ritchie School of Family and Consumer Sciences to share her cookie decorating techniques with the public.
Her helpers for the "Christmas Story" de-stress event were Bri Lyon, a U of I undergraduate engineering student, and Beth Ropski, an FCS graduate student studying nutrition.
FCS Director Shelley McGuire said Bailey's cookie art provided the perfect test of the expert in residence idea. The activity is fun, it engages people's interest on a personal level and it provides an opportunity to acquaint people with the school's academic offerings.
The first cookie decorating session in the Carmelita Spencer Foods Laboratory drew a full house with community members, students, faculty and staff. A second session yielded the same result.
And for those who missed the Christmas cookies, Bailey will offer sessions for Valentine's Day treats and during Moms' Weekend in April.
McGuire said she hopes to expand the expert in residence concept to other areas that relate to the school's missions. Other experts might include chefs, home canning fans, clothing designers and a host of others.
---
U of I 4-H Youth Development, NC State Bring Jerome Schools Juntos
Jerome schools are partnering with UI Extension 4-H Youth Development to bring the Juntos program to help Latino students.
UI Extension, Jerome County, will expand efforts to help Latino students in Jerome schools succeed academically and pursue education beyond high school.
U of I will partner with North Carolina State University and North Carolina A&T University to help Latino students stay in school and encourage their families to work together to make college a family goal.
Funded by a U.S. Department of Agriculture grant to the UI Extension 4-H Youth Development program, the five-year project will focus on groups of 40 middle school and 40 high school students.
The JuntosTM program helps Latino students achieve high school graduation and attend higher education.
Juntos, which means together in Spanish, helps students succeed in school through mentoring by program staff and by providing students and their families with knowledge, skills and resources to prevent youth from dropping out.
The program was founded in 2007 at NC State and has assisted students in a dozen states since then. It was recognized in 2015 by the White House as a bright spot in Hispanic education.
The Juntos program began in Jerome schools in September and will run through 2023. It is funded by a $548,000 Children, Youth and Families at Risk grant from the USDA National Institute of Food and Agriculture.
The partnership between Jerome schools and U of I began in 2017 with a $75,000 grant through the university's Vandal Ideas Program. The initial partnership, Caminos al Futuro or Paths to the Future, provided the foundation for Juntos. It was supported by the U of I Office of Equity and Diversity, UI Extension 4-H Youth Development and the Office of the Executive Officer for Southwestern Idaho.
The Juntos program fits the USDA institute's goal of helping individuals and communities develop a diverse workforce through education, Extension and engagement in food and agricultural programs to support agriculture.
Jerome students who join Juntos will participate in 4-H activities at school, receive mentoring and academic counseling at school, and participate in a week-long visit to the U of I campus each year.
---
Faces and Places
U of I CALS Department of Agricultural and Extension Education is one of six programs nationwide that received the 2018 National Association of Agricultural Educators Outstanding Postsecondary Agriculture Program Award. The award sponsored by Bayer was presented at the NAAE annual convention in San Antonio, Texas, on Nov. 28 to AEE Department Head Jim Connors, and faculty Kattlyn Wolf, Jeremy Falk and Kasee Smith.
---
Events
Dec. 10-14 — Food for Finals, Agricultural Biotechnology Laboratory, 7 a.m. to 3 p.m.
Dec. 3-13 — Vandal Food Pantry food drive, E.J. Ag Sciences Building and Niccolls Building
Dec. 13 — Idaho Ag Outlook Seminar, Caldwell, Best Western. 8:30 a.m. to 4:30 p.m.
Feedback or suggestions? Please pass them along through calsnews@uidaho.edu