Catching Up with CALS — Nov. 28, 2018
Dean's Message — Priority: STEM
CALS is planning to take a major step forward next year in helping Idaho prepare its future workforce.
For nearly all of us who serve the university and college, this new step is really just reinforcing what we have been doing for more than a century.
Because the college oversees the budgets associated with the Agricultural Research and Extension Service (ARES), this is a line item request in the state's budget that is distinct and separate from the university's budget request.
As such, the dean is called upon to justify this budget (just as the president is called upon to justify the overall university's budget) in front of the Legislature's Joint Finance-Appropriations Committee (JFAC).
We are also able to make a request to augment the ARES budget if needed, and this too must be justified. (I should note that any request to augment the ARES budget must be approved by the university.)
In our JFAC request for 2019/20, the college is asking the Idaho Legislature to fund four new faculty positions in the 4-H program dedicated to science, technology, engineering and math or STEM.
Their role will be both forward-looking and familiar because they will serve as UI Extension 4-H educators. With a heritage reaching back to 1912, the 4-H Youth Development program grew from early efforts to help young people understand and participate in modern agriculture. A record number of youth (70,000) were reached by our 4-H program last year.
We hope legislators will appreciate that past and recognize that our expertise in helping youth learn STEM skills is particularly valuable.
We help young people learn about biology through club-based animal projects ranging from cavies to cattle at the county fair all the way through biology lessons from cells through nutrition and healthy living.
The new positions will provide leadership in STEM and enhance existing STEM opportunities across our four Extension districts and county-based educators. Often times, counties provide excellent 4-H programs but cannot sustain them because of other time demands.
The 4-H robotics program grew to 3,000 participants in recent years in part because the college allocated a position to help coordinate efforts. We believe the new positions will do the same for the full range of science, technology, engineering and math offerings.
CALS' request will also seek support for bolstering research and Extension activities at the Rinker Rock Creek Ranch near Hailey. It already provides a significant addition to the capabilities of the Nancy M. Cummings Research, Extension and Education Center near Salmon. While this request will augment the ARES budget, the Rinker Rock Creek Ranch will be jointly supervised by CALS and the College of Natural Resources.
We anticipate there will be many more opportunities for CALS and CNR programming as we move forward at the "living laboratory" that the ranch represents as we move forward.
We will talk about those key legislative initiatives and others within the college during the State of the College update Dec. 6 in the Bruce M. Pitman Center. We will stream it statewide for our faculty and staff located off campus, too. I hope you will have the opportunity to attend and be part of moving the college forward.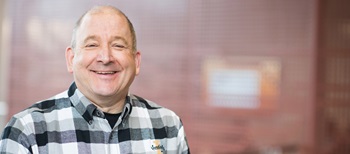 Michael P. Parrella
Dean
College of Agricultural and Life Sciences
---
By the Numbers
22.5 percent of U of I undergrads felt hungry but didn't eat because there wasn't enough money for food during the past 12 months. 30.3 percent of students cut the size of or skipped meals and 31.5 percent ate less than they thought they should because they didn't have enough money, according to master's research by family and consumer sciences grad student Madie Brown. The Vandal Food Pantry gives out an estimated 420 items a week at 7 locations across campus. An 11-day food drive by the U of I Division of Student Affairs Center for Volunteerism and Social Action begins Dec. 3 with 2 CALS locations. The college will match the donations.
---
Our Stories — Work on Cummings Center Building Makes Progress
Workers made progress on groundwork for the new office and classroom building at the Nancy M. Cummings Research, Extension and Education Center near Salmon in recent weeks.
Work on the new building began in October with excavation and preparations for foundation concrete work, Cummings Center Superintendent John B. Hall said.
A run of favorable weather meant the project made good headway, allowing Ormond Builders of Idaho Falls and subcontractors to begin work on the foundation.
Although construction expenses are rising in Salmon and many communities because of labor and material cost increases, the building will provide the same layout and space as the original plans. The $2.7 million project is funded largely by donations from the Auen Foundation, the H.N. and Frances C. Berger Foundation, cattle industry partners and others.
The building is designed by Salmon-based architect Don Stamp, who has been widely recognized for his work in the Wood River Valley and in the Salmon area. Stamp designed the community's new library completed in 2017.
The new U of I building will expand the center's office space, freeing other buildings for use as housing for visiting students and faculty. At 8,000 square feet, the building will include a classroom with capacity to accommodate up to 120 people.
A camera is available onsite to provide live views of construction on the web.
---
CALS, FCS, U of I Student Affairs Partner for Vandal Food Pantry Drive
The U of I Division of Student Affairs Center for Volunteerism and Social Action and CALS will join forces beginning next week on a food drive for non-perishable items to stock Vandal Food Pantries across campus.
CALS Dean Michael Parrella pledged to match the amount of food donated during the Dec. 3-13 food drive.
Donation bins will be located in residence halls and in the E.J. Iddings Agricultural Sciences Building outside the dean's office and in the Niccolls Building.
The drive caught the attention of Madie Brown, who is studying food insecurity on campus as a master's student in the Margaret Ritchie School of Family and Consumer Sciences. She and FCS Director Shelley McGuire advocated for the college match to help address a serious issue facing students.
The center times the food drive for the end of the semester when students leaving for winter break often need to find a home for leftover non-perishable food items, said Megan Miller, the center's coordinator for the effort.
Brown's research showed that during the past year more than one in five U of I undergraduate students felt hungry but didn't eat because they didn't have enough money to buy food.
Nearly a third of students cut the size of or skipped meals because they didn't have enough money for food.
More than a third worried at least sometimes that their food would run out before they got money to buy more. Nearly half, 44.5 percent, said at times they couldn't afford to eat balanced meals, Brown found.
Her data was drawn in part from U of I student responses to a national survey conducted by The Ohio State University's Office of Student Life and College of Education and Human Ecology.
On the U of I campus, the Division of Student Affairs center stocks seven pantries across campus with a selection of donated items, Miller said.
Each pantry typically offers about 30 items and is typically refilled twice a week, she said. The most popular items are canned soup, canned meat, pasta and sauce, peanut butter, granola bars, instant meals and toiletries.
---
Faces and Places
The U of I chapter of CFFA elected Bishal Thapa as president; Mason Roberts, vice president; Tyler Hand, secretary; Jaylan Funk, treasurer; and Kellen Corkern, sentinel. The group raised enough during its Thanksgiving Feast dessert fundraiser to purchase a water buffalo through Heifer International for a village in need.
U of I doctorate recipient Casey Bartrem, executive director of the Moscow-based TerraGraphics International Foundation, was elected as a Fellow of the Collegium Ramazzini. The international scientific society examines critical issues in occupational and environmental medicine with a view towards action to prevent disease and promote health. The collegium's 180 fellows come from 40 nations.
The video of Temple Grandin's Nov. 15 talk on the U of I campus is now available at www.uidaho.edu/cals/news-and-events/speaker-series.
---
Events
Nov. 29 — Plant and Soil Science Club poinsettia sale, Idaho Commons, 10 a.m. to 3 p.m., Sixth Street Greenhouse, 5-7 p.m.
Nov. 30 — Plant and Soil Science Club poinsettia sale, Idaho Commons, 10 a.m. to 3 p.m.
Dec. 3-13 — Vandal Food Pantry food drive, E.J. Ag Sciences Building and Niccolls Building
Dec. 6 — All-College Meeting, Bruce M. Pitman Center Vandal Ballroom, 8:30-10 a.m. PST
Dec. 8 — Winter Commencement, ASUI-Kibbie Dome
Dec. 10-14 — Food for Finals, Agricultural Biotechnology Laboratory, 7 a.m. to 3 p.m.
Dec. 11 — Idaho Ag Outlook Seminar, Idaho Falls, Shilo Inn. RSVP to Ben Eborn, 208-847-0344, beborn@uidaho.edu, by Dec. 4. 8:30 a.m. to 4:30 p.m.
Dec. 12 — Idaho Ag Outlook Seminar, Burley, Burley Inn. RSVP to Ben Eborn, 208-847-0344, beborn@uidaho.edu, by Dec. 4. 8:30 a.m. to 4:30 p.m.
Dec. 13 — Idaho Ag Outlook Seminar, Caldwell, Best Western. RSVP to Ben Eborn, 208-847-0344, beborn@uidaho.edu, by Dec. 4. 8:30 a.m. to 4:30 p.m.
Feedback or suggestions? Please pass them along through calsnews@uidaho.edu