Catching Up with CALS —Nov. 14, 2018
Dean's Message — Priority: Water
There is no resource more essential to life than water.
There is no resource more essential to agriculture than water.
With those two simple statements, it should surprise no one that the University of Idaho places high importance on how we deal with water. The recent success of professors Greg Moller and Dan Strawn and engineer Martin Baker in the Everglades Foundation's George Barley Water Prize competition provides one clear indicator that water is a priority.
The team's University of Idaho Clean Water Machine won the right to advance to the competition's final four, a year-long test of technologies to reduce phosphorus contamination in the environment.
The final test will take place near Orlando, Florida, and presents a huge challenge even at the pilot scale.
The problems posed by the excessive levels of phosphorus discharged into the environment are even larger. These problems include toxic algae blooms that threaten safe drinking water supplies for many communities, especially those around the Great Lakes. Algae blooms also steal millions of dollars in property values in many areas, such as Florida's beautiful coastlines.
Here in Idaho, there is anticipation that the technology developed by Moller's team will help safeguard water quality for drinking, recreation and agricultural purposes, therefore benefiting all Idahoans.
CALS makes a multitude of efforts to protect Idaho's waters. Our new Department of Soil and Water Systems has some of the best researchers working across the state to address problems related to efficient use of water, water policy questions, natural water movement and recharge, and water discharge.
Many of these research areas will be addressed in the proposed Center for Agriculture, Food and the Environment (CAFE) in the Magic Valley.
It's all about how water moves, who has water rights and existing water policy. A recent article in the Science Magazine's policy forum authored by Rick Allen from Kimberly and others addressed irrigation efficiency from a policy perspective. To say that this is complex is a gross understatement.
CALS also works closely in collaboration with the College of Law and the U of I-based Idaho Water Resources Research Institute to bring the full complement of U of I expertise to bear on water issues facing the state.
As the home for the university's water-oriented education programs, CALS has strong ties to law, where water-oriented legal education is led by University Distinguished Professor Barbara Cosens. It bears repeating that water policy is incredibly complex, but it is absolutely critical to understanding water in the state.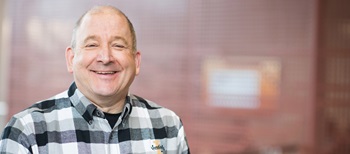 Michael P. Parrella
Dean
College of Agricultural and Life Sciences
---
By the Numbers
2 all-CALS student teams ranked among the top 20 nationally in the monthlong TD Ameritrade thinkorswim Challenge 2018. The contest for college students drew 500 teams nationwide. 110.98 percent on the upside was good enough for a No. 8 ranking through the final week of trading. The CALS team the LegenDairy Sir Loins of Dustin Winston, Eric Ball, Cole Lickley and Austin O'Neill turned an initial "paper money" investment of $500,000 into $1,054,877.95, a gain of $554,877.95. No. 19 Meat the Vandals posted a 33.09 percent or $165,440.40 gain. The team included Brett and Liz Wilder, Kelton Hunter and Hannah Doumit.
---
Our Stories — Alumnus Stitches Together Career Plan
The first time Santos Vargas used a sewing machine he was a sophomore at the University of Idaho. Prior to that, the closest he came to a needle and thread was watching his grandmother sew as a child growing up in Yakima, Washington.
The first time he went whitewater rafting was before his junior year at U of I. Now 24, Vargas is a product coordinator at NRS — a Moscow-based company that produces a variety of outdoor gear and apparel — where sewing machines and rafting are part of his everyday life.
Like many students, Vargas wasn't sure what he wanted to do for the rest of his life when he was considering college. He chose U of I because of the close proximity of the Moscow campus to his family and the offer of a scholarship to run cross-country and track and field for the Vandals. When he arrived at U of I he decided to major in business.
"I just thought, I'm going to go into business because if I get a degree in business I'll be able to find a job somewhere," Vargas said.
It was during his sophomore year Vargas knew he needed to make a change and wanted to do something more creative. He began to search for different options at U of I.
"I like creativity and being able to make something," Vargas said. "I just thought of the things I was really interested in. Being an athlete and wearing all that different apparel, I thought why not focus on athletic apparel and go into that industry. I knew I wasn't going to be an athlete forever and I wanted to stay connected to the world of athletics in some form."
Vargas discovered the apparel, textiles and design program in U of I's College of Agricultural and Life Sciences and decided to make the switch — even though he had no prior experience or knowledge in the field.
"I had no knowledge of textiles so it was fun to be able to start at ground zero and build all of that knowledge up in a program like they have at the University of Idaho," Vargas said.
Stepping into a program he wasn't familiar with had its difficulties — like learning how to use a sewing machine.
"I was kind of really scared of the sewing machine just because I didn't want to have like a finger sewn off," Vargas said. "I've seen my grandma sew dozens of times and it just seemed like something that was super technical and super-fast. It was more just getting over the intimidation factor of using the sewing machine."
The course structure for the apparel, textiles and design major helped Vargas piece together the skills he was lacking. The faculty in the Margaret Ritchie School of Family and Consumer Sciences also played a key role.
"A lot of what did help was the experience that the faculty had," he said. "I think it's a lot easier to learn from someone if they are credible. They just had so much experience there between the faculty that it makes it easy to pick up and not so hard to make that transition. I think that is what helped get over that intimidation factor."
---
Autism Spokesperson Temple Grandin to Speak Thursday at U of I
Temple Grandin, a Colorado State University professor, expert in humane animal handling and autism spokesperson, will visit the University of Idaho campus Thursday, Nov. 15.
Grandin's talk, "Educating Different Kinds of Minds," is from 5:30-6:30 p.m. in the International Ballroom of the Bruce M. Pitman Center, Sixth Street and Deakin Avenue, Moscow. Part of the U of I College of Agricultural and Life Sciences Speaker Series, Grandin's lecture is free and open to the public.
A professor of animal science, Grandin will discuss the education of students who have different kinds of minds. She will also talk about her own upbringing and work experience as a woman with autism.
Her experiences were portrayed in the 2010 HBO film, "Temple Grandin," starring Claire Danes. Grandin is a pioneer in improving the handling and welfare of farm animals and is a prominent author and speaker on both autism and animal behavior.
Grandin has written several books and received many awards, including induction into the American Academy of Arts and Sciences and the National Women's Hall of Fame.
More information on Grandin's talk is available at www.uidaho.edu/cals/speaker-series. A recording of her talk will be archived there when the video is completed.
---
Faces and Places
Madie Brown, a Margaret Ritchie School of Family and Consumer Sciences graduate student, is coordinating a CALS Food Drive Oct. 29 through Nov. 25 as part of her master's research on food insecurity on campus. CALS will match the food collected pound for pound.
---
Events
Nov. 15 — Temple Grandin, "Educating Different Kinds of Minds," Bruce Pitman Center International Ballroom 5:30-6:30 p.m.
Dec. 6 — All-College Meeting, Bruce M. Pitman Center Vandal Ballroom, 8:30-10 a.m. PST
Dec. 11 — Idaho Ag Outlook Seminar, Idaho Falls, Shilo Inn. RSVP to Ben Eborn, 208-847-0344, beborn@uidaho.edu, by Dec. 4. 8:30 a.m. to 4:30 p.m.
Dec. 12 — Idaho Ag Outlook Seminar, Burley, Burley Inn. RSVP to Ben Eborn, 208-847-0344, beborn@uidaho.edu, by Dec. 4. 8:30 a.m. to 4:30 p.m.
Dec. 13 — Idaho Ag Outlook Seminar, Caldwell, Best Western. RSVP to Ben Eborn, 208-847-0344, beborn@uidaho.edu, by Dec. 4. 8:30 a.m. to 4:30 p.m.
Feedback or suggestions? Please pass them along through calsnews@uidaho.edu