Catching Up with CALS — Oct. 31, 2018
Dean's Message — Legacy and Testament
A crowd filled the U of I Administration Building Auditorium and the Livestock Pavilion Oct. 21 to celebrate the life and legacy of Ron Richard. The turnout was testament to Ron's success building a loyal fan base for Vandal Brand Meats and for his status as friend and mentor to so many.
Ron's untimely death means he will not see the completion of plans to improve our meat science facilities. We are committed to modernizing the teaching and research facilities and the retail shop that he invigorated through his work.
CALS will continue the trajectory that Ron set because it supports our outstanding faculty and students. When we reach that goal, we will pause and celebrate that he was a key motivator in that success.
Most of the U of I community and the wider world know Vandal Brand Meats for the Vandal dog so popular at Vandal football games and other venues. Or maybe fans know VBM through holiday hams, specialty sausages or locally-produced meats.
Ron Richard's passion was helping students learn valuable information and providing the meats industry with U of I graduates ready to help it advance.
The retail operation is connected to student education centered around the meat science courses Animal and Veterinary Science 263 and AVS 363.
The financial returns from Vandal Brand Meats sales support student work experiences and operating expenses for the program.
Product sales generating over $50,000 a year paid the wages of student workers, funded field trips and underwrote add-ons like a directed study class that allowed students to participate in cured meats contests. Students learned by developing recipes, and some of them won prizes in competitions.
Ron was the major force pushing for modernization of our meats lab because he knew it best. Built in the 1960s, it needs major changes to improve worker safety and humane handling of animals. With only one room, it lacks flexibility to schedule several activities at the same time.
A larger, more modern classroom will also help interest future students in an area of study that is vitally important to Idaho. Beef cattle production generates more than $2 billion in cash receipts each year. Our meats lab and Vandal Brand Meats play an important role in helping the state add value to that industry.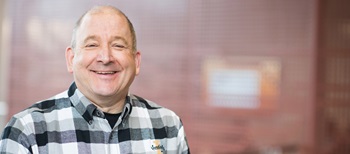 Michael P. Parrella
Dean
College of Agricultural and Life Sciences
---
By the Numbers
Up 228.98 percent or $1,144,882.80 to $1,644,882.80 from $500,000 at the start is music to any trader's ears. That trading performance in an unusually scary October for markets ranked the University of Idaho ThinkorSwim trading team LegenDairy Sir Loins 5th among 516 teams listed Wednesday morning in the competition sponsored by TD Ameritrade. The trading team of all CALS students include Dustin Winston, Eric Ball, Cole Lickley and Austin O'Neill. Another all-CALS team, Meat the Vandals posted a return of 77.15 percent or $385,767.27 to $885,767.27 by Wednesday morning to rank 12th. The team includes Brett Wilder, Liz Wilder, Kelton Hunter and Hannah Doumit. The collegiate trading competition began Oct. 7 and concludes Nov. 3. Vandal fans can track the teams through the online leaderboard.
---
Our Stories — Study Focuses on Mastitis and Bacterial Communities
A University of Idaho study plans a new approach to mastitis, a major human and animal disease problem that causes discomfort for breastfeeding mothers and damages dairy industry productivity.
The bacterial-related disease frustrates mothers who want to provide the best nutrition for their babies and causes millions in annual financial losses for dairies. Mastitis is inflammation of the mammary gland.
The new study will look more closely at those bacterial communities in milk from healthy and unhealthy women and cows.
For the most part, bacteria perform useful functions in the body including helping with digestion and producing molecules to support immune function. Consumers readily show their support for a healthy balance of bacteria by spending millions on foods and supplements known as probiotics.
U of I nutritionist Michelle "Shelley" McGuire and lactation physiologist and dairy researcher Mark McGuire will co-lead a $2.4 million project funded by the National Institutes of Health to explore the cause of mastitis in women and cows.
Shelley is the newly hired director and professor in U of I's Margaret Ritchie School of Family and Consumer Sciences. Mark is a professor in the Department of Animal and Veterinary Science and director of the Idaho Agricultural Experiment Station. The McGuires are married and have collaborated on similar projects for over two decades.
The McGuires and colleagues in the five-year project funded by the National Institutes of Health want to know how changes in the community of bacteria normally found in milk affect mastitis. The project will explore how the presence and function of bacteria in the mammary gland changes during the first six weeks after birth and how those changes affect whether mastitis develops.
Mark McGuire began working on mastitis as part of an NIH-funded project at U of I in 2005. Shelley McGuire began her focus on the nutritional qualities of human milk about the same time and a short time later became interested in mastitis.
The McGuires collaborated with U of I doctoral student Katherine Hunt on a novel study of both beneficial and disease-causing bacteria in milk. That study showed some bacteria in human milk played no clear role in the mother's or baby's health.
It became an important step in learning more about milk's place in the human microbiome, which refers to the universe of bacteria found in human bodies. Scientists say there are more bacteria in our bodies than our own cells.
The growing ability to gather and analyze huge amounts of genetic data will help show the microbial communities in detail. The team will work with the Pacific Northwest National Laboratory to identify those communities and what they are doing. The U of I's expertise in analyzing molecular data and its expertise in dairy research make the study possible, Shelley McGuire said.
The research team is asking women who plan to have a baby in the next year and who exclusively breastfeed for at least six weeks to contact Shelley McGuire at smcguire@uidaho.edu for more information about participating in the study.
The U of I researchers now believe the presence of various bacteria like Staphylococcus aureus is not the only factor responsible for mastitis. Rather, they say an imbalance in the mix of microbes, which normally includes the Staph species, found in mammary glands is responsible.
Alternatively, it might be what compounds the microbes produce. The study will explore whether antibiotic use — the traditional medical approach to mastitis — sets up women and cows for a higher risk of mastitis. Or it may be a genetic or environmental issue that leads to the disease, the researchers said.
The McGuires' project, titled "Mammary and Milk Microbiomes and Metabolomes — Understanding Early Variation and Impacts on Risk for Mammary Inflammation and Mastitis" was funded through NIH grant No. 1R01HD092297-01A1 from the Eunice Kennedy Shriver National Institute of Child Health and Human Development. The total amount of federal funds for this project is $2,406,750, which represents 100 percent of the project's total cost. Of this total, $1,618,936 was awarded to U of I and the remaining amount of $787,814 was awarded to the Pacific Northwest National Laboratory for collaboration on this project.
---
CALS Team Earns Berth in Final 4 of $10 million Water Prize Contest
A University of Idaho team advanced Oct. 24 to the final stage of a $10 million competition to find the best way to stop toxic algae blooms from poisoning drinking water supplies and the environment.
The Everglades Foundation Wednesday announced four finalists for the George Barley Water Prize. It will be awarded to the team with the best way to remove phosphorus from public waters. Phosphorus causes algae blooms worldwide.
"These finalists represent our best hope for solving the algae crisis that is choking waterways worldwide," said Eric Eikenberg, CEO of The Everglades Foundation, which is hosting the competition.
The U of I team and eight others from around the world demonstrated their ideas for solving the phosphorus problem from February to May at an agricultural canal in Ontario, Canada.
"We're proud of the ingenuity our Vandal researchers have brought to bear on a difficult problem with one of the world's critical resources," said U of I President Chuck Staben. "The team exemplifies the creative, collaborative and interdisciplinary approach that is so vital for applied science to address 21st-century challenges for our environment."
U of I environmental chemist Greg Moller, soil scientist Dan Strawn and mechanical engineer Martin Baker finished in the top four teams, winning the right to move on to the final round.
"Their success speaks to the high quality and originality of their work in this international competition," said Michael Parrella, U of I College of Agricultural and Life Sciences dean. "Although the different phases of the competition were held outside of Idaho, this technology will help protect Idaho waters."
"We are extremely gratified to join the Everglades Foundation's quest to find a practical, financially feasible and environmentally friendly fix for a serious problem facing people around the world," Moller said. "Entering the competition's final stage will require us to assemble a coalition of our corporate partners and others to show our technology can resolve a widespread threat."
The final phase of the competition, called the "Grand Challenge," is at Lake Jesup, near Orlando, Florida. Teams will spend 14 months treating a million gallons of water each day headed for the Everglades to prove their technologies can work in warm conditions there.
Other finalists include the Netherlands WETSUS EU Water Center, The Dutch firm Greenwater Solution Inc., and The U.S. Geological Survey – Leetown Science Center. A fifth team from China is the runner-up in case the final four cannot meet the Grand Challenge scale-up requirements. The final four teams each won $125,000.
U of I's Clean Water Machine is an innovative reactive filtration system. It uses biochar (an activated charcoal), iron-oxide and ozone to strip phosphorus from polluted waters to extremely low levels. Its byproducts can help food production.
The original field competing for the Barley Prize included 104 teams from around the world. The competition began in 2015 with a search for new ideas. The U of I team consistently ranked among the top competitors at each stage.
U of I water treatment technology developed by Moller and colleagues is used in the United States, Great Britain and South Korea.
More information about the U of I Clean Water Machine is at https://www.uidaho.edu/cals/clean-water-machine. More about the prize and the foundation is at EvergladesFoundation.org.
---
Faces and Places
Colorado State University professor Temple Grandin, an expert in humane animal handling and an advocate for autistic children, will visit the University of Idaho campus Nov. 15. She will speak in the Bruce Pitman Center International Ballroom from 5:30-6:30 p.m. about "Educating Different Kinds of Minds." The talk is free and open to the public.
Urs Wyss is an entomology videographer and the former director of the Institute of Phytopathology at Kiel University in Germany. He conducted research on the biology and behavior of plant parasitic nematodes with emphasis on virus vectors and sedentary endoparasites during his career.
Since retirement, Wyss has devoted himself to the production of digital video films on the behavior and development of insects, first as natural enemies of greenhouse pests and later of the economically important pests of agricultural and horticultural crops. He will present two programs during a visit to the University of Idaho next week:
The Fundamentals of Biological Control, Tuesday, Nov. 6, Sandpoint Organic Agriculture Center, 10881 N Boyer Rd., Sandpoint, 9-11 a.m.
Highlights from the Hidden Insect World, Wednesday, Nov. 7, Ag Science Auditorium, Room 106, 606 Rayburn St., Moscow 6-7:30 p.m.
---
Events
Nov. 1 — Drone Summit, Whitewater Room, U of I Commons Whitewater Room, https://uidronelab.org/
Nov. 6 — Urs Wyss, The Fundamentals of Biological Control, Sandpoint Organic Agriculture Center, 10881 N Boyer Rd., Sandpoint, 9-11 a.m.
Nov. 7 — Urs Wyss, Highlights from the Hidden Insect World, Ag Science Auditorium, Room 106, 6-7:30 p.m.
Nov. 15 — Temple Grandin, "Educating Different Kinds of Minds," Bruce Pitman Center International Ballroom 5:30-6:30 p.m.
Dec. 11 — Idaho Ag Outlook Seminar, Idaho Falls, Shilo Inn. RSVP to Ben Eborn, 208-847-0344, beborn@uidaho.edu, by Dec. 4, 8:30 a.m. to 4:30 p.m.
Dec. 12 — Idaho Ag Outlook Seminar, Burley, Burley Inn. RSVP to Ben Eborn, 208-847-0344, beborn@uidaho.edu, by Dec. 4, 8:30 a.m. to 4:30 p.m.
Dec. 13 — Idaho Ag Outlook Seminar, Caldwell, Best Western. RSVP to Ben Eborn, 208-847-0344, beborn@uidaho.edu, by Dec. 4, 8:30 a.m. to 4:30 p.m.
Feedback or suggestions? Please pass them along through calsnews@uidaho.edu