Catching Up with CALS — Oct. 3, 2018
Dean's Message — Celebrating Agriculture
CALS celebrated agriculture and Ag Days over the weekend, and it was good to see so many alumni, friends and young people gathered on the U of I campus.
We began by honoring those who have contributed to the college and to Idaho's No. 1 industry.
It was a particular pleasure to honor Bill Flory of Lewiston with the Dean's Award. His efforts in recent years as a member of the Idaho Wheat Commission helped propel the college's research and education enterprise forward.
As wheat farmers, Bill and his fellow commissioners took a far-sighted approach to CALS' role as an important research and education asset and invested time and money accordingly.
The Idaho Wheat Commission (IWC) earlier this year invested $2 million to endow a chair in agricultural risk management. As one might expect, the commissioners took a novel approach tasking CALS to work closely with the College of Business and Economics (CBE) to enhance the already strong Barker Capital Management and Trading Program by supporting the Agricultural Commodity Risk Management Program in CALS.
Bill is a graduate of CBE, so it is natural that his vision includes partnering between the two colleges. CALS and CBE, their students and faculty, and the industries they serve all gain from this partnership. This is in keeping with U of I's status as the land-grant institution in Idaho.
I would be remiss in not mentioning another wheat commissioner, Genesee Joe Anderson, received the distinguished alumni award from the college. Joe was instrumental in securing the endowed chair from the IWC.
Of course, the beauty of our annual awards program reflects the breadth and depth of our team of friends.
The awards ceremony during the Celebrating Idaho Agriculture program honored a select few this year. But the event also drew together an audience of many past award recipients and many others who will no doubt receive them in the future.
Ag Days, too, drew high school students from throughout the state and beyond for livestock judging and a full slate of workshops designed to help them explore possible careers.
Bringing 200 high school students to campus for two days is a major effort. This year's success, like all the rest in the event's 30-plus years, reinforces the idea that CALS goes the extra step to walk the talk.
I want to recognize Bill Newbry, CEO of Pacific Northwest Farmers Cooperative, for providing financial support for the bus transportation that brought the future Vandals to campus.
We know agriculture in all its diverse forms is worth celebrating, and the best of ag's days are still ahead.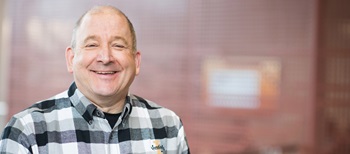 Michael P. Parrella
Dean
College of Agricultural and Life Sciences
---
By the Numbers
242 students, teachers and chaperones from Idaho and beyond attended Ag Days Sept. 28-29. This year's student tally of 201 was the most since 2015. In the 10 years since 2009, the highest turnout was 294 students among a contingent of 344 in 2015, and the lowest was 63 students among 84 participants in 2010 during the throes of the Great Recession.
---
Our Stories — Nauman to Join National 4-H Hall of Fame
Retired Idaho 4-H Youth Development Program Director Arlinda Nauman of Moscow will join the National 4-H Hall of Fame on Oct. 19 during a ceremony in Chevy Chase, Maryland.
Her lifelong involvement with 4-H, the nation's most recognized youth program, began as a girl in Oklahoma where the schools offered 4-H as part of the curriculum.
She served as the Idaho program's director as part of University of Idaho Extension for 24 years from 1988 to 2012. She worked in 4-H-related positions in Oklahoma and South Dakota before joining the U of I faculty.
Most people still know 4-H best from animal and project exhibits at county fairs and for the famous four-leaf clover emblem. That is changing as after-school programs focus on science, technology, engineering and math topics and robotics competitions gain more attention.
The project-based work at fairs continues to form an important part of the program's foundation.
"4-H helps young people explore opportunities to find out what they're interested in through project work, but the emphasis really isn't about the project. It's about the process and a young person working with a caring adult, discovering their own interests and developing skills," Nauman said.
During her 40-year career with 4-H, she saw the results firsthand.
"I've had the opportunity to watch young people develop through the 4-H program from many walks of life and through many different project interests," she said. "It was very heartwarming and satisfying to watch them grow into responsible young adults."
Nauman joins seven other Idaho 4-H representatives in the National 4-H Hall of Fame: A. Larry Branen, Mary Jean Craig, Erling Johannesen, Maurice E. Johnson, Frankie Marler, Linda Webb and Mary Lee Wood.
As state 4-H director, Nauman led efforts to connect the program more closely with schools, helping to form the Idaho Afterschool Alliance.
A video conference about achieving high-quality child care that she directed was broadcast in 48 states to encourage high-quality training for child-care providers.
Her support for at-risk youth programs, child care education and afterschool programs led to more than $4.8 million in grants for the Idaho program.
A national study showed that youth in 4-H programs are less likely to engage in risky behaviors than other youth.
A program focused on developing science and technology skills through robotics also expanded through her leadership.
The number of volunteer 4-H leaders grew during Nauman's time as director as did financial support. The Friends of 4-H endowment grew from $55,000 to more than $2 million.
---
CHHE Symposium to Feature Mosquito Biologist Oct. 11
The buzz among entomologists and health researchers is the worst may be yet to come from mosquitoes.
One of the experts in the field, New Mexico State University biologist Kathryn Hanley will speak Oct. 11 on the University of Idaho campus at the Center for Health in the Human Ecosystem inaugural Research Symposium.
Hanley's address, "Waiting in the Wings: Emergence, Evolution and Control of Mosquito-borne Viruses," will begin at 10 a.m. in the Administration Building Auditorium.
A poster session by center-affiliated labs will be held from 4-5 p.m. in the IRIC Atrium.
---
Faces and Places
2018 CALS Alumni Award Recipients included:
Alumni Achievement
Nicasio Usabel — '07 B.S. Ag Ed, '12 M. Ed
Jacob Gisler — '10 B.S. Ag Econ
Distinguished Alumni
"Genesee" Joe Anderson — '81 B.S. Ag Econ, Ag Engr
Mauri Knott — '02 B.S. Ag Science and Technology
Mark Pavek — '90 B.S. Ag Econ, '94 B.S. Plant Sci, '98 M.S. Plant Sci
Ericka Rupp — '00 B.S. FCS, '02 M.S. FCS
Distinguished Associate Alumni
Joe Stewart — Stewart Dairy
Distinguished Retiree
Mary Lee Wood — University of Idaho Extension 4-H Youth Development
Early Career Achievement
Cameron Mulrony — '03 B.S. Ag Ed
International Achievement
Tom and Jo Ann Trail — '58 B.S. Animal Sci (Tom)
---
Events
Oct. 11 — CHHE inaugural Research Symposium featuring New Mexico State University biologist Kathryn Hanley, Administration Building Auditorium, 10-11 a.m.
Oct. 23 — Sandpoint Organic Agriculture Center open house and celebration at 10881 N. Boyer Road, 3-6 p.m.
Feedback or suggestions? Please pass them along through calsnews@uidaho.edu