Catching Up with CALS — Oct. 17, 2018
Dean's Message — Other Perspectives
Those who have attended a CALS Speaker Series event know that the sessions have been interesting, informative and sometimes provocative.
National Academy of Sciences member Fred Gould, science communicator Cara Santa Maria and University of California, Davis Extension specialist Alison Van Eenennaam helped audience members think through GMOS.
We showed the documentary "Food Evolution" during Alison's visit because it shed light on the topic. It also offered the opportunity to hear from Alison and Shelley McGuire, Margaret Ritchie School of Family and Consumer Sciences director, about their experiences recounted in the film.
Cliff Ohmart, a powerful voice in the world of sustainable agriculture, brought a novel perspective to the topic during his Ag Days program at the Kenworthy Performing Arts Centre.
The Center for Health in the Human Ecosystem launched its inaugural research symposium with speaker Kathryn Hanley, a biology professor from New Mexico State, who spoke about the emergence, evolution and control of mosquito-borne viruses.
The list above is not comprehensive. There have been other notable speakers. FCS, for example, brought Olympic gold medal cyclist Kristin Armstrong to campus earlier this year.
On Nov. 5, we will welcome Urs Wyss, a noted filmmaker from Germany who specializes in insect photography. And on Nov. 15, noted animal scientist and autism spokesperson Temple Grandin will visit to talk with students.
Our efforts to bring noted speakers to campus reflects our commitment to educate ourselves as faculty, staff and students, and our community. When our visitors go home, we work hard to ensure that they will take with them a favorable impression of Moscow, U of I and CALS.
The ultimate goal for the CALS Speaker Series and other units within the college is to draw together bright minds and interesting people to talk about important topics. Please join the conversation when you can.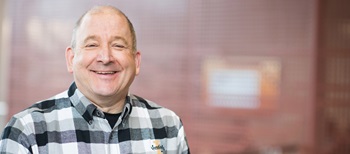 Michael P. Parrella
Dean
College of Agricultural and Life Sciences
---
By the Numbers
2 psyllids collected from a Twin Falls County potato field as October signaled the end was near for the 2018 monitoring season. The Oct. 5 PNW Pest Alert bulletin noted 1 of the 2 psyllids — tiny cicada-like insects — tested positive for Lso (liberibacter), the bacterium that causes zebra chip in potatoes and diminishes their value. That made No. 3 for lso-positive psyllids this monitoring season, which began in May. 2018 produced the lowest incidence of lso-positive psyllids, a good outcome for potato farmers.
---
Our Stories — Intern Exercises A Head for Business
Carly Weaver has always had a head for business.
When she was 13 she turned a University of Idaho Extension 4-H dairy heifer project from a break-even endeavor into a $1,500 profit. That experience sparked a love for business. Combined with her background in agriculture, Weaver is now on the path to a promising marketing career.
Weaver and her older sister couldn't have predicted the dairy market would have dipped when they decided to participate in the 4-H dairy heifer project. When it came time to sell the heifers at the county fair, Weaver knew odds of a profit were slim.
"We knew that we were going to barely breakeven because the market was so bad," Weaver said. "So, we sent out add-on letters. Everyone can send these out, but usually you just get $20 from grandma and $25 from your neighbor, that kind of thing."
Weaver and her sister took things one step further and ended up sending over 200 letters to relatives and local businesses in Star, their hometown in southwest Idaho. The letters are an opportunity for 4-H youth to tell potential buyers about themselves, ask for donations to the project, and invite them to the fair and livestock auction.
"We went everywhere," Weaver said. "In our little black wranglers and our white button-up shirts and our belt buckles and we went and raised $3,000 to split."
That entrepreneurial spirit stuck with Weaver when it came time for college. She enrolled in U of I's College of Agricultural and Life Sciences and majored in agribusiness with minors in entrepreneurship, business and marketing. She will graduate in May 2019 and plans to pursue a career in marketing for a food agribusiness company.
An internship with Glanbia Nutritionals in summer 2018 helped Weaver tie together what she was learning in the classroom and also reinforced her desire to work in food agribusiness.
---
Sandpoint Organic Agriculture Center Holds Open House Oct. 23
The University of Idaho College of Agricultural and Life Sciences will host an open house at its new Sandpoint Organic Agriculture Center from 3-6 p.m. Tuesday, Oct. 23.
The 48-acre Sandpoint Orchard was acquired by U of I in August through a donation from Dennis Pence of Sandpoint and his family. Pence established the orchard to demonstrate sustainable agriculture opportunities in North Idaho.
Renamed the Sandpoint Organic Agriculture Center, the parcel contains the college's first facility to focus on organic farming and organic-certified production systems. Parrella and Pence will serve as hosts for the open house, which is free and open to the public. The center is located at 10881 N. Boyer Road near Sandpoint.
"We are excited about conducting agricultural research and providing new learning opportunities at the Sandpoint Organic Agriculture Center," said Michael Parrella, dean of the College of Agricultural and Life Sciences. "The center will expand our ability to conduct community-focused programs and offer new ways to enhance undergraduate and graduate education."
The open house will feature tours of the orchard, plans for Extension, education and research activities, apple tastings and discussions about opportunities for students and the public at the center. The orchard includes 68 varieties of apples and pears, cherries, plums and other fruits, all grown using organic methods.
---
Faces and Places
A memorial service for Vandal Brand Meats Manager Ron Richard will be held on Sunday, Oct. 21, at 1 p.m. at the University of Idaho Administration Building Auditorium. The service will be followed immediately by a reception and meal at the U of I Livestock Pavilion adjacent to Vandal Brand Meats.
---
Events
Oct. 21 — Ron Richard Memorial Service, U of I Administration Building Auditorium, 1 p.m.
Oct. 23 — Sandpoint Organic Agriculture Center open house and celebration at 10881 N. Boyer Road, 3-6 p.m.
Feedback or suggestions? Please pass them along through calsnews@uidaho.edu