Catching Up with CALS — April 20, 2022
Dean's Message — Diversity
To say that the University of Idaho College of Agricultural and Life Sciences is diverse is an understatement. Our three-part mission includes teaching, research and Extension. Within those mission areas, we employ faculty and staff across seven different academic units, at physical locations in 42 of Idaho's 44 counties and on three reservations via University of Idaho Extension and on the nine research and Extension centers that comprise the Idaho Agricultural Experiment Station. The diversity is also evident in the wide range of disciplines within CALS with applications to the economic, social and environmental sustainability of Idaho's agriculture, families and rural communities.
This past week provided an opportunity for many of those individuals to come together through the UI Extension Annual Conference held on the Moscow campus which began with All CALS Day. The day is a chance for all college faculty and staff to come together, in fellowship with their colleagues statewide, learn about the state of the college and hear from university leadership. We were pleased to hear from President Scott Green during the day's activities who reported he just recently completed his visits to all 42 of UI Extension's county offices statewide and many of the research and Extension centers. We were also pleased to hear from Provost Torrey Lawrence that he is going to embark on similar visits across the state during the coming months.
Just as the college is a diverse entity, so too is Idaho agriculture. In fact, Idaho produces over 185 different commodities from over 24,000 farms and ranches statewide. It will likely come as no surprise that UI Extension played a role in advancing that diversification dating back to the 1920's.
In Clifton E. Anderson's History of the College of Agriculture at the University of Idaho, he writes of the college in the early 1920's:
Extension agents working at the county level were key people in the diversification [of Idaho agriculture]. To explain dairying to farmers, county agricultural agents had to be knowledgeable about silos, butterfat testing, keeping records for a dairy herd improvement program, organizing a cooperative bull ring and dozens of other matters. They also needed to have extensive information concerning sheep, swine and poultry. Extension home economists had to know about food preservation and other aspects of diversified farming in which farm women might be involved. College of Agriculture departments kept the county agents supplied with relevant information.
While this campaign saw much success, it was also met with resistance at various levels. Hearing of the struggles UI Extension faculty were facing in getting producers onboard, Alfred H. Upham — U of I's sixth president and authority on English literature — was inspired to write a poem titled "The Cow, the Pig and the Hen" advocating for the potential contributions of poultry, dairy cows and swine to Idaho's economy:
The farmer smiled as he passed them by—
The cow and the pig and the hen;
For the price of wheat had gone sky-high,
And the cow and the pig and the hen
They ate up grain he could sell at the mill,
They needed his care when nights were chill,
He swore of them all he'd had his fill—
The cow and the pig and the hen.

These barnyard cattle had had their day,
The cow and the pig and the hen.
He could get thirty bones for a ton of hay—
No need for the cow or the hen.
He never would milk another cow,
He hated the sight of a grunting sow,
And raising chickens was work for the frau,
Good-bye to the cow and the hen.

They gave no heed to his jeer or frown,
The cow and the pig and the hen,
Whatever goes up, said they, comes down,
The wise old cow and the hen.
The hen laid eggs the winter thru,
The cow gave milk and the piggy grew,
But hay dropped down from thirty to two—
Oh, the cow and the pig and the hen!

Now he sits and sighs, as he counts the cost,
For the cow and the pig and the hen.
He almost cries for the milk he's lost,
The cow and the pig and the hen.
He'd tend them gladly in mud and rain,
And scrap his acres of hay and grain,
If he only could buy them back again,
The cow and the pig and the hen.
— A. H. Upham
Diversification is a critical factor in the success of Idaho's agricultural industry and across our rural communities — the same can be said for the diversity found amongst the University of Idaho College of Agricultural and Life Sciences from our programs to our places and certainly amongst our people.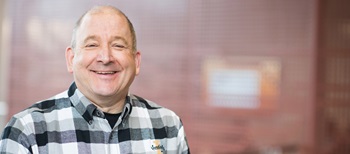 Michael P. Parrella
Dean
College of Agricultural and Life Sciences
---
By the Numbers
Idaho produces more than 185 commodities from more than 24,000 farms and ranches. If Idahoans consumed all agriculture products produced in the state, every resident would need to eat 209 slices of bread, 40 potatoes, 3 pounds of sugar, 2 pounds of cheese, 2 pounds of beef and 1 cup of beans every day.
---
Our Stories — Tough or Tender
A new workshop developed by University of Idaho graduate students is teaching consumers the factors that influence meat quality.
The workshop was originally designed by College of Agricultural and Life Sciences graduate students Sierra Jepsen, Brooklyn Epperson, Jessie Van Buren and Mikayla Heimbuch in summer 2021 as part of the University of Idaho Extension 4-H State Teen Association Convention.
The students wanted to educate attendees in a fun and interactive way about different beef muscles and the best way to prepare different meat cuts to maximize the eating experience. Since then, the team has presented the workshop to various audiences, from student groups to consumers and chefs.
"Ultimately, we want them to understand the difference between selecting a locomotive muscle versus a support muscle and how they might cook something different," said Jepsen. "It helps them learn that there is a lot more to selecting meat than just going and looking at the price tag."
Locomotive muscles are located in areas of the carcass that moved a lot when the animal was alive, resulting in more connective tissue. These muscles are best used with cooking methods that are slower and lower heats. Support muscles are more tender and used as steaks and items typically found on the grill.
"We have students taste products that come from a support muscle versus locomotive to see if they can tell the difference and they always can which is exciting," Jepsen said. "That teaches those younger audiences about why we don't just put all of our meat on a grill and why it's important to know the difference."
Attendees participate in a hands-on activity creating their own muscle group to emphasize how marbling, or fat, helps to tenderize beef. Twizzlers, a chewy licorice candy, are used to represent muscle fibers. Marshmallows stand in for marbling, and rubber bands and aluminum foil are used for connective tissue.
"If you have a bundle of just Twizzlers and tried to bite through it, it would be really tough and chewy," Jepsen said. "If we take some of the Twizzlers out and replace with marshmallows, then it's a less dense product and easier to bite into."
---
MANRRS Club Experiences National Conference
University of Idaho students in the MANRRS Club (Minorities in Agriculture, Natural Resources and Related Sciences) recently traveled to Jacksonville, Florida for the 36th Annual Training Conference and Career Expo hosted by the National Society of MANRRS.
The conference included professional development workshops, student competitions, networking opportunities and a career fair that included representatives from some of the biggest names in the agricultural and natural resources industries.
The U of I MANRRS chapter was established in February 2021, thanks to a generous donation by Northwest Farm Credit Services, which also paid for travel expenses to attend the national conference.
Club officers were able to network with other chapters and gain ideas for conducting club meetings and gaining new members as they work to develop the U of I chapter.
"Everything is kind of new for us right now," said Alan Ramos, a senior from Shoshone studying agricultural economics. "The basic reason we went was to see what national conference was like and get ideas from different clubs."
Also attending with Ramos were fellow club officers Alex Jimenez-Cortes, Michelle Saldana and Ximena Garcia, and CALS Student Services Manager Sharon Murdock.
The club learned about student competitions held at nationals and regional clusters for qualification. Competitions range from public speaking and impromptu speaking to business pitches and research poster contests. Ramos hopes to see club members take advantage of those opportunities in the future.
"Any student in the club can participate in the regional clusters," he said.
Ramos also made the most of the career fair at the event, landing interviews with John Deere and Land O'Lakes. Industry representatives also critiqued his resume and gave him tips on how to stand out.
"I spent about four hours networking at the career fair," he said. "I'm just thankful for our sponsors because without them we wouldn't have these experiences."
Any student interested in learning more about the MANRRS Club can reach out to the officer team at manrrs@uidaho.edu.
---
Celebrating Making Do
An exhibit that celebrates "making do" is currently on display at the University of Idaho's Sandpoint Organic Agriculture Center. The exhibit brings recognition to children's wear and quilts from the Great Depression and World War II eras and to the homemakers who made them to provide comfort for their families through hard times.
Sonya Meyer, professor and collections curator in the U of I Margaret Ritchie School of Family and Consumer Sciences, developed the exhibit after a recent donation to the Leila Old Historic Costume Collection.
Patricia Zuanich, a 1966 U of I graduate, donated three dresses that were made for her in the 1940's by her grandmother, Millie Fried. The dresses were made from flour sack fabric and illustrate the frugal repurposing of fabric during the time.
"The exhibit up there now I did to educate about the use of sack fabric," Meyer said. "My philosophy is, to have a collection like this, we need to use it and share it with the public."
Sack cloth served as a fabric staple for many rural homemakers starting in the mid-19th century when cotton sacks replaced wooden barrels as transportation for farm and food products. Homemakers repurposed the utilitarian sacks to create items like towels, curtains, underwear and quilt backing.
Eventually, manufactures realized the growing popularity of repurposing the sacks for household textiles and began producing them in colorful prints, leading to more uses.
"I am most happy to have found a home for these pieces of clothing from my childhood," Zuanich said. "It is special to me that the saving of these items by my mom has finally made meaningful sense. I can only imagine how proud my grandmother, Millie and my mom, Emma, would be to have these garments included in the Leila Old Historic Costume Collection."
Also included in the exhibit are quilts from the Bosom Buddies Quilt Group and Moose Country Quilts, including one with sack cloth used as backing. Antique furniture and toys from the Bonner County Historical Society and Museum, and Pend Oreille Arts Council round out the displays.
The public is welcome to stop by the Sandpoint Organic Agricultural Center to view the exhibit during normal business hours. A reception is planned for April 29, from 5-7 p.m. PT, and an open house and program on the care of quilts will be offered April 30 from Noon-4 p.m. Contact Sonya Meyer to learn more, sonyam@uidaho.edu.
---
Faces and Places
Rebecca Sermeno, a graduate student in family and consumer sciences, will present her thesis study on early science teaching efficacy and attitude of head start teachers at the American Educational Research Association's annual conference in San Diego, California on April 26.
Hannah Glaser, a freshman studying agricultural science, communication and leadership, placed second in the dual slalom event at the United States Collegiate Ski & Snowboard Association National Championships in Lake Placid. She was also named as a First Team Scholars All-American.
Faculty and students in the Department of Agricultural Education, Leadership and Communications recently helped organize the Idaho FFA State Leadership Convention in Twin Falls. CALS Ambassadors hosted pre-session activities centered around CALS departments and even Joe Vandal got in on the fun.
Terry Saunders, team cleaning specialist for the Margaret Ritchie School of Family and Consumer Sciences housed in the Niccolls Building, received the Outstanding Staff Award in the Service/Maintenance category from the University of Idaho.
The Plant and Soil Science Club hosted a Parents & Plants event during the U of I Parent and Family Weekend.
Nearly 100 attendees from Idaho and Washington attended a University of Idaho Extension Beef Field Day in Moscow on March 26. Classes included ownership and transportation; meat science and beef quality; feeding and nutrition of 4-H market steers; livestock judging; raising a healthy 4-H market beef project; fitting and showing; and low stress animal handling. Similar events are held throughout the year for swine, sheep and goat species. The planning team includes U of I and WSU Extension educators, CALS graduate students and community volunteers.
---
Events
April 26-28 — Logger Education to Advance Professionalism, Moscow
April 28 — Sounding the Depths: Exploring Soil Stories, Moscow, 4:30-6 p.m.
May 4 — CALS Awards, Moscow
May 11-12 — Advanced Ranch Management School: Final Product and the Consumer, Moscow
May 14 — Spring Commencement, Moscow, 2 p.m.
June 4 — Sagebrush Saturday, Rinker Rock Creek Ranch, 9 a.m. to 2 p.m.
June 6-8 — Young Cattle Producer Conference, Pocatello. Applications due May 6.
June 13-14 — Culinary Base Camp, Moscow and Virtual
June 15-17 — Textiles Base Camp, Moscow and Virtual
June 22-25 — Summer Design Days, Moscow and Virtual
Feedback or suggestions? Please pass them along through calsnews@uidaho.edu