Catching Up with CALS — Aug. 11, 2021
Dean's Message — A New Major
The fall semester begins in two weeks. The CALS faculty is well along in laying out the teaching and testing schedule for the academic year.
The semester's start, particularly fall semester, always provides plenty of excitement and high hopes. The college's students, faculty and staff look forward to the shift in momentum, to long-term goals and to short-term challenges.
We are focused on finding ways to improve lives and solve problems by applying education and science to issues.
This fall semester will bring a new major where the goal is to stretch the bounds of what we usually consider our mission.
The Center for Health in the Human Ecosystem led by Shirley Luckhart and Ed Lewis guided the creation of the new global disease ecology degree, which is offered through the Department of Entomology, Plant Pathology and Nematology.
It provides a strong and strategic recognition of a more comprehensive recognition of diseases and their causes, from mosquitoes to nematodes to viruses and the seemingly endless reasons health suffers.
Note that the preceding paragraph fails to mention people. When most of us think about health, we think about ourselves and people we know and love. We might make some room for animals, too.
We think about the old dog that's not getting any younger, or the prize cow or ewe that needs some doctoring. Or even plants might occupy our attention. Maybe we're watching those russet Burbanks under the far pivot and worrying about late blight or zebra chip.
We know the world is a complicated place, though. We know some diseases can afflict multiple species, that a disease in wildlife can harm humans, for example. There is growing realization that disease organisms in plants are connected to human health in multiple ways, not just through food insecurity.
The global disease ecology degree reflects that expanding view of diseases and frames the interconnectedness of diseases and their causes with the word ecology. We know that when we pull one string in an ecosystem we're likely to influence many other connections.
Students who might be interested in animal science or plant pathology or food science may take an interest in the new degree. For those interested in advanced degrees such as medicine, this new major may well provide an appropriate launching pad for those interested in continuing the educational process.
Like the Center for Health in the Human Ecosystem, the major offers a structure for organizing teaching and research. Both the center and the degree allow CALS to explore new ways of learning about our world.
That same focus, learning about the world, is why our halls will soon be busy again with faces, many happy and many deep in concentration, all eager to be here. The excitement is palpable.
We look forward to welcoming you, one and all.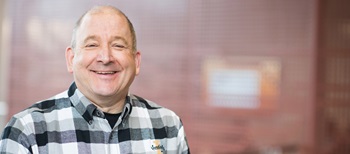 Michael P. Parrella
Dean
College of Agricultural and Life Sciences
---
By the Numbers
91% of Idaho's potato crop looks good to excellent through 08/08/21, the USDA National Agricultural Statistics Service reported. Other crops, not so much, like spring wheat with its 31% good to excellent score. Barley topped that with 61% good to excellent, and onions hit 80%. Sugarbeets scored 95%. The hot, dry weather sped the winter wheat harvest to 71% complete, twice last year's 33% and far ahead of the 5-year average of 47%.
---
Our Stories — Research Focus of New Major
A new entry-level course this fall in the Department of Entomology, Plant Pathology and Nematology serves as a launching pad for a novel U of I global disease ecology major.
The two-credit EPPN 110 class, Introduction to Global Disease Ecology, offers students a wide-ranging look at the sciences that contribute to understanding diseases and their causes. It also serves as a template for the new major's approach to equipping students to understand the ecology of global diseases.
The major appears to be the first in the Northwest to focus specifically on the subject, said professors Ed Lewis and Shirley Luckhart. They came to U of I four years ago from the University of California, Davis, to found the U of I Center for Health in the Human Ecosystem.
The center focuses on a broad, interdisciplinary approach to human, animal and plant diseases and organisms that cause them.
The new undergraduate class will draw more than a dozen faculty from across the U of I and company representatives to talk about their work on topics ranging from agricultural economics to biology to medical entomology.
The class seeks to acquaint students with the process of research from developing a way to answer an important question to finding support for the work. The class will encourage students to collaborate with fellow students and faculty to develop an actual research proposal.
U of I offers students exceptional opportunities to participate in research at the undergraduate level. In many faculty laboratories, students begin by washing lab glassware or performing similar routine tasks. As they gain experience, students become active members of the research effort and make lasting contributions to science.
The new class and global disease ecology major seek to give students new ways to gain research experience and develop skills to pursue their own interests with the help of campus and industry mentors. The EPPN 110 class will help students develop a research proposal to answer a question they're interested in.
Employers want students who can conduct research as part of their jobs and communicate ideas, Luckhart and Lewis said. Understanding how research and science work on a practical level also expand opportunities for graduate education.
"We want students to learn to form a hypothesis and get help from a mentor and others to test their ideas," Lewis said.
The class is based in the Department of Entomology, Plant Pathology and Nematology, which he leads as department head, but Lewis wants students interested in as many disciplines as possible to take it.
Luckhart, who co-directs the Center for Health in the Human Ecosystem with Lewis, also serves as a professor in Entomology, Plant Pathology and Nematology and a professor of biology in the College of Science. She and Lewis see the new class and the major as ways to create a student research community for undergraduates.
Students in EPPN 110 will discuss their interests with other students and professors, which will help them explore and communicate their ideas. And it will help them write better research proposals. Perhaps most importantly, it will give them insight into the scientific process.
The four-year global disease ecology major will expand those opportunities to learn and practice research by asking students to explore different scientific disciplines and focus their interests as they progress.
A $499,000 U.S. Department of Agriculture grant Lewis landed earlier this year will help, too. The five-year grant supports research and extension experiences for undergraduates. Students will prepare research proposals to seek funding for projects.
Students in EPPN 110 may have a leg up because of their coursework during the fall semester, but students across the university will be eligible and encouraged to participate.
---
Gifts of Grain Marks Second Decade
With harvest underway across Idaho's golden waves of grain, a program founded a dozen years ago allows farmers an unconventional approach to supporting U of I and CALS.
When farmers give commodities to the University of Idaho Foundation, they provide the college with a gift that retains their crop's full value and more.
Rather than selling your grain and donating cash, gifts of grain can reduce the producers' taxable income while providing the U of I with a sizable donation and more. Consult your tax professional to learn more.
The Gifts of Grain program began when Idaho farm families wanted a way to support U of I efforts. Laura and Clay Pickard manage the Flying A Ranch near Ashton and donate wheat through the program.
"It's a very valuable and easy way to give to the university," said Laura Pickard, who earned bachelor's and master's degrees in agricultural economics from U of I. "All we have to do is provide a letter of giving to the grain elevator, make a couple of phone calls, and it's done."
She and her family, parents Clen and Emma Atchley and sister Evelyn, know the U of I well because they all earned degrees there. The Atchley clan knows the Gifts of Grain program well, too, because Clen and Emma were instrumental in founding it.
The family donates to Gifts of Grain when their harvests allow. "It depends on how we do," she said. "Every year is different, but we try to stay around the same amount if we can."
"It's an easy way to directly support programs that help the state, and it works well for us," she said.
CALS launched the program in 2010 with the advice, and a generous donation from Clen and Emma Atchley. Since then, recurring donors include Joe Anderson of Genesee, Wayne and Jacie Jensen of Genesee, Russ and Kathy Zenner of Genesee and Pat Purdy of Picabo.
The donations helped fund the Cereals Research Enhancement fund, which purchased a Kubota tractor to pull a direct-seed drill for the northern Idaho cereals team and two plot combine scales for the southern Idaho cereals team.
More information about the program is available online at www.uidaho.edu/gifts-of-grain or by contacting Ann Barrington, CALS associate director of development, at abarrington@uidaho.edu or 208-885-8606.
---
Faces and Places
The Idaho Family and Consumer Sciences Educator Association is honoring UI Extension – Minidoka County FCS & 4-H Youth Development Extension Educator Becky Hutchings with its 2021 Outstanding Service Award. Hutchings was praised for her lessons on Instant Pot cooking and others.
---
Events
Sept. 24 — CALS Alumni Awards
Sept. 24-25 — CALS Days
Feedback or suggestions? Please pass them along through calsnews@uidaho.edu