Catching Up with CALS — Nov. 17, 2021
Dean's Message — Realizing Potential
During the past six years, CALS marked a generational change in its faculty. Some 80 new faculty positions teach in our classrooms, conduct research in our labs and work with citizens and stakeholders from offices and research and extension centers statewide.
New faculty range from those just beginning their careers to others who established excellent track records elsewhere and came to CALS for new opportunities. In addition, we have some current faculty who expanded their careers by accepting other positions within our system.
The new opportunities they seek are good for their careers and for U of I and for CALS.
The best example of both sides of the coin is the recent announcement of the $18.9 million National Science Foundation Deep Soil Ecotron award to principal investigator Michael Strickland and co-PI Zach Kayler of the Department of Soil and Water Systems.
The new laboratory will transform the Martin Lab on the western edge of campus into a facility that will draw researchers from across the U.S. and internationally. It will provide the equipment to better understand biological and chemical processes far beyond the 12 inches where most soil scientists have previously focused.
Both Strickland and Kayler joined the CALS faculty in 2017 and brought good track records from their past scientific and collaborative efforts — keys to winning the Deep Soil Ecotron award. Strickland's status as the recipient of a prestigious NSF CAREER award and the credibility it confers certainly had a positive impact on the decision regarding the Ecotron award.
The most important component to successfully compete for a major NSF infrastructure award is to have outstanding faculty who generate the proposal based on sound science. Although absolutely critical, it is not enough. As soon as the pre-proposal was accepted and we were notified that NSF wanted a full proposal, President Green made this a presidential priority.
With that, the entire U of I campus galvanized around this project to make it happen and successfully convinced the National Science Foundation that our entire campus is committed to the project's success. The Martin Lab will require extensive renovations to house the ecotron. The U of I administration will ensure that work is done.
The work to create the Center for Plant and Soil Health at the Parma Research and Extension Center offers another example of our efforts to support faculty with excellent facilities, as does the new office and classroom building at the Nancy M. Cummings Research, Extension and Education Center near Salmon.
Similarly, the plan to better support new meat scientist faculty Phil Bass and Michael Colle and meat science lab manager James Nasados involves upgrading the Vandal Brand Meat facilities on the Moscow campus. All are key to building industry support for the Agri Beef Meat Science and Innovation Center Honoring Ron Richard.
CALS is proud of all our faculty and committed to giving them the support and the facilities they need to succeed.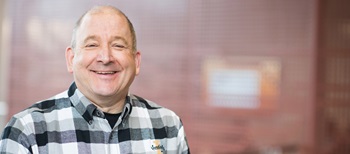 Michael P. Parrella
Dean
College of Agricultural and Life Sciences
---
By the Numbers
7% of Idaho's winter wheat crop is in excellent condition and 35% is rated good. Most, 56%, is fair, with only 1% in poor and 1% in poor condition, according to a Nov. 15 report from the USDA National Agricultural Statistics Service. 95% of Idaho's winter wheat crop has emerged, slightly ahead of the 93% last year and the 5-year average of 93%.
---
Our Stories — Blankets Honor a Legacy
A collaboration between the University of Idaho Sheep Center and students in the U of I College of Agricultural and Life Sciences has resulted in a unique Idaho product.
An idea to honor retiring U of I shepherd Dave Casebolt turned into an opportunity for apparel, textiles and design students to create a blanket utilizing wool from the sheep that Casebolt spent so many years caring for.
Jeremy Falk, associate professor in the Department of Agricultural Education, Leadership and Communications, and Dino Vinci, manager of the U of I Sheep Center, contacted Lori Wahl, senior instructor in the Margaret Ritchie School of Family and Consumer Sciences, in summer 2020 to discuss products that could be produced with wool from the center.
Wahl had an interest in developing textile products from wool produced by the U of I flock and brought the project to students enrolled in her design and development for a client class.
"I was looking for clients, so the timing was really serendipitous," Wahl said. "This is a great project to roll in because it's so different from our other client projects we're working on. Once a mill had been identified and we had our design parameters, it was really easy to setup a design project."
Falk and Vinci identified a mill in Buffalo, Wyoming, Mountain Meadow Wool, that could turn raw wool from the Sheep Center into a blanket. The design parameters given to the students were to use Vandal colors and represent the Vandal fight song.
The selected design is a gold, gray, black and natural undyed-wool striped pattern that represents the chorus of the Vandal fight song, a tribute to the old wooden panels of the Kibbie Dome that featured a computer-generated version of the tune. The design was created by U of I students Nick Strader, Margaret Zee, Madison Machen, Adrianna Kauffman and Debra Siemens in fall 2020.
Making the blanket even more Idaho-centric is the breed of sheep used. The wool came from Polypay/Targhee crosses — two breeds developed at the U.S. Sheep Experiment Station in Dubois and raised by Casebolt at U of I.
The final product arrived on campus this fall and was presented to Casebolt during an Idaho Wool Growers Association meeting held at the Sheep Center. Future ideas involve creating designs for scarves, beanies and mittens that could be sold at the VandalStore.
"This year we are testing the relationship with the mill, feasibility of the product and assessing final cost of the product," Wahl said. "In fall 2022 when I teach the class again, we are hoping to expand to scarf and mitten designs."
---
Tasmanian Devils Speed Nutrient Cycling
A University of Idaho researcher's work suggests the cartoonish image of Tasmanian devils as whirling dervishes of unbridled energy may hint at the real animals' importance to ecosystems.
As a top apex predator and scavenger, and one of the few carnivores worldwide that consume bones, devils play a critical role in the Tasmanian island ecosystem by cycling essential nutrients back into the soil. Nutrients, including phosphorus and nitrogen, would otherwise remain locked in bone material for years, said Laurel Lynch, an assistant professor in the Department of Soil and Water Systems.
Lynch is among a team of international researchers funded by the National Science Foundation to study the role of Tasmanian devils in maintaining forest health and productivity. The research will reveal links between keystone scavengers and ecosystem resiliency that could have applications worldwide, Lynch said.
Although a highly transmissible cancer — the target of many unrelated studies — threatens Tasmanian devils with extinction, one population on the western coast has not yet been infected. Researchers will use this natural population gradient to determine how scavenger and predator declines alter energy flow through food webs and influence ecosystems.
"We know through population and community ecology that if you remove a keystone species, there's a reorganization that occurs throughout the food web," Lynch said. "What we don't know is whether this reorganization cascades below ground and influences microbial populations and plant-available nutrients."
When microbes have access to high-quality food sources, such as carcasses, they grow more efficiently than when they are only decomposing plant material, she said. By releasing key nutrients from carcass and bone material, devils may help plants and microorganisms be more productive.
Plants may build longer-lived tissues that allow them to survive drought and other stresses. Efficient microbial communities may store more carbon underground, which helps reduce atmospheric carbon dioxide concentrations.
This project titled "Collaborative Research: Effects of Top Scavenger Declines — From Microbes to Ecosystems" was funded by National Science Foundation award 2054716. The total project funding is $677,575, of which 100% is the federal share.
---
Faces and Places
CALS animal and veterinary science – pre-vet major and Chobani scholar Kaitlin Mirkin recently received a $2,500 scholarship from the National Dairy Promotion and Research Board. This scholarship is awarded to only 11 students annually and is based on academic achievement and an interest in a career in a dairy-related discipline. Recipients must demonstrate leadership, initiative and integrity. Kaitlin is originally from Jerome.
---
Events
Feedback or suggestions? Please pass them along through calsnews@uidaho.edu