Catching Up with CALS — Oct. 20, 2021
Dean's Message — World View
A row of small grapevines planted last summer at the Sandpoint Organic Agriculture Center may serve as the most tangible evidence that CALS International Programs is still alive and well during one of the world's most challenging eras.
Jaizkibel Garcia Salvatierra, a student whose family produces wine grape rootstock in Spain's Navarra province, helped plant the vines from the Parma Research and Extension Center as an opportunity to test novel varieties in a new environment.
She spent the spring as an exchange student from the Public University of Navarra (UPNA) in Pamplona, Spain, studying in the Department of Plant Sciences with a residential internship at Sandpoint.
The grapevines were table grape varieties, and the trial was established with help from Essie Fallahi, whose work with table grapes at the Parma Research and Extension Center sparked growers' interest in a new crop for southwestern Idaho.
Jaizkibel preceded another Navarra student, Amelia Bellosta Diest, who is from Zaragoza and is studying in the Department of Soil and Water Systems (SWS).
The Public University of Navarra connection is among CALS international programs newest and strongest connections to global agricultural education.
Other longer-standing programs with National Chiayi University in Taiwan, the Autonomous University of Guadalajara in Mexico and University College Dublin in Ireland continue. Travel complications postponed the trips and exchanges that were the hallmarks of earlier years, International Programs Director Bob Haggerty said.
Our efforts to forge ties with other universities in other countries, notably China, continue as well.
The interest among CALS students and faculty remains strong. Professors and meat scientists Phil Bass and Michael Colle, SWS Department Head Jodi Johnson-Maynard and professor Dan Strawn all have visited Navarra.
This fall, Jim Connors, Agricultural Education, Leadership and Communications Department head, is teaching a bumper crop of 38 students enrolled in the AGED 406, Exploring International Agriculture.
That is the lead-in class to the spring AGED 407 class that Haggerty typically oversees, including spring break trips to our partner institutions in Taiwan, Mexico, Ireland and Spain.
The one thing that the past two years have taught us is planning gets complicated quickly during a pandemic. We are on a hopeful trajectory with the novel coronavirus and optimistic we will continue helping students better understand international agriculture.
Our focus remains clear. Understanding international agriculture from both a faculty research and extension, and student education, perspective is critical to the success of the college. There are incredible similarities when examining the many challenges and opportunities agriculture faces on a global scale. Only by working together and sharing knowledge will we be able to meet the challenge.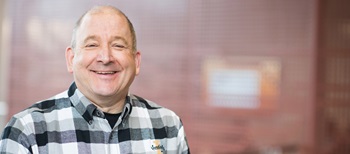 Michael P. Parrella
Dean
College of Agricultural and Life Sciences
---
By the Numbers
93% of Idaho's potato harvest was complete by Sunday, ahead of the 88% average during the last 5 years and equal to last year's progress, according to the USDA National Agricultural Statistics Service. 50% of sugar beets were harvested, up 3% from the 5-year average, but behind last year by 5 points. 96% of winter wheat is planted, ahead of last year's 89% and the 5-year average of 86%. 58% of winter wheat has emerged, ahead of last year's 49% and the 5-year-average of 54%. 98% of Idaho's onions are in the shed, a point behind last year's 99% but ahead of the 5-year average of 93%.
---
Our Stories — Students Join World Ag Forum
Eight CALS students traveled to Des Moines, Iowa, Tuesday to begin formally training to educate their future students in global food security during the World Food Prize Foundation Borlaug Dialogue.
The U of I students will meet there with eight Penn State University students who jointly are participating in a two-year, $280,000 project funded by the USDA National Institute of Food and Agriculture.
The students will interact with officials from some 115 countries during the event. U.S. Agriculture Secretary Tom Vilsack and his counterparts from Mexico and Canada will attend, along with agricultural leaders from around the world.
"They are some of the only students who are able to attend the event in person, so we feel very fortunate," said CALS agricultural education, leadership and communications professor Kasee Smith. She leads the project with U of I colleague Jeremy Falk and Penn State professors Daniel Foster and Melanie Miller-Foster, and the World Food Prize Foundation's Keegan Katzusky.
The 16 students make up the first of two cohorts of U of I and Penn State students who will develop one-day lesson plans about global agriculture. Most of the U of I students are juniors who have the classroom experience to help them prepare for an immersive discussion in pedagogy during the event.
A couple of sophomores also make up the U of I group, which was selected from 21 applicants earlier this year.
The Idaho part of the project will develop a four-day global ag curriculum that the students will deliver to students in schools around the U.S. during spring break next March.
The Borlaug Dialogue honors scientist and agricultural green revolution leader Norman E. Borlaug, who transformed global agriculture to feed a hungry world. Raised in northeastern Iowa, he won the Nobel Peace Prize in 1970 for his work.
The project's undergraduates in Des Moines are among the few invited to attend this year's Borlaug Dialogue because COVID-19 protocols led organizers to shift much of the event online.
The U of I and Penn State students will play roles ranging from guide to session moderators during the event. Joining such a worldly gathering will expose them to a deep pool of agricultural leaders and experiences.
"I think this feels important," Smith said. "I think our own goal is for them to be confident and engaged in the event because they were invited by the World Food Prize to be part of this," Smith said.
The project will offer students a global perspective and provide them the opportunity to gain classroom experience next spring before they begin their formal student teacher assignments, Smith said.
---
Faces and Places
Animal, veterinary and food sciences professor and microbiologist Scott Minnich presented a U of I Renfrew Interdisciplinary Colloquium, "Social Change and the 14th Century Plague Pandemic," about the aftermath of the Black Death in Europe in the mid-1300s.
---
Events
Oct. 27 — All-CALS meeting via Zoom, 2-3:30 p.m. PDT
Feedback or suggestions? Please pass them along through calsnews@uidaho.edu