October 2019 Alumni and Friends Newsletter
Dear Friends,
The university's land-grant mission means, in part, that we're committed to making a positive impact on communities throughout the state and increasing accessibility to higher education to as many qualified Idaho students as possible. It's an incredibly worthwhile goal, and I'm always in awe of the college's contributions.
Across the state, the college now has three Virtual Technology Laboratories (VTLs) where researchers create virtual environments to better understand how people respond to select scenarios through cognitive and emotive monitoring — and to help users visualize and plan for potential outcomes to critical scenarios. The newest lab will open this fall at the U of I Boise center to house and conduct research for the Autism Cross Reality Institute (AXR). The AXR was founded by a five-member board of directors which includes Virtual Technology and Design (VTD) Program Head John Anderson and U of I alum Mitch Alexander, who has a son with autism. John hopes to engage with private businesses in the medical community through the Boise-based VTL and is involving interested students in the project. I can't wait to see the results of their efforts.
Also in Boise, Ken Baker, the director of our Integrated Design Lab, received a grant to develop a 3D printing process for the environmentally friendly manufacturing of wall, floor and roof panels for modular buildings. The panels are made from locally-sourced Idaho wood. The fast-growing nationwide industry of modular construction allows building assemblies to be constructed in factories off-site, increasing labor productivity, reducing construction site waste and streamlining the construction process. Ken and his team have proposed the use of Idaho wood, especially wood products that aren't used by the lumber market — like waste wood from mills and wood processing plants — to reduce our dependence on imports and lower the cost and energy output from transporting out-of-state products. This practice would have additional economic impact on the state through the hiring of a more skilled, technology-savvy construction workforce.
Here in Moscow, Jean-Marc Gauthier, associate professor in VTD, is part of a team which was recently awarded a grant to develop a virtual world that encourages women to pursue traditionally male-dominated engineering fields. The grant was awarded by Amazon Catalyst, a program launched by tech giant Amazon.com in partnership with the University of Washington and Washington State University, to fund innovative projects at universities that make positive impacts on the world.
Jean-Marc will help develop a virtual world that allows U.S.-based female engineers to visualize social interactions and experience the workplace environments of countries with higher levels of women in engineering. The end goal is to solve the gender gap in the engineering industry.
As if that's not enough, Andy Kliskey, co-director of our Center for Resilient Communities (CRC) and director of Idaho EPSCoR, recently received a National Science Foundation grant that supports the formation of a research network that's responsive to the needs, concerns and priorities of people and institutions affected by vulnerabilities to their food, energy and water systems. The network will include nationwide scientific scholars and non-scientists alike — such as community members, industry leaders, tribal organizations, non-governmental organizations and government agencies — and will allow Andy's team to account for diverse perspectives while continuing their impactful research. The CRC has been creating predictive models of alternative future scenarios to assess how factors such as population growth and weather extremes affect a region's resources. Most recently they've been working with community members and the dairy industry in Idaho's Magic Valley to help ensure a resilient future in the state's agricultural epicenter.
I'm also thankful for the educational outreach that happens with young students throughout the region at the Prichard Art Gallery. The gallery sees an average of 1,200 K-12 students each year, and Gallery Director Roger Rowley facilitates docent-led tours of current exhibits — which feature local and internationally acclaimed artists — followed by hands-on projects in the Children's Studio. The Prichard also hosts the After School Art Program for students ages 5 to 11 every Thursday afternoon during the school year. Its workshops and summer camps, taught by local artists, range in focus from pottery to photography to creative writing.
The current exhibit, "Sap in their Veins" and "Falling Trees" by David Paul Bayles, is rich in narrative and images of hard-working timber crews. When you visit the exhibit, you also have the opportunity to contribute to the process of making art as Bayles is gathering personal stories of "trees" for a future project. To participate, all you have to do is record your story in the booth upstairs. I have one to tell and I hope President Green does, too. He attended the opening, and as always, we appreciate his support of the gallery and our college.
Stay tuned for more news on college-wide projects related to U of I's land-grant mission — and check out the story below on the interior architecture and design student who's making a difference down the road in Lewiston. As always, we love giving back to our communities and we're committed to increasing access to higher education.
Sincerely,
Shauna Corry, Ph.D.
Dean
College of Art and Architecture
---
Upcoming Events
We're excited to welcome U of I alumnus Gordon Walker to campus for "A Poetic Architecture: In Conversation with Gordon Walker" at 4:30 p.m. Wednesday, Oct. 16, in the Gallery Crit (AAS Second Floor).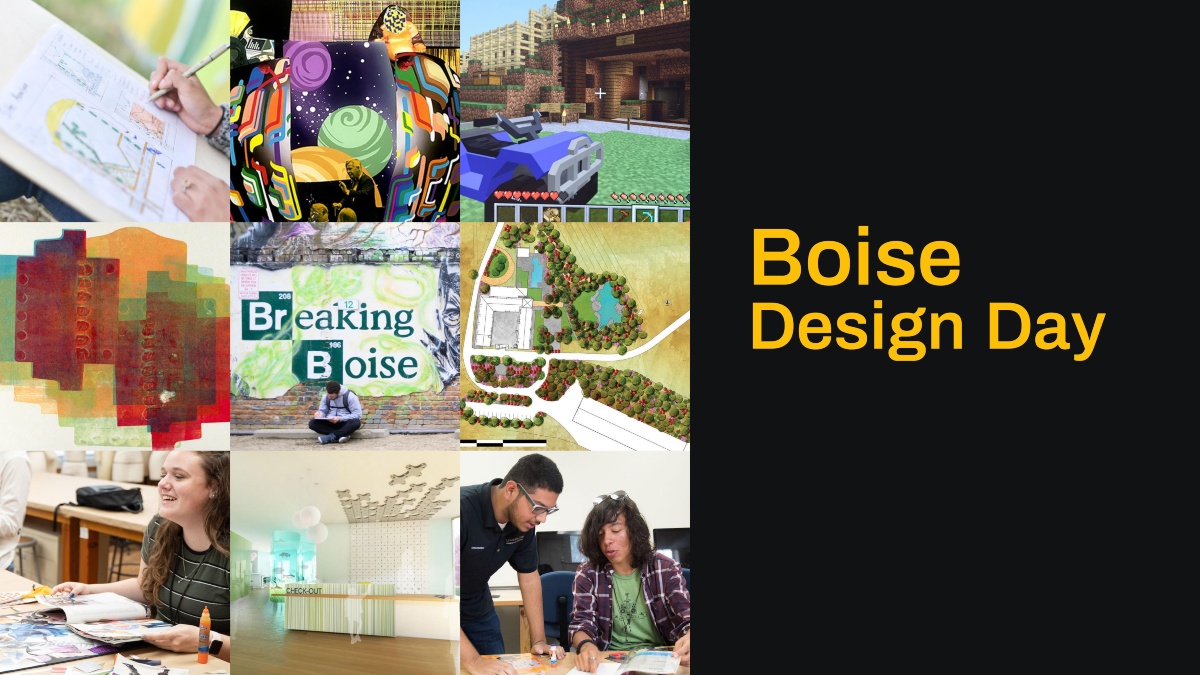 Boise Design Day is a free event that offers high school students in the Boise metro area a chance to explore life as an emerging designer at U of I. We'll be offering the hands-on workshop at Boise High School from 4-6 p.m. on Wednesday Dec. 4. Please help us spread the word to any students you know in Boise!
---
Feature Stories
Emma Poe has heard frequent stories from family members about their past experiences behind bars. Most revolve around overcrowding and subpar facilities — common issues in a country with the world's highest per-capita incarceration rate.
"I think the main thing was the loss of any form of privacy, and other inmates' attitudes rubbed off on theirs — or vice versa," said Poe, who's pursuing a bachelor's in interior architecture and design from U of I's College of Art and Architecture. "Maybe you just had a great therapy session and you're having a great day, and then you're stuck with your bunkmate who has a terrible attitude, and it just brings you back down."
When choosing a design concept for her senior capstone project in the Interior Architecture and Design Program, Poe focused on theories of rehabilitation versus confinement, striving to emphasize how an inmate's physical environment can positively impact personal growth. Read More