January 2019 Alumni and Friends Newsletter
Dear Friends,
The College of Art and Architecture may not be known for its large research expenditures and projects. As our name implies, we focus heavily on creative and scholarly work, as we are designers in the Bauhaus tradition. But research is a high priority for land-grant institutions like the University of Idaho, which is committed to improving the state, and society as a whole, when it comes to critical issues. Our college, with a focus on sustainable design in partnership with neighboring communities, is committed to that mission, too.
Just last month, the college was invited to join the Sustainable Development Solutions Network, a global initiative for the United Nations, due to our longstanding design-related commitments to sustainability, inclusivity and indigenous cultures. I selected John Anderson, head of our Virtual Technology and Design (VTD) Program, and Andy Kliskey, the co-director of the Center for Resilient Communities (CRC), a research facility housed under the college that's committed to helping communities in the Western United States remain sustainable, to serve as the university's representatives for the network. John and Andy are already developing U of I's framework for meeting sustainable development goals through a prototype that simulates future scenarios — and various solutions — for the design of sustainable cities and food systems through the year 2050.
Andy's current research with the CRC, which stems from a $2.7 million grant from the National Science Foundation (NSF), is informing that work. In collaboration with community members in the Magic Valley — the epicenter of Idaho's agricultural industry — Andy and Dan Cronan, assistant professor of landscape architecture, along with students like Katherine Woodhouse, are creating models of alternative future scenarios, such as drought caused by climate change, that will help the region proactively plan for a very different future.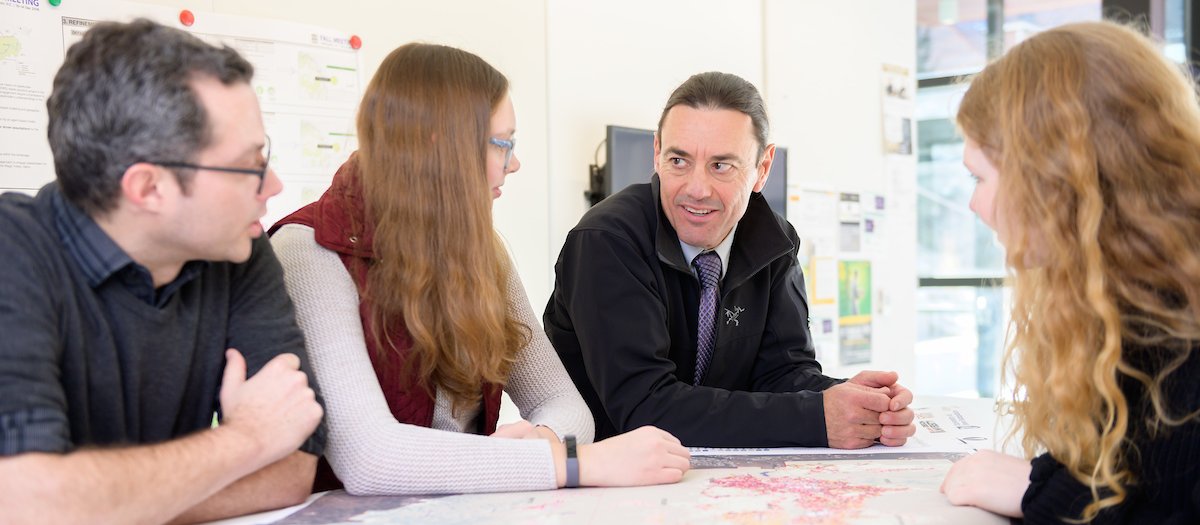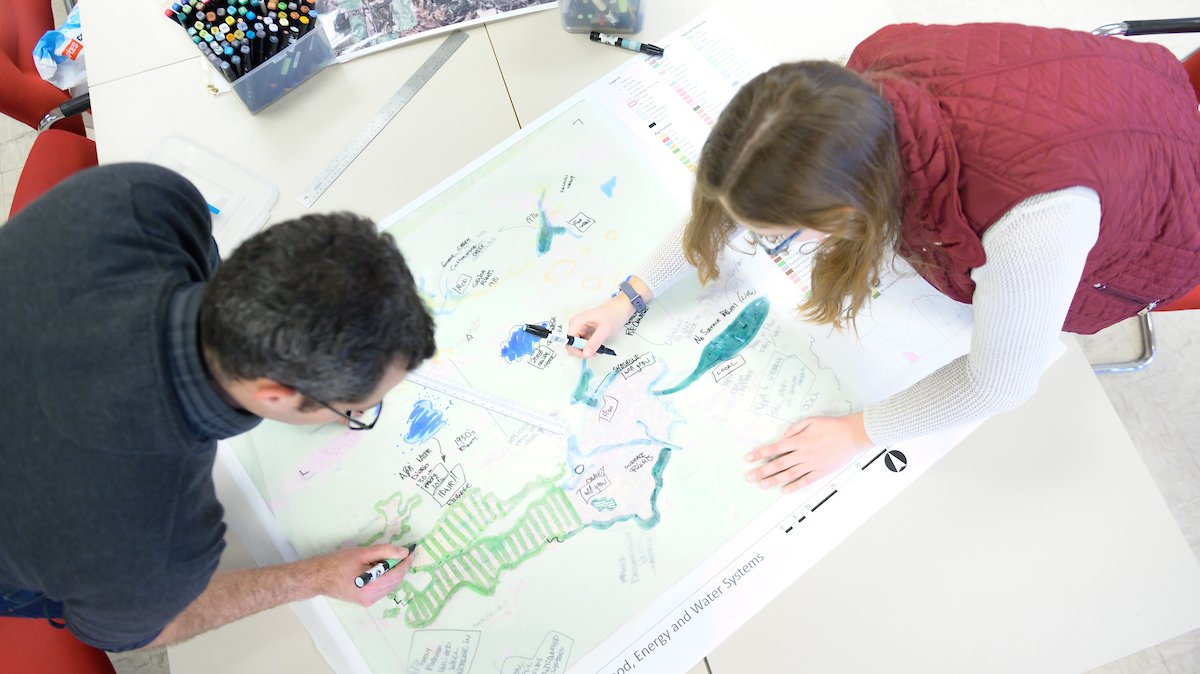 VTD students and faculty are also working on a large-scale NSF grant to create virtual labs for high school students that will help spark interest in the sciences. The project may also allow scientists the ability to better predict how mutations affect proteins, and how certain pathogens might then evade drug therapy like antibiotics. Three undergraduate students — Ian McGrath, Grayson Hughbanks and Hannah Gilmore — are working with VTD Associate Professor Jean-Marc Gauthier and VTD Senior Instructor Brian Cleveley, along with two U of I physicists and a biologist from Brown University, to create these labs.
Late last year, Stacy Isenbarger, associate professor in the Art + Design Program, co-curated a traveling art exhibit, "Conversations through the Smoke," that included art from fire managers, firefighters and others involved with fire management nationwide. The exhibit aimed to foster conversations and help communities affected by recent fires in the Northern Rockies. Stacy worked extensively with College of Natural Resources Professor Penny Morgan on the project — an extension of their collaboration from the Visualizing Science exhibit.
Our Integrated Design Lab (IDL) in Boise is also churning out great work, as it helps ensure through research and outreach that new buildings, developments and major renovations in the city of Boise will be carbon neutral in 12 years. The IDL recently hired Ken Baker ('82) as its interim director. Ken has a master's in architecture from U of I, was a founding member of the lab and has worked in building energy efficiency since 1978.
I'm truly proud of the work our students and faculty are doing to achieve a sustainable future in collaboration with our communities. Their work is the hallmark of our college, and I'm confident we'll continue to contribute high-quality design to Idaho's changing landscapes — in the built, natural, cultural and virtual worlds.
Sincerely,
Shauna Corry, Ph.D.
Dean
College of Art and Architecture