September-October 2019 Boise Newsletter
September – October 2019
From the Desk of Mike Satz
Faculty, Staff and Student Colleagues:
Welcome back to the fall semester! This is an exciting time for the University of Idaho across the state as we have new leadership intent on building a strong university and reinstalling Vandal pride statewide. I am excited for the future of our university.
I want to take a moment to thank all of you for the roles you played in our space re-allocation. I know it is difficult to uproot and move and you all did it diligently and with great attitudes about our new arrangements. I am particularly grateful to our U of I Boise facilities and IT staff for working so hard to make this transition as smooth as possible. Stephanie Fox, Teresa Amos and their teams did a fantastic job working together and coordinating this move and we are lucky to have them as colleagues at U of I Boise.
I would also like to express my deep gratitude to the excellent faculty and staff who we have here in Boise. On Aug. 15, I was recognized by the Idaho Business Review with that publications' ICON award for 2019. I was nominated for this award internally and I am quite humbled by the nomination and award. As I said during my acceptance, no one succeeds alone. We have help all along the way. To me, your excellence is a major factor in any success I have. In fact, I say all the time that you are the rock stars, I am just privileged to have the opportunity to work with you and to tell people what you do. It is your expertise and dedication to what you do that allow me to engage in the activities on behalf of U of I, Boise and our greater university that led to this recognition. This would not have happened without you and in a very real sense the ICON award was earned more by you as my faculty and staff colleagues than by me. I am, therefore, extremely grateful to my Vandal Family and want to thank each and every one of you for what you do on behalf of U of I here in Boise.
I wish you all a great semester and look forward to continuing to raise U of I Boise together.
Go Vandals!
Mike
---
News and Announcements
From the U of I Boise Climate and Culture Committee: 'Know Your Neighbors'
In response to the Climate and Culture Committee's (CCC) survey results, U of I Boise will begin holding monthly "Know Your Neighbors" presentations. These quick gatherings will be held at various times and days of the week so that all might have the opportunity to attend. Presentations will serve to inform staff about the many diverse and exciting programs here at U of I Boise. Attendees will learn what the highlighted program does, about upcoming projects, where the program resides and have a chance to ask questions. Our inaugural Know Your Neighbors presentation will happen at noon Friday, Sept. 13, in IWC 212. Keep an eye out for the schedule and to see when each department will have its turn in the spotlight. See you there!
Anyone interested in joining the CCC may contact Holly Kimbrell at hkimbrell@uidaho.edu or extension 4-4064.
Thank You Volunteers!
Thanks to the U of I Boise staff, retirees and friends who volunteered during Boise Kind representing the university. Volunteers worked at the Whitney Elementary School's community garden project pulling weeds, laying down bark, building a picnic table, hanging a tarp, disposing of trash, spray painting a bookshelf, hauling rocks for a garden project and organizing food for the kids. In the picture, taking a break, left to right: Donna Stolaroff, Elaine Kempton, Jenny Burdin, Erin Argyle and Matt Zietzke.
Boise Kind is a collaborative initiative between the city of Boise, community members, business leaders and nonprofit organizations aimed at protecting and promoting our community's core values and ensuring Boise remains a kind and welcoming city. Learn more here.
U of I Boise collaborates to help Treasure Valley Kids
With a focus on community impact, regional economic development and university growth, U of I Boise is trying to increase the number of students attending college in a proactive and innovative way by supporting, partnering and collaborating with local organizations that focus on education from pre-K through college.
One of those programs is RISE — Treasure Valley's Education Partnership. U of I Boise has supported the organization by volunteering staff time as well as providing leadership and as-needed resources as the organization establishes itself in the region.
Over the past two years, RISE's Book and a Bite program has served more than 6,000 meals, given away over 5,000 books and delivered over 7,000 hands-on STEM activities. Learn more about how we support RISE.
Vandal Voices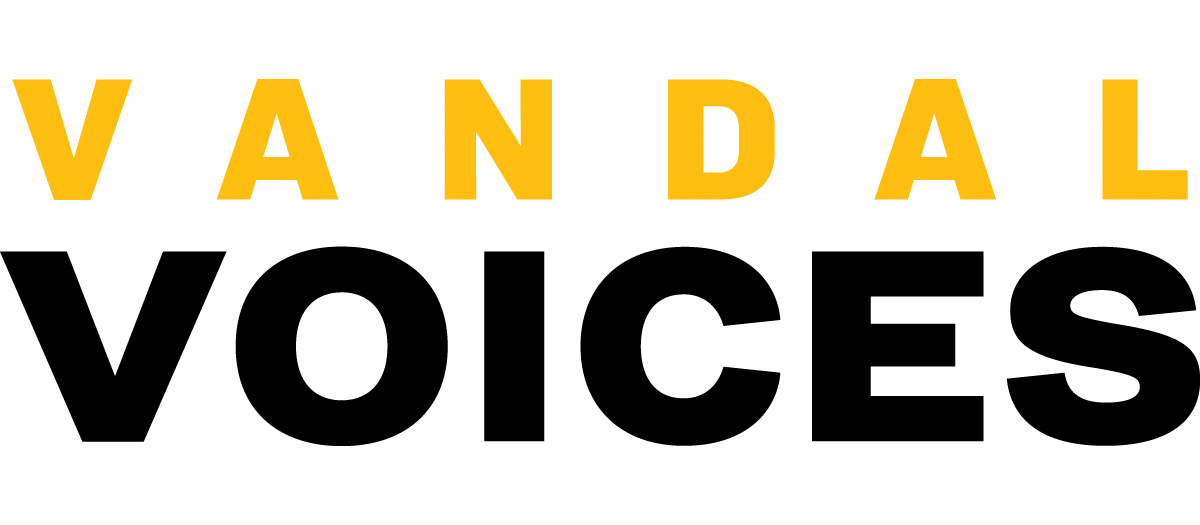 Vandal Voices, a bi-monthly speaker series organized and presented by U of I Boise, is designed to inform and engage Idahoans in the Treasure Valley about research and educational topics presented by university experts in an informal setting.
The June event featured U of Extension's Ariel Agenbroad talking about "Ways Smart Marketers Influence the Way We Eat." The August event was "The Business Case for Early Childhood Education" presented by U of I Boise Executive Officer Mike Satz, accompanied by Beth Openheimer, executive director for the Idaho Association for the Education of Young Children.
Our next Vandal Voices will be in October (date and location TBD) and will feature April Hulet with the College of Natural Resources.
Anyone who has a topic they are passionate about and who would like to present at a Vandal Voices event may contact Maria Ortega at mortega@uidaho.edu.
Boise Farmers Market Booth Space Still Available!
iDrones, 4-H events, Chinese classes, science experiments! Yours can be one of the units taking advantage of the free booth at the Capital City Public Market (CCPM). U of I sponsors the CCPM in downtown Boise. The market runs through Dec. 14 with an average of 15,000 attendees each Saturday. Part of our sponsorship package includes a U of I-branded tent each week for the university to showcase the diverse programs we have at U of I. This is a huge marketing opportunity, allowing U of I to extend its s reach into our communities and beyond.
Sign up to utilize U of I's booth and highlight the amazing research and programs in your college or department. The time commitment is about four hours and there are spaces available from now until December.
The booth is free for the day and slots are reserved on a first-come, first-served basis. Sign up online to reserve the date(s) that best serve your program.
Middle School Teacher Completed Externship at U of I Boise
This summer, the Center for Ecohydraulics Research (CER) participated in a pilot program created by the Idaho Workforce Development Council and STEM Action Center, both under the office of Gov. Brad Little. The program launched a teacher externship to better connect education to careers, with a stipend paid to the teacher by the STEM Action Center.
Heidi Maimer, a middle school science teacher from Vallivue Middle School, spent five weeks (200 hours) working with researchers in the StreamLab (aka, the flume), who provided training and mentoring about water research. Heidi was able to collaborate with projects on the Boise River, Trail Creek and Warm Springs Creek in Sun Valley. Heidi sent us an email at the end of the summer saying, "This has been such a great experience for me and thank you for letting me work with such smart, patient and passionate scientists." As a result of her externship, Heidi will be bringing 48 middle school students to U of I Boise Sept. 18 for a talk on the science of whitewater and to visit the StreamLab. The students will then go for a tour and demonstration at Boise River Park, which was built with the help of research conducted at the flume.
Faculty Career Updates at the College of Law
Professor Katie Ball will serve as interim associate dean of students for the current academic year, while Professors Katherine Macfarlane and Annemarie Bridy will be away from U of I Boise for the 2019-20 academic year while taking advantage of great career opportunities: Katherine will be a visiting professor at the Dale E. Fowler School of Law at Chapman University in California and Annemarie has taken a position with the copyright specialty team at Google.
Parma Research and Extension Center Proposes Upgrade
The U of I Parma Research and Extension Center, run by the U of I College of Agricultural and Life Sciences, has proposed a $7 million upgrade to its 50-year-old facilities. The center conducts research on crops including beans, potatoes, onions, hops, mint, tree fruit, wine and table grapes, cereals and seed crops.
The plan includes raising $3 million from the state's agriculture industry over five years, as well as $3 million from the Idaho Legislature. The university, which already invests $1.5 million each year in the center, plans to provide an additional $1 million toward the renovation project.
Part of the project includes adding four new positions at Parma: an Extension fruit and viticulture specialist, a weed scientist, an irrigation and soil scientist and a pollination scientist to bring the total number of research faculty at the Parma station to 10. They would study bugs, weeds, water, soil and other issues affecting farmers on a daily basis.
The modernized facility would include new graduate student housing, updated labs and equipment and new greenhouses. The hope is to break ground on the new facility in 2021.
New Flume is Built on the IWC Second Floor
The College of Engineering has finished building a new "mini-flume" at the IWC Aquatic Imaging Laboratory. The new particle image velocimetry (PIV) flume is 7 meters long, with additional space for the headbox at the upstream end of the flume and at the downstream end of the flume for the tail box. The width of the flume is configurable to either one half meter or one meter. Water will be recirculated through the flume from the approximately 1,000 gallon reservoir box at up 500 gallons per minute. The flume will be fitted with a laser imaging system to facilitate PIV experiments.
PIV is a technique in which neutrally buoyant particles are suspended in a flowing fluid of interest (in our case water), a thin slice of that flow is illuminated with a laser sheet and images of the suspended particles are analyzed statistically to discern the details of complex flows. Experiments at the PIV flume will be focused on the details of the flow into and through the sediments that make up the stream bed. Using the clear sediments that CER staff have developed, they hope to learn the details of chemical and biologic processes that occur within the stream bed and about interactions between the water column and the stream bed.
Rangeland Fall Forum
The U of I Rangeland Center's signature event, the Rangeland Fall Forum, takes place Oct. 10-11 in Marsing. The half-day symposium and full-day field tour are meant to inspire and invigorate conversations around science-based solutions for the range. This year, the center is taking a close look at collaborative land management – what works, what doesn't and where science fits. The keynote speaker is Lynn Scarlett, vice president of public policy and government relations at The Nature Conservancy. The Rangeland Center presents the event in partnership with the following:
The James A. and Louise McClure Center for Public Policy Research
The Nature Conservancy
Idaho Rangeland Resources Commission
The Owyhee Initiative
Idaho Section – Society for Range Management
Details and registration are available at rangelandfallforum.org.
U of I Boise Career Services Resource Center
The U of I Boise Career Services Resource Center, located on the first floor of the IWC building in suite 190, is a space for students and alumni to come find resources to assist them in their career development. In this self-help center, handouts and information are available to help with each level and topic of career development. Samples and guides are available on resumes, cover letters, job searching, interview tips and questions, career exploration, choosing a major, salary and benefit negotiation, graduate school application materials and networking.
Information will also be posted regarding Career Services events, local hiring events and other resources. Additionally, while the U of I Boise Career Services Resource Center is a self-help tool, distance appointments can be made with a career advisor in Moscow. Information regarding how to set up a distance appointment will also be available in the Resource Center. Access to U of I Career Services is free and available to prospective students, current students, alumni, faculty and staff at U of I.
McClure Center - Governor's Salmon Workgroup
The James A. and Louise McClure Center for Public Policy Research is serving as co-facilitator of the Governor's Salmon Workgroup, a yearlong effort that works closely with the Governor's Office of Species Conservation. The purpose of the workgroup is to bring together a diverse set of stakeholders to develop, through collaboration, shared policy recommendations for Gov. Brad Little. These recommendations will assist the governor as he works with the Legislature to shape Idaho policy that ensures abundant and sustainable populations of salmon and steelhead for generations. The workgroup will meet approximately every six weeks, traveling around Idaho with field visits to see habitat restoration, hatcheries, hydropower and fish ladders, as well as to hold public comment sessions. They plan to recruit two University of Idaho College of Law students through an externship and pro bono experience with the McClure Center and Office of Species Conservation.
Martin-McClure Ambassadors and U of I Students on the Hill
In June, the McClure Center welcomed the 2019 Martin-McClure Ambassadors, University of Idaho undergraduate students Olive Swan and Maggie Thornsberry. In partnership with the University of Idaho Martin Institute, the McClure Center hosts Martin-McClure Ambassadors annually in Boise, helping students integrate international experiences with public policy. Both Maggie and Olive focused on international energy policy, researching waste and recycling supply chains. They presented research findings to the city of Boise and Sun Valley Institute Youth Forum. Maggie completed her senior year and majored in international studies. Olive is entering her junior year with international studies and French double majors.
The Martin Institute and McClure Center also brought four U of I undergraduate students to Washington, D.C. to shadow U.S. Sen. Jim Risch in his role as Senate Foreign Relations Committee chair. The students met with the senator's staff and committee staff, observed committee meetings and talked with Risch. Experiences like these are transformative for undergraduate students, as they connect classroom learning to U.S. government processes.
McClure Center - Water Policy Intern
This summer, the McClure Center and Idaho Water Resources Research Institute welcomed their first water policy Intern, Samragyee "Sam" Gautam. The Water Policy Internship is an opportunity for a University of Idaho undergraduate student to explore scientific and public policy research related to water resources management. Sam, a senior double majoring in environmental studies and international studies, helped design a citizen science program for the Spokane River watershed and conducted research on water policy engagement in the region.
Idaho Geological Survey
The Idaho Geological Survey's (IGS) Boise office (IWC Suite 201) has grown and started several new projects. Minerals Specialist Virginia Gillerman is mapping the geology and metal-bearing systems in the vicinity of the reactivated DeLamar precious metal (and other metals) property in the Owyhee mountains (see picture). Mark Barton, petroleum geologist, is working on basin analysis and oil and gas development in Payette County and adjacent areas. Zachery Lifton is a specialist in geologic hazards, including slope stability and seismic risk. There have been past sizeable slope failures around the state, including the Alto Via Court and Strata Via Place slumps in Boise, and destruction of a rail line and highway in Boundary County. Alexis Clark, IGS hydrogeologist, is studying the Big Lost River geologically controlled surface water and groundwater systems in Custer and Butte counties. She is also becoming involved with outreach efforts for geothermal system district heating applications.
Virtual Reality Lab Coming Soon to IWC
The College of Art and Architecture's Virtual Technology and Design Program will open a Virtual Technology Lab at the Idaho Water Center this fall. The lab will house and conduct research for the Autism Cross Reality Institute.
CI Tai Chi free Drop-In Class Tuesdays and Thursdays
Beginner Tai Chi is being offered again this semester by the Confucius Institute as a free drop-in class at noon Tuesdays and Thursdays in IWC 156 starting on September 10.
The Confucius Institute will also partner with Community Education this semester to offer Tai Chi classes through its program, including Tai Chi Sword and Tai Chi Fan.
---
Kudos
Employee of the Month Parking Award Winners

U of I Extension selected Aubrey Stribling for the July parking award in Boise's IWC.
College of Engineering nominated Erin Argyle for the August parking award.
The College of Education, Health and Human Sciences selected Michelle Weitz as the employee of the month for September. Michelle was chosen because of her good work to facilitate and coordinate the move to the second floor. Her work to assist students is also greatly appreciated!

Kudos to College of Law Interim Director of the Library Stacy Etheredge and Admissions Administrative Assistant Renee Harrison for receiving the college's Professionalism Leadership Awards for faculty and staff, respectively. The awards recognize and promote professionalism by members of the faculty and staff in the College of Law.
Congratulations to Idaho WWAMI's Lachelle Smith who was promoted to director of Project ECHO.
Kudos to College of Engineering Professor Elowyn Yager who has been appointed as the new Center for Ecohydraulics Research director.
Congratulations to Surine Greenway, Family and Consumer Sciences Extension educator, Owyhee County, for receiving the Idaho Business Review Accomplished Under 40 Award for 2019. The Accomplished Under 40 is an elite group of 40 young Idaho professionals who represent the next generation of leaders in business, health care, nonprofit work, government and academia. These professionals contribute to their communities both on and off the clock and they show great promise for the future. Thanks to Nic Usabel (horticulture Extension educator, Canyon County) for nominating Surine.
Kudos (times three) to College of Law Professor Katherine Macfarlane for getting tenure last June. Katherine was also one of the Idaho Business Review's Accomplished Under 40 award recipients for 2019 and received the Diversity and Human Rights Award from the College of Law.
Congrats to College of Law Professor Wendy Couture on being selected as the James E. Wilson distinguished professor. In selecting Wendy, Dean Jerrold Long's priority was to reward excellence in teaching. She is also an excellent scholar, provides important service and is an ambassador for U of I.
Congratulations to Ken Baker, interim director of the U of I Integrated Design Lab and associate professor of architecture at the College of Art and Architecture. Ken received the Jeff A. Johnson Award for Excellence in the Advancement of Building Energy Codes from U.S. Department of Energy. This award recognizes Ken's outstanding accomplishments surrounding building energy codes on his impact, innovation, collaboration and passion. Congratulations Ken for a well-deserved award.
Congratulations to U of I Boise Executive Officer Michael Satz for being one of the Idaho Business Review 2019 ICON Awards recipients. The award was presented Aug. 15 to 15 Idahoans who have demonstrated a track record of leadership, professional accomplishments, community service and vision. Among the other 2019 recipients were U of I alum Skip Oppenheimer, College of Idaho co-president Jim Everett and former BSU President Bob Kustra. A complete list of awardees and more information about the award can be found on the IBR website.
Kudos to Jaap Vos, program head of Bioregional Planning and Community Design, who was invited to be part of the Governor's Broadband Task Force to increase internet access in rural parts of Idaho. Jaap will also be involved in the 2019-20 McClure Center Idaho Climate-Economy Impact Assessment Project as co-lead of the infrastructure team.
Congratulations to College of Agricultural and Life Sciences Pomology Professor Esmaeil "Essie" Fallahi, who was recently honored with the Wilder Medal in Pomology from the American Pomological Society – the society's highest honor. Essie oversees the pomology program at the U of I Parma Research & Extension Center.
---
U of I Boise in the News
See our faculty, staff and programs mentioned and quoted in the Treasure Valley media this summer and learn about their new projects and research:
May
June
July
August
*Some publications require subscription. We have PDF copies available upon request.
**If we missed your story, send a link to mortega@uidaho.edu.