November-December 2019 Boise Newsletter
November – December Newsletter
From the Desk of Mike Satz
Colleagues, as we head into the home stretch of the fall semester we have great news about enrollment at the University of Idaho Boise. Our overall student numbers are up 10.9% and we continue to have the largest enrollment of all of our centers. However, it is important to note all of our locations - Moscow, Coeur d'Alene, Idaho Falls and Boise are in this together so we need to keep up the good work representing our university in each region. These efforts go a long way toward building the goodwill that supports growth across our institution.
In other news, U of I Boise is working hard to increase transparency and communication for personnel in the region. The meeting minutes for the U of I Boise Cabinet Meetings are now available online so folks can see what leadership in the region is discussing when we gather together. Our bi-monthly U of I Boise Newsletter is also archived for future reference.
I would also like to keep you up to date on my activities on behalf of the university and of U of I Boise. I have been active on many community fronts, including participation in the Boise Valley Economic Partnership, the Boise Metro Chamber of Commerce, RISE: Treasure Valley's Education Partnership, Idaho Voices for Children, and Idaho Association Education of Young Children. These efforts primarily reflect our objectives of increasing economic development engagement for the university and improving the go-on rate for Idaho children, both cornerstones of U of I Boise's strategic plan and significant parts of the larger university plan. Further, the University of Idaho played a key role in planning, executing, and participating in Boise Startup Week (BSW). Several others and I represented U of I in the Grow Track, the President's Forum with Governor Little, and the Pitch Competition at the end of BSW. Many thanks in particular to Danielle Horras, George Tanner from CBE, Matt Vaartstra from Career Services, Brenda Helbling from the President's Office, deans Marc Chopin and Larry Stauffer, and the many others who helped for making our events so successful!
Go Vandals!
Mike
---
News and Announcements
Athletics Branding Survey
University of Idaho has launched a new brand sentiment survey. This round they're looking for insights into our athletics branding.
Complete the survey by Nov. 15 and enter to win some cool prizes. We're looking for insights from brand owners (alumni, current students and employees) only, so please do not share the link with external audiences.
U of I Boise Video Highlights Regions' Strengths
U of I Boise has put together a promotional 30 second video highlighting our strengths both as a university and a regional center, including our focus on undergraduate, graduate, online and professional education, community engagement and research. Many of our units, coworkers and students are featured in the video, so please feel free to use the link to promote what we do on your presentations, events or social media.
Vandal Voices Speakers Series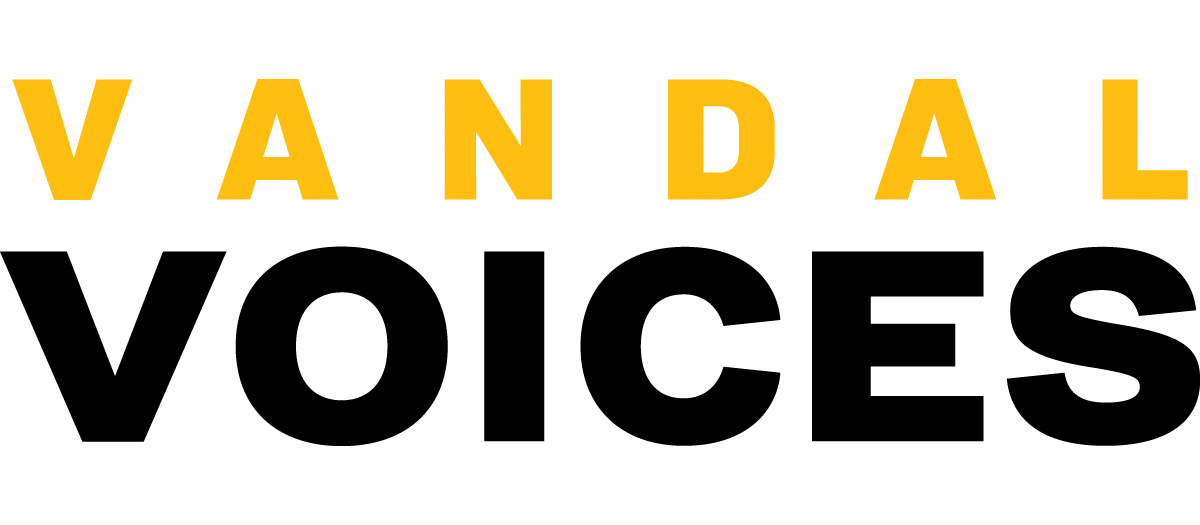 Vandal Voices, a bi-monthly speakers series organized and presented by U of I Boise, is designed to inform and engage Idahoans in the Treasure Valley about research and educational topics presented by U of I experts in an informal setting.
The October event was "Up in Flames: Wildfires and Rangeland In Idaho" presented by April Hulet, assistant professor of Rangeland Conservation for the College of Natural and U of I Extension rangeland specialist. The next Vandal Voices will be on Feb. 2020, speaker and date TBA.
You can see past Vandal Voices presentations here. If you have a topic you'd like to present, please contact Maria Ortega at mortega@uidaho.edu.
U of I Water Center to Host Integrated Graduate Seminar in Spring 2020
Starting next semester, southwest Idaho graduate students can fulfill their graduate seminar (501) requirement at U of I Boise's Idaho Water Center.
Thanks to a proposal by Bob Mahler (CALS), an integrated graduate seminar (interdisciplinary studies) will take place on Tuesdays from noon to 1 p.m.. As an integrated seminar, all graduate students from all academic fields are eligible.
This integrated seminar is open to all graduate students in southern Idaho and in most cases will replace the traditional on campus graduate seminar requirement, saving travel time and funding. Graduate students should enroll in INTR 501. Please share with your students and contact Bob Mahler for more information (bmahler@uidaho.edu).
In addition, all faculty and staff in the Treasure Valley are welcome to attend these Tuesday noon seminars; this is an excellent opportunity for faculty and staff to learn about the different programs and projects supported by the University of Idaho in southern Idaho.
Know Your Neighbors
Thank you to those of you who attended the U of I Boise Culture and Climate Committee (CCC) September and October 'Know Your Neighbors' presentations. In September the presentation was hosted by Lachelle Smith in Project ECHO and included WWAMI staff who explained their roles.
The October Know your Neighbors presentation was hosted by Pete Lien, director of recruitment. He highlighted the strategies and efforts for undergraduate recruitment and gave a quick summary of our 2019 class. Keep your eyes open for our next Know Your Neighbors and make sure to join us.
Emergency Procedures and Floor Monitors at the IWC
If you work in the Idaho Water Center and there is a fire emergency, do you know who your U of I floor monitors are? During an evacuation, please check in with your emergency floor monitor when you've reached the designated meeting location.
First floor: Aubrey Stribling, Holly Kimbrell, Jessica Eby and Matt Vaartstra
Second floor: Denise Engebrecht, Robin Baumgartner, Michelle Weitz, Alyssa Pietz, Lindsay Lodis, Jae Ryu and Chelsea Jordan (IOR)
Third floor: Donna Stolaroff, Erin Argyle, Jenny Burdin, Eric Schlueter, Eric LaBombarda, Teresa Amos and Stephanie Fox
Fifth floor: Sarah Keshian and Gretchen Burke
If you work at a different location in the Treasure Valley, please talk to your department head to find out emergency procedures for your building.
School Supplies Drive Organized by U of I Boise Culture and Climate Committee
Oct. 31 through Dec. 3, U of I Boise's Culture and Climate Committee will be collecting school supply donations for Treasure Valley teachers and their classrooms.
As the school year progresses, classroom supplies dwindle, become lost, broken or used up. Every year, school teachers dip into their own wallets to buy necessary school supplies for their classrooms. They buy everything from extra composition notebooks, pencils, dollar store items for fun science projects to keep kids engaged, sticky notes and binders, to snacks for lower-income students hungry between classes. Cold and flu season is just around the corner and supplies like Kleenex and hand sanitizer are not provided by the school district to classrooms.
Help us support our local teachers and donate school supplies for their classrooms. Helping our teachers focus on the best level of education for our children can be as easy as a quick trip to the grocery store.
Donations can be sent to or dropped off at the Idaho Water Center Suite 180; Ada County Extension, main lobby; and County Extension, main lobby.
If you want to donate but don't have time to bring in supplies, check the U of I 'Giving Tuesday – U and I Give' website on Dec. 3 for a chance to donate money directly to the supply drive. For more information, contact Jenny Burdin at 208-364-4001 or jburdin@uidaho.edu.
Boise Startup Week
U of I Boise co-presented with Zions Bank the Grow Track at Boise Startup week. The series of events were aimed at offering support and ideas for businesses looking to grow in the Treasure Valley. U of I College of Business and Economics Dean Marc Chopin presented some of the sessions. Additionally, U of I President Scott Green was part of the Higher Education Presidents' Forum with Governor Little.
Finally, with the help of Career Services, several U of I students traveled from Moscow to participate in the different activities, including Pitch Competition winner Devin Richards. Devin, a U of I civil engineering junior tied for third place earning $500 for his engineering research team's business plan to bring sustainability and energy education to sixth- through 12th-grade students on the Palouse.
Boise Mayoral Candidate Forum
University of Idaho Boise College of Law students organized and presented a 2019 Boise Mayoral Candidate Forum. The discussion provided U of I students and community members an opportunity to learn about each of the candidates in the race. The event took place Oct. 30 at the Idaho Law and Justice Learning Center and was sponsored by the U of I College of Law and the American Constitution Society.
Law Alum Reginald R. Reeves Presents in Boise
Distinguished alumnus and humanitarian Reginald R. Reeves visited the Idaho Law and Justice Learning Center and presented to a group of faculty, staff and students on Oct. 24.
Reeves graduated from the University of Idaho College of Law in 1952. In 2014, he received the nation's highest award for volunteerism and second highest civilian honor awarded by the Joint Chiefs of Staff, the Outstanding Public Service Award. Reeves has also received the 2012 Idaho State Bar's Service Award and the bar's 2015 Richard C. Fields Award, which is given for attorneys who demonstrate a commitment to professionalism and civility in the profession. Reeves is also the first African-American to graduate from the University of Idaho College of Law.
Benjamin Cover Delivers the Renfrew Colloquium Lecture
The Malcolm M. Renfrew Interdisciplinary Colloquium presented "The Future of Partisan Gerrymandering," by College of Law professor Benjamin Cover.
Benjamin discussed the Rucho v. Common Cause decision and the future of partisan gerrymandering – and efforts to stop it – in the post-Rucho era. The Rucho v. Common Cause U.S. Supreme Court decision limits the power of the federal courts to address what many consider a significant threat to American democracy: the manipulation of electoral maps to favor certain voters or candidates.
Benjamin has written about the Petition Clause and partisan gerrymandering and his work has appeared in the Stanford Law Review and the U.C. Davis Law Review. His article on partisan gerrymandering was recently cited by a federal three-judge panel in the case of Ohio A. Philip Randolph Inst. v. Householder.
Coming Together for Racial Understanding
University of Idaho Extension hosted a Coming Together for Racial Understanding training at the U of I Boise Idaho Water Center. The purpose of this two-day training was to educate, inform and encourage Extension faculty and staff to begin civil dialogues surrounding race and ethnicity throughout Idaho. By training Extension personnel to be better prepared to conduct these conversations throughout the different communities they work in throughout the state, University of Idaho can better interact and move communities forward in today's social climate. A total of 50 participants located throughout the state attended this training and engaged in activities that introduced the content that will better prepare them to work with their clientele. There are plans to offer this training on the University of Idaho Moscow campus in 2020. If your department is interested in a similar training contact Surine Greenway at 208-896-4104 or surineg@uidaho.edu for more information.
Build Your Future: Connecting Career Exploration and Postsecondary Education
University of Idaho Idaho 4-H Youth Development will be kicking off the fourth year of their Build Your Future program this fall. The program is geared toward high school youth in rural areas of Idaho who are not currently enrolled in 4-H and may not have considered postsecondary education as part of their future. It provides youth an opportunity to explore career options, research what level of education is needed for their career of interest, where to get the needed education and learn ways to finance their postsecondary education. Youth who complete the majority of the program learning activities also have the opportunity to visit the University of Idaho campus to experience four days of living on campus and continue to explore career options at no cost to the families. By 2022 postsecondary education will be required for 60% of projected job openings and 27% will require a bachelor's degree or greater according to the Idaho Department of Labor (2018). For more information about this program contact Nancy Shelstad (shelstad@uidaho.edu), Suzanne Dolecheck (sdolecheck@uidaho.edu) or Carrie Johnson (carriej@uidaho.edu).
University of Idaho 4-H Youth Development Hosts National Event in Boise
University of Idaho 4-H Youth Development will be hosting the National Association of Extension 4-H Agents conference in Boise Oct. 19-22, 2020. The conference location rotates around the four national regions and this is the first time Idaho hosts the event.
Close to 1,200 Extension colleagues from across the nation will attend the conference to further their professional development and explore Boise. U of I Extension faculty Donna Gillespie and Scott Nash are co-chairs of the conference, Nancy Shelstad is chair of operations, Joey Peutz is chair of programs and the chair of finance is Jim Wilson.
ECHO Idaho Releases New Video
Since 2018, ECHO Idaho has been supporting rural healthcare clinicians across the state. Learn more about the project's impact at uidaho.edu/echo.
CAA Launches Virtual Technology Laboratory to Conduct Research for Autism Cross-Reality Institute
The College of Art and Architecture has three statewide Virtual Technology Laboratories where researchers create virtual environments to better understand how people respond to select scenarios through cognitive and emotive monitoring — and to help users visualize and plan for potential outcomes to critical scenarios.
The newest lab will open this fall at U of I Boise to house and conduct research for the Autism Cross Reality Institute (AXR). The AXR was founded by a five-member board of directors, which includes Virtual Technology and Design program head John Anderson and U of I alumnus Mitch Alexander, who has a son with autism.
Anderson hopes to engage with private businesses in the medical community through the Boise-based laboratory and is involving interested students in creating sensory environments for the project.
McClure Center Co-Hosts Science Diplomacy, Takes Students to Arizona
The James A. & Louise McClure Center for Public Policy Research, the College of Science and the Martin Institute partnered to bring an expert on science diplomacy to the Moscow campus.
E. William Colglazier is the former science and technology advisor to the U.S. Secretary of State and a current adviser to the United Nations. He advances science policy and science diplomacy practice and academic training and supports international collaboration in science, technology and innovation.
Colglazier's visit provided an opportunity to hear firsthand about his experiences and showcase different aspects of science diplomacy in action.
Read more about the event and watch the recorded talk.
The McClure Center also took students from Moscow and Boise to the Sustainable Development for the Americas: Science, Health and Engineering Policy and Diplomacy Conference. The conference took place last week at the University of Arizona in Tucson, Arizona, and Colglazier served as honorary conference chair. One of the U of I students received the "Best Young Presenter" award during the event.
---
Employee Parking of the Month
Congratulations to the Employee Parking of the Month recipients:
October: William Price, Rangeland Center
November: Javier Valero, Admissions
---
Kudos
Kudos to Marcus John, U of I Boise Rehabilitation Counseling student, who was awarded a scholarship for the 2019 Idaho Counseling Association and Idaho School Counseling Association Conference, "Mindfulness: Compassion, Awareness & Resilience." Marcus's award, which covers his conference registration fee, was a result of his essay, "The importance of creating and developing mental health accessibility/awareness and competency for the deaf people in Idaho." Marcus's efforts show the impact of his leadership and importance of access and disability-related professional competencies in Idaho.
Ken Baker, director of the College of Art and Architecture Integrated Design Lab, received a grant to develop a 3-D printing process for the environmentally friendly manufacturing of wall, floor and roof panels for modular buildings. The panels are made from locally-sourced Idaho wood. The fast-growing nationwide industry of modular construction allows building assemblies to be constructed in factories off-site, increasing labor productivity, reducing construction site waste and streamlining the construction process. Ken and his team have proposed the use of Idaho wood, especially wood products that aren't used by the lumber market — like waste wood from mills and wood processing plants — to reduce our dependence on imports and lower the cost and energy output from transporting out-of-state products. This practice would have additional economic impact on the state through the hiring of a more skilled, technology-savvy construction workforce. Congrats Ken!
Kudos to Bob Mahler, professor of Soil, Water and Environmental Sciences with the College of Agricultural and Life Sciences. Bob has been named to the editorial board for the International Journal of Sustainable Development and Planning. This international journal has been published by the WIT Press in the United Kingdom for 15 years and has attracted authors from over 60 countries. Bob has published seven papers in this journal and has attended many international conferences sponsored by the WIT Press.
Bob also represents the University of Idaho on the state's groundwater education committee. This committee consists of representatives from the public sector (state agencies, universities, federal agencies, health districts), NGOs and industry. The purpose of this committee is to provide outreach about groundwater issues to Idaho's public. Currently, priority issues include well protection, contaminants in aquafers and making sure all water educational organizations provide high quality materials to the public.
Congratulations to U of I Boise Michael Kroth and his colleague Davin J. Carr-Chellman, both from the College of Education, Health and Human Sciences, for presenting at the State of Idaho's Certified Public Manager program. CPM is a nationally recognized training and development program administered through Idaho's Division of Human Resources with sponsorship from Boise State University, Department of Public Policy & Administration. Jana Huffaker, training and development coordinator for CPM, is an AOLL program alumna!
Kudos to Lachelle Smith, director of ECHO Idaho, who represented U of I and ECHO on a panel on "Substance Abuse and Behavioral Health: Where We've Been, Where We're Going" at the Idaho Rural Health Association Annual Meeting and Awards Reception on Oct. 23 in Boise.
Owyhee County FCS Extension Educator Surine Greenway and U of I Extension director Barbara Petty represented University of Idaho at the 2019 ESP Conference in Colorado Springs. Kudos to you!
Congrats to CTE instructor Carol Billing who traveled to Oxford, England to participate in an international roundtable of education researchers. The three-day event featured research presentations from 25 interdisciplinary scholars from around the world. Housed at Harris Manchester College at the University of Oxford, each session featured participants sharing their research for about 30 minutes and receiving feedback from colleagues in a 20-minute post-presentation discussion. For her presentation, Carol shared her research on how online students experience online learning, specifically the social, teaching and cognitive presence within an online course. This research is the first of three research studies planned for publication in the next year.
---
U of I Boise in the News
See our faculty, staff and programs mentioned and quoted in the Treasure Valley media this fall and learn about their new projects and research:
September
October
*Some publications require subscription. We have PDF copies available upon request.
**If we missed your story, send a link to mortega@uidaho.edu.