March-April 2020 Boise Newsletter
From the Desk of Mike Satz
As we approach the mid-point of the semester, I am thrilled to announce that our Boise Spring Commencement ceremony will be on the lawn of the Idaho Law and Justice Learning Center. A great deal of work went in to making this happen, with the lion's share of that work being done by U of I Boise staff. In particular, I would like to thank Stephanie Fox, operations and facilities manager, who made it her mission to ensure our graduates received a commencement ceremony that they deserved.
In April, U of I Boise will be hosting our annual AVID STEM day. This program brings AVID students entering middle school from the Vallivue School District and introduces them to STEM subjects taught by Vandal faculty and staff. I want to thank all of the people who have participated in this program in the past and those who are planning to do so this year. The University of Idaho receives fantastic feedback from the students and teachers involved and the time put into this program has a profound effect on the future trajectory of these young people. The program started with just 18 students and has grown to more than 240 students. This is a great chance to help inspire young people for success and, hopefully, to connect with some bright future Vandals.
Go Vandals!
Mike
---
News and Announcements
Vandal Voices Presents IDL's Damon Woods, Master Gardener Sue Bell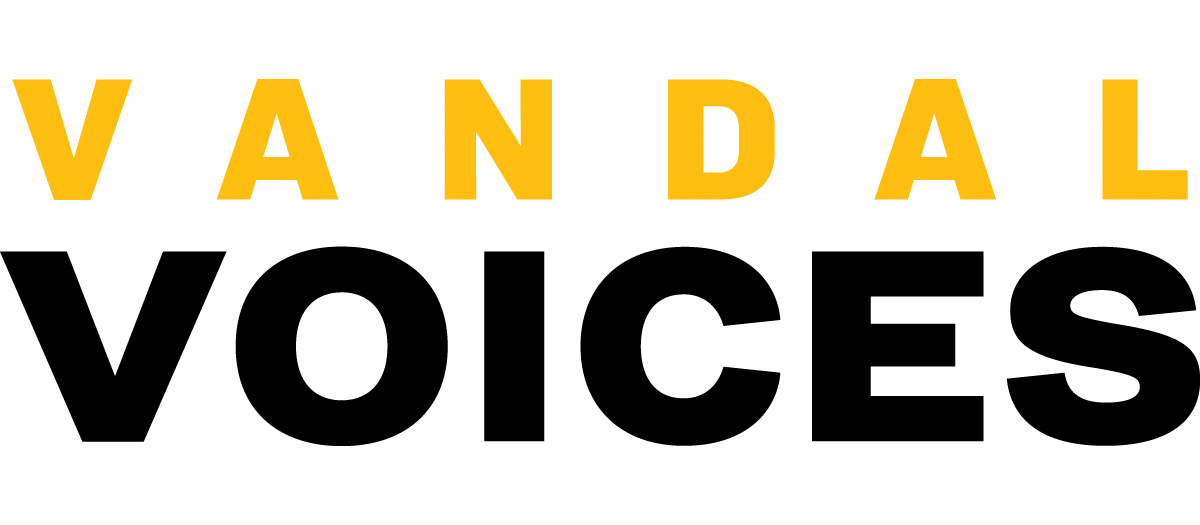 Vandal Voices, a bi-monthly speakers series organized and presented by U of I Boise, is designed to inform and engage Idahoans in the Treasure Valley about research and educational topics presented by U of I experts in an informal setting.
Damon Woods from the Integrated Design Lab presented in February about classroom quality and how building design affects student performance. The April speaker is Sue Bell, from the U of I Extension Masters Gardener program. She will talk about low-water gardening. Join us just in time to implement your new knowledge on your garden this spring.
Watch past Vandal Voices presentations online. If you have a topic you'd like to present, contact Maria Ortega at mortega@uidaho.edu.
U of I Grad Student Earns 3MT State Title
U of I Boise and College of Graduate Studies staff organized the second statewide Three Minute Thesis (3MT) competition in Boise. University of Idaho graduate student Maribel Alfaro's presentation on "Microbial Metabolomics: From Manure to Bioplastics" earned her the state title in the 2020 3MT competition in JUMP on Feb 19. The competition challenges graduate students to present their research in three minutes or less using only one slide. Alfaro competed against 11 other graduate students from U of I, Boise State University and Idaho State University to earn the title and a $500 grand prize. Alfaro also won $200 for her presentation and the People's Choice Award during an earlier Moscow-based qualifier, allowing her to compete in the statewide event. Learn more.
AVID STEM Day at U of I Boise
Hosted by U of I Boise on April 2-3 at the Idaho Water Center, the STEM Day invites 240 AVID students in the Treasure valley to learn about STEM careers. The 8th-graders learn and explore fossils, fires, human bones, math and more through a variety of hands-on experiences. The event is sponsored by the College of Science and College of Engineering.
CAA presents the Frank Lloyd Wright Designs for Idaho
The College of Art and Architecture presents a public lecture by Henry Whiting at 5:30 p.m. on Thursday, March 12 at the IWC Legacy Pointe Room. The talk is free and open to the public.
Henry Whiting is the author of "Teater's Knoll: Frank Lloyd Wright's Idaho Legacy" and "At Nature's Edge: Frank Lloyd Wright's Artist Studio," the 2007 Idaho Library Association Book of the Year.
Whiting has owned the Teater studio for 38 years, managing its restorations, maintenance and preservation.
Culture and Climate Committee Report
Know Your Neighbors
Thank you to those of you who attended the U of I Boise CCC "Know Your Neighbors" presentations. In January, the presentation was by Program Operations Administrator Sarah Keshian, with WWAMI and University of Washington School of Medicine. The Center for Ecohydraulics Research with Elowyn Yager was our Know Your Neighbors for February, with a visit to the mini flume included.
Join us in March (date TBA) with TRiO and its Project Director Janelle Culley. Let us know if your department would like to volunteer for the April Know Your Neighbor event.
Donation Drive
Our school supply drive was a great success. Barrels placed at U of I Boise and Canyon County Extension locations collected a variety of supplies and classroom needs such as notebooks, art supplies, hand sanitizer and tissue. We also raised $300 through Giving Tuesday, allowing us to purchase even more supplies. Thank you to everyone who donated!
Valentine's Day Cookie Swap & Other Events
We held a Valentine's Day cookie swap with lots of different treats. Other upcoming events include more of the popular Master Gardener series with our partners from Extension in March, April and May. See the calendar of events in this newsletter. We hope to see you there!
We are meeting with Optum to see how we might grow our U of I Boise CCC and partner with them and other Idaho Water Center tenants on building wide events.
McClure Report
McClure Center Part of Federal Preschool Development Grant
In early 2020, Idaho was awarded a Preschool Development Grant from the U.S. Department of Health and Human Services/U.S. Department of Education. This $3.3M federal grant, a first for Idaho, focuses on researching the availability and accessibility of early childhood education in Idaho, developing a strategic plan to improve services statewide and increasing the collaboration and coordination of services providers across Idaho. The McClure Center is thrilled to be part of this important work. Some of our activities will include holding town hall meetings and focus groups to determine community childcare needs, conducting literature reviews, coordinating with care providers, convening stakeholder meetings and creating a strategic plan to help guide Idaho's early childhood education policies in the future. Learn more.
School Readiness – Preparing Every Child to Learn Conference
The McClure center and U of I Boise are sponsoring the Andrus Center Early Education Conference on April 27. Five years ago, the Andrus Center's Finding Common Ground conference focused on Idaho's need for early education building blocks that communities could use to customize programs to their individual needs. Today, we want to continue the conversation, spotlighting innovative solutions being implemented throughout our state and ensuring all Idaho children can access the tools they need to enter school ready to learn. More information.
McClure Legislative Research Scholars Visit Boise
McClure Legislative Research Scholars visited Boise in February. In partnership with CLASS, these scholars have the opportunity to research on a topic for a legislative partner for a semester and come to Boise to present their findings.
Extension
Harvest to Heroes Program Now Enrolling
If you are a military veteran or have a family member interested in learning how to grow your own food, exploring agriculture as a career, connecting with other local veterans, feeding your community, or just enjoying the health benefits of getting your hands in soil, join the Harvest Heroes Veteran Beginning Farming and Gardening Program. The program offers accessible, family-friendly, season-long training and mentoring for a real world, hands-on experience planning, growing, harvesting, marketing and enjoying fresh fruits and vegetables. Registration is open until the end of the week. Materials cost for the entire season is only $65 per family. Contact 208-459-6365 ext. 340 or harvestheroes@uidaho.edu.
4-H Upcoming Events
Idaho Outdoor Quest on April 25 is a one-day scavenger-hunt style event for teams of youth ages 12-18 to complete outdoor challenges, all within Boise city limits. This adventure will lead you to the foothills, the river and even into the city to learn wilderness survival skills, archery, wildlife identification and more.
The 4-H Spring Break Day Camps on March 23-27 are: Crime and Spy, Arts and Crafts, LEGO Robotics, Cake Decorating, and Eureka! Science at the Ada County U of I Extension office. Madi Bergeman is the main contact. More details will be released soon.
ECHO Idaho Introduces New Series
In response to the increased need for knowledge of perinatal care for women and newborns at risk of (or impacted by) substance use, ECHO Idaho is introducing a new 10-week series called "Perinatal Substance Use Disorder."
This ECHO series will help participants learn best practices for treating women and newborns with substance use concerns, connect peers from around the state to discuss what really works and get feedback on difficult patient cases.
The target audience is family practice, pediatric and OB/GYN physicians, NPs, PAs and nursing staff. However, all clinicians are welcome, including social workers, care coordinators, addiction recovery specialists and others. Health educators and students in health professions are also welcome.
Project ECHO uses video conferencing to connect clinicians across Idaho. Each session lasts one hour and includes a short presentation on a specific clinical topic followed by a patient case review. This program is free, offers no-cost continuing medical education credits and registration is now open! Learn more and sign up.
Career Services Advisors Visiting Boise
Students and alumni should know the U of I South Idaho Career Advising Trip will be taking career advising appointments April 13-14 in Boise. Scheduling details will be released mid-March. Check your email for more information.
U of I at the Discovery Center Gala
U of I Boise, U of I College of Engineering and the Budwig family sponsored a table at this year's Discovery Center Idaho (DCI) Gala. DCI raised over $150,000 to support new exhibits and K-12 school visits. At the table this year were Mike and Kim Satz, Danielle and Joe Horras, Ralph and Debbie Budwig, Rebecca Flock (CWI Chemistry Instructor), and Todd Swanstrom (U of I Alumni and Engineering Director at Western Trailer). Pictured are Ralph, Debbie and Rebecca. You can take a guess at the theme of the evening (Hint — DCI has an upcoming exhibit on King Tut).
---
Employee Parking of the Month
Congratulations to the Employee Parking of the Month recipients:
January — Alexis Clark, hydrogeologist, Idaho Geological Survey
February — Janet Turner, administrative assistant, Urban Design Center
March — Claire Sponseller, Area Extension Education in 4-H
Kudos to Katherine Himes, McClure Center Director. Himes was invited to serve on the U.S. National Academies of Sciences, Engineering, and Medicine (NASEM) until Oct. 2021. The roundtable on Global Science Diplomacy is chaired by Bill Colglazier and Frances Colón. The first meeting will be March 23 at the U.S. National Academy of Sciences with colleagues representing the science academies of the G7 countries and seven additional academies.
---
U of I Boise in the News
See our faculty, staff and programs mentioned and quoted in the Treasure Valley media this spring and learn about their new projects and research:
January
February
*Some publications require subscription. We have PDF copies available upon request.
**If we missed your story, send a link to mortega@uidaho.edu.