January-February 2020 Boise Newsletter
From the Desk of Mike Satz
The Spring semester is off to a great start here at U of I Boise. It is great having everyone back from break and seeing all of our students in the building, as well as being updated about our various research efforts.
I want to take a moment to address what I am sure is everyone's main concern at the moment, the University of Idaho's financial situation. I know that all of you are working through plans with your various departments and, at the same time, I am sure there is a certain degree of trepidation surrounding this issue. It is an issue that the university must work through and it is a very real situation. I encourage us to all focus on a few important matters. First and foremost, we all need to keep doing what we do at the university, in the community and in our departments. You are the greatest strength our university possesses and that will not change no matter what happens in our future planning. Organizations do, from time to time, encounter difficult situations such as the one we are now facing. The true measure of that institution is how we approach these situations. Engaged, professional and with civility are the best approaches. I also encourage you to be as engaged as you can in this process. It is vital that leadership hears your voices as the future of the University of Idaho is being planned and that we all communicate the importance of the work we do here in southwest Idaho to the overall statewide mission of the university.
I am continually amazed by the work you all do and am very humbled by the fact that I am the executive officer over the region where you do this fantastic work. Let's all continue with these good works and be proud Vandals.
Go Vandals!
Mike
---
News and Announcements
Staff Awards Nominations Due by Feb. 28
Nominations for Outstanding Staff Awards, Staff Educational Awards, Outstanding Team Award and the Lawrence C. McBride Prize are due by Friday, Feb. 28, 2020. The awards and prizes will be presented in spring 2020 — location, date and time to be determined. Make a nomination and learn more. See past award nominees and recipients.
Vandal Voices Presents IDL's Damon Woods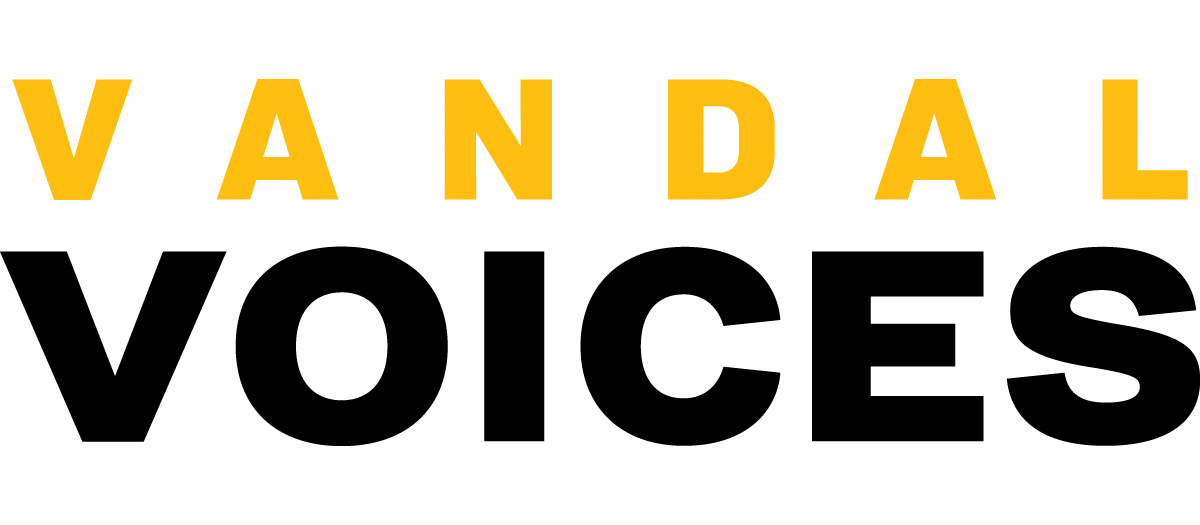 Vandal Voices, a bi-monthly speakers series organized and presented by U of I Boise, is designed to inform and engage Idahoans in the Treasure Valley about research and educational topics presented by U of I experts in an informal setting. The upcoming February speaker is Damon Woods from the Integrated Design Lab. Learn more about classroom quality and how building design affects student performance. See past Vandal Voices presentations online. If you have a topic you'd like to present, contact Maria Ortega.
Culture and Climate Committee Report
Open Door Policy
The U of I Boise's Culture and Climate Committee (CCC) has an open door policy to all employees and students. Email boiseccc@uidaho.edu or stop by if you have any suggestions, staff kudos, ideas and interests you would like to share. We meet on the first Wednesday of every month and operate off an agenda, so if you could let us know you would like to pop in we would appreciate it! We are always interested in feedback from our fabulous community. Learn more about us and our committee members.
Know Your Neighbors
Thank you to those of you who attended the U of I Boise CCC "Know Your Neighbors" presentations. In November, the presentation was by Jae Ryu, associate professor in the College of Agricultural and Life Sciences. He highlighted his research and education activities using drones. He also demonstrated drones being used for his research and education program known as Idaho Drone League (iDrone).
Our next presentation will be on Wednesday, Jan. 15, with Mary Barinaga, the assistant clinical dean of Idaho WWAMI. She will be discussing Idaho WWAMI and what students do in their Clinical Phase and Explore and Focus Phase of medical education which is what their office handles.
Keep your eyes open for our next Know Your Neighbors and make sure to join us.
Thank You donors - CCC School Supplies Drive
Thanks to all who donated to the U of I Boise's CCC school supply donation drive for Treasure Valley teachers and their classrooms. The drive collected dozens of items in the teachers' wish list and $300 in cash donations through Giving Tuesday!
Xmas Party
The employee holiday party was a smashing success! Special thanks to the U of I Boise CCC for organizing the food and decorations and Denise Engebrecht for running the games! Employees from every department attended despite our budget constraints, and many kind souls spread holiday cheer by donating extra for those employees who couldn't afford to go. Tin Roof Taco and U of I Boise generously donated prizes for the games.
Volunteer Opportunity with Junior Achievement Day
U of I alumni, faculty and staff and Junior Achievement (JA) are teaming up to impact our community! Sign up today to volunteer for "JA in a Day" 8 a.m. to 3:30 p.m. on Monday, March 16, at Christine Donnell School of the Arts.
JA is a nonprofit organization that utilizes community volunteers to deliver lessons in financial literacy, entrepreneurship and work readiness to Idaho K-12 students. This is a group effort that we could not do without the help of amazing volunteers.
As a volunteer for JA, you would be responsible for delivering five lessons to a single classroom of students, with the help of a fellow JA volunteer and the teachers will remain in the classroom.
Learn more about sign up today to volunteer. Questions? Email Sandy Larsen.
McClure Report
McClure Center Welcomes New Interns
Welcome the three 2020 JAMM-McClure Legislative Interns Logan Finney (@lfinneytweets), Madison Hardy (@madisonhardy05) and Riley Haun (@RHaunID). Under the advisorship of U of I Journalism and Mass Media professor Glenn Mosley, they will be covering the daily process of Idaho law making for rural newspapers across the state of Idaho while attending the Idaho Legislative Session, including committee meetings, hearings and special event. As part of their internship, Logan, Madison and Riley will interact with lawmakers, the press and the James A. and Louise McClure Center for Public Policy Research to better understand the process of state-level policy construction. In addition to this, all three interns also will create stories for Idaho Public Radio. Follow their coverage and experiences on Twitter.
U of I seniors Madeleine Curtright, Mary Alice Taylor and Megan Smith will join the McClure Center in Boise in February. Under the advisorship of University of Idaho Political Science Professor Markie McBrayer, Curtright, a political science major, is researching liquor licensing in Idaho. Taylor is double majoring in economics and political science. Her research focuses on rural hospitals. Smith, a political science major, is studying broadband.
The McClure Center is also hosting an independent study student for the spring semester. Senior and journalism major Chris Smith will be working with the Governor's Salmon Workgroup.
The McClure Center Invites You to New Exhibit
The McClure Center invites you to view the new McClure Gallery exhibit, which features U.S. Senator Jim McClure and his leadership on energy. McClure is considered a pioneer in energy policy. During his time as chair of the U.S. Senate Energy and Natural Resources Committee, he drove an electric car and advocated for diversified energy sources such as solar and nuclear, still considered progressive today. The exhibit, which is in the GAR Building, includes photos and documents that highlight McClure's active involvement in energy matters. The GAR Building is open Monday through Friday from 8 a.m. to 4 p.m. Consider dropping in to see Idaho history in person. All photos and documents are courtesy of the University of Idaho Special Collections.
4H Know Your Government Program
The University of Idaho Extension 4H Know Your Government conference will be held Feb. 15-17. Hundreds of 8th and 9th graders from across the state will come to Boise for the conference. Youth participants will have the opportunity to engage in judicial or legislative learning tracks to learn how their government works. Youth will interact with elected officials while spending time holding conference proceedings inside the Ada County Courthouse, the State Capital Building and the Red Lion hotel. For all youth participants, this conference is a launching point to complete an in-depth 4H project to showcase what they've. The McClure Center staff is on the steering committee and UI Extension Allen Taggart has joined this year as a Central District steering committee member.
TechHelp Idaho Food Safety Cooperative Begins in Early February 2020
One example of TechHelp's renewed focus on food safety is the Idaho Food Safety Cooperative (IFSC) Program. Founded in 2019, the IFSC provides small food processors (less than 500 employees) everything needed to create a food safety plan that puts them in compliance with regulations of the Food Safety Modernization Act. TechHelp's first IFSC cohort completed training was October 29 in Boise. TechHelp is recruiting cohorts of small food manufacturers to participate in their 2020 IFSC courses in Idaho Falls, Twin Falls and Boise beginning in early February. Learn more about the 2020 IFSC program.
College of Education, Health and Human Sciences Report
Michael Kroth and Colleagues Present at Conference, Publish Book
CEHHS Michael Kroth (Boise) and Davin Carr-Chellman (Moscow) presented to the State of Idaho's Certified Public Manager (CPM) program last November.
The CPM State Training helps students gain skills to meet the challenges and unique demands of public management. CPM is a nationally-recognized training and development program administered through Idaho's Division of Human Resources with sponsorship from Boise State University, Department of Public Policy & Administration.
In addition, Kroth and Carr-Chellman, along with Kelly Anderson also recently published "Profound In addition, Kroth and Carr-Chellman, along with Kelly Anderson also recently-published "Profound Living: Essays, Images and Poetry." The book features essays published on the Profound Living website in 2018 by Korth and Vincent J Fortunato and beautiful images by Vincent, Antonia Cardella and Marc Christensen.
All proceeds from this book will go to a nonprofit groups that support the research and practice of profound learning, leading and practice.
U of I Boise High Impact Classroom
New high impact furnishings were installed in Classroom 290 at the IWC thanks to a donation by Meteor Education. Professor Richard Bauscher arranged the donation of an entire classroom set of movable furnishings to U of I to showcase what future classrooms will look like across the U.S. Bauscher says that research is showing that high impact furniture helps accelerate students' performance and decreases absenteeism, discipline problems and off-task concentration.
Bauscher toured 21 school administrator interns (future principal and superintendents) through the classroom last month and the Region 3 Idaho School Superintendents will also tour this classroom on Feb. 26 as they meet at U of I for their monthly meeting.
IDL Team Researches Infrared-Enhanced Thermostat
In August the Integrated Design Lab (IDL) received a $52,000 grant from Avista Utilities to develop a prototype for a new type of thermostat that uses infrared cameras to detect surface temperatures. Assistant Professor Damon Woods and graduate student Jubin Mathai are working on the project to commercialize the infrared-enhanced thermostat. This project builds on two previously-funded Avista grants concerned with operative temperature control (controls that take into account the surrounding surface temperatures in a room). The IDL is testing the feasibility of using a low-cost infrared camera to estimate the mean radiant temperature in a room and develop better control signals for heating and cooling buildings. Last year, the IDL team was able process the data from the camera into a prediction of how comfortable a room is and convert that into a standard control signal. For the current phase, the IDL team will route the comfort signal into a heater to condition a room based on infrared readings.
Extension Upcoming Spring Garden School
Gardeners, here's your chance to green up your thumbs! The University of Idaho Master Gardeners and Edwards Greenhouse are co-sponsoring a Spring into Spring Garden School on Saturday, Feb. 8, at Edwards Greenhouse (4106 Sand Creek, Boise) from 9 a.m. to 1 p.m. Cost is $5/person (cash or check only). Registration begins at 8 a.m. Come join the fun! For more information, contact the University of Idaho Master Gardeners at the UI Extension Office 208-287-5900 or 208-287-5917.
College of Law Student Competition
Register now for the writing competition for law students called "Why a diverse and inclusive Bar is essential for equality, justice and the rule of law" to receive a $5,000 prize. Entries due March 31. Learn more.
Confucius Institute Free Classes for Employees
If one of your New Year's resolutions was to learn Chinese, we have you covered. The U of I Confucius Institute is offering our Mandarin I class this spring for free to all U of I Boise employees. The course meets Jan. 14 through April 9 in the Idaho Water Center Room 200A. If you would like to register for the class, email Robert Luo (luogw@uidaho.edu) and indicate your job title at U of I Boise.
Parma Idaho Center for Plant and Soil Health
The Albertson Foundation is giving $1 million to a new University of Idaho facility at Parma. The $7 million project will establish the Idaho Center for Plant and Soil Health, focusing on the region's specialty crops and Idaho agriculture. Read the complete story.
College of Natural Resources Presentation
As part of the Natural Resources and Society Fall Seminar Series, CNR faculty member Jaap Vos will present "Intruders and Extractors of the American West: How Californians, Texans, Canadians and Amazon are reshaping Idaho."
"External forces are changing Idaho very quickly," Vos said. "In this presentation, 'Californians' stand for population growth/change, 'Texans' stand for large land acquisitions, 'Canadians' stand for global investors and mining and 'Amazon' stands for leakage of local economies."
---
Employee Parking of the Month
November: Javier Valero, Admissions.
December: Jenny Burdin, Operations.
---
U of I Boise in the News
See our faculty, staff and programs mentioned and quoted in the Treasure Valley media this winter and learn about their new projects and research:
*Some publications require subscription. We have PDF copies available upon request.
**If we missed your story, send a link to mortega@uidaho.edu.