UI grad walks across country rewarding acts of kindness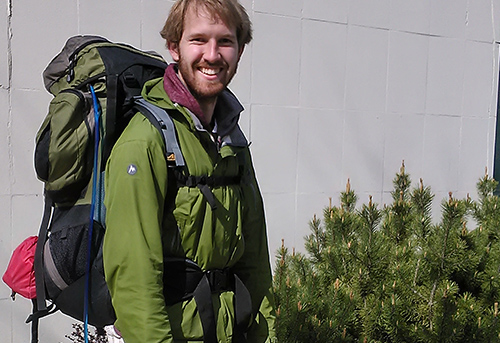 Bundled up with a backpack strapped to his body and grungy from walking hundreds of miles, Tommy Lukrich looked homeless.
He said that's what most people assumed, and that's what one woman assumed at a Washington rest stop when she saw him resting.
"She stopped and came up to me, and gave me 10 bucks and some protein bars," Lukrich said. "She said, 'I know what it's like. This is for you.'"
Lukrich said the woman had been down on her luck — she lost her job, her fiance left her and she was about to get an evaluation for a kidney stone removal surgery. When Lukrich gave her a $100 bill, she started crying.
"She was helping a stranger," Lukrich said. "She was helping someone who she had no idea who they were, and that really stuck with me — those people would show up on the roughest days of the trip, and that was really what got me through the worst times."
Lukrich, who graduated with a bachelor's degree in theater performance from the University of Idaho last year, spent six months walking across America last year and finally returned to the Inland Northwest last month. He walked from Seattle to New York City and said each stranger who greeted him with kindness received a reward of $100.
Lukrich said he used GoFundMe.com to raise money to give to kind strangers during his journey. Along the way, he encountered strangers who gave him money, food, a place to stay and material items like gloves and a Nintendo DS.
To him, the journey was a way of giving back.
"I have a lot of good people in my life," Lukrich said. "A lot of kind and generous people have helped me with where I'm at, so part of it was to give back and honor those people who have helped me out."
The idea to walk across the country had roots in his freshman year of college, Lukrich said, when a phase of teen angst prompted him to walk across the state of Washington — a 700-mile journey. He said it was an exercise in self-discovery, and much to his surprise, he also found out many people were willing to help him along the way by taking him into their homes and offering him meals.
Two years later, Lukrich said he couldn't afford to attend UI anymore and was planning to drop out. Luckily, a theater professor of his gave him $2,000, no strings attached, to help pay for school. That's when Lukrich said he decided to do something big to pay it forward.
"When I walked across Washington, I didn't realize so many people would help me," Lukrich said. "I realized if I walked across America, the same thing would probably happen."
Lukrich raised approximately $6,700 with his GoFundMe.com account, which he kept completely separate from his travel funds. He said it was important to him he planned his finances as if no one would give him money, so he would never have to rely on the generosity of others.
Once he began his cross-country trek though, his hunch proved to be correct — wherever he went, there was an outpouring of kindness.
"What most surprised me was what people did with the money," Lukrich said. "I imagined them treating themselves to a nice dinner, or going out on the town, or maybe putting it towards a flat screen TV. But 90 percent of the people either needed the money, because they were on food stamps, or they had a friend who really needed the money, or they wanted to pay insurance for their truck, or they wanted to send it to cancer research or epilepsy research or to animal shelters and stuff like that."
Lukrich completed his journey Dec. 5 in New York City — 3,000 miles from his starting point. Since then, the aspiring actor moved to Chicago to be with his girlfriend. Though he has no more cross-country strolls planned for the immediate future, he said the journey is a memory that will stick with him forever.
"I spent six months just learning the whole time," Lukrich said. "That would be my takeaway — how incredible people are. I knew people were great and amazing, but for me, it's so fascinating how complex we are as people."
Article by Hannah Shirley of The Argonaut. Wednesday, Jan. 21, 2015. Used with permission.