CLASS Notes, November 22, 2016
Recently, I was told an inspiring story about one of our students. The student is a returning adult who had just transferred from a two-year institution in Idaho. He had once been homeless but had put his life back on a stable path. He is now well on his way to earning his degree in CLASS from this great university. He and his family are doing well and enjoying life and the community of Moscow.
This story, and many others like it, serve as one of the many reasons why I am so thankful for the University of Idaho and higher education in this state. We spend a lot of time working to make it possible for anyone from any walk of like to be successful. I am grateful to be a part of this place of second chances, big dreams and inspiration. I am grateful to everyone in CLASS for all you do to make this place a home for all of our students, and for all of us.
I hope everyone gets a moment to enjoy family and friends this week. If you are traveling, safe travels and happy returns.
Announcements
Faculty-Student Collaborations Receive Key Fund and CLASS Funding!
Please join us in congratulating four CLASS faculty members who have received funding to pursue research and creative work that involves undergraduate students.
With funding from the CLASS Key Fund Grant, Denise Bennett in the School of Journalism and Mass Media, received funding to support the work of an undergraduate student on an important and timely film project.
Clarissa Richardson, Psychology and Communication Studies, has received CLASS funding for her proposal entitled, "The Impact of Trauma, Personality, and Daily Coping on Physiological Stress" and will be working with a team of eleven undergraduates.
Alan Gemberling, Lionel Hampton School of Music, and undergraduate student Dylan Champagne, received CLASS funding to continue their work that will lead to a production at the Garland Theater in Spokane of Phantom of the Opera at the Garland Theater in Spokane.
Kristine Levan, Sociology and Anthropology, will undertake a project entitled, "Opening the Dialog: Perceptions of Law Enforcement and Community Relations Through Media Exposure," with undergraduate student Kelsey Stevenson with support from CLASS funding.
CLASS Summer 2017 Grant Recipients
Congratulations to faculty who were awarded CLASS Summer Grants to support their scholarly and creative endeavors over the Summer of 2017. Becky Tallent and Katie Blevins both in the School of Journalism and Mass Media are working collaboratively and have received funding for their proposal entitled, "Discovering High School Teachers and Student Opinions about New Voices Legislation." Denise Bennett, also from the School of Journalism and Mass Media, received support for her proposal that involves the production of a feature length documentary to raise awareness about the marginalization of the LGBTQ community in Idaho. Stacey Camp, Department of Sociology & Anthropology received funding for her proposal entitled, "Digital Culture for a Global Age in the American West." Jason Johnston, Lionel Hampton School of Music, received funding to support his work which includes commissioning a new composition and professionally recording his work.
We hope you will consider attending the Fall 2017 CLASS Research & Creative Activity Showcase to learn more about all of these projects!
Mandatory Purchasing Card Training
In order to ensure all current purchasing cardholders and record keepers are familiar with policies and procedures concerning the use of the purchasing card, the university has developed a mandatory online training module, Purchasing Card Program & Travel Expense Training. This training must be completed by Feb. 1, 2017. This training is required for anyone who is a cardholder or reconciles purchasing card statements.
Denial: Free Movie for Students
Kenworthy Performing Arts Centre
December 2, 8 p.m.
December 3, 5 & 8 p.m.
December 4, 4 & 7 p.m.
Based on the acclaimed book "History on Trial: My Day in Court with a Holocaust Denier," DENIAL recounts Deborah E. Lipstadt's (Academy Award winner Rachel Weisz) legal battle for historical truth against David Irving (Cannes Award winner Timothy Spall), who accused her of libel when she declared him a Holocaust denier. In the English legal system, the burden of proof is on the accused, therefore it was up to Lipstadt and her legal team to prove the essential truth that the Holocaust occurred. Rated: PG-13
Run time: 1 hr 50 mins
Admission is free for any student with a valid ID. Thanks in part to the Latah County Human Rights Task Force.
A Christmas Carol – Dec. 1-11
Theatre Arts presents "A Christmas Carol" at 7:30 p.m., on Dec. 1-3, 8, 10 and 2 p.m. on Dec. 4 and 11 at the Hartung Theater. This is the fourth and final year of the holiday tradition, which includes giant puppets, a rich tapestry of colorful costumes and lighting, music, dancing and an uplifting message of charity and compassion. The production is free for UI students and $10 for UI faculty and staff. $5 for children 12 and under and $15 general admission. Tickets are available now at BookPeople of Moscow or by calling 208-885-6465 or at the door while supplies last.
CLASS All-College Meeting
Dean Kersten invites you to attend the upcoming CLASS All-College Meeting, at which we will be discussing the CLASS Strategic Plan.
CLASS All-College Meeting
December 8, 2016
2-3 p.m.
Pitman Center - Borah Theatre
Please mark your calendar! All CLASS faculty and staff are invited to attend.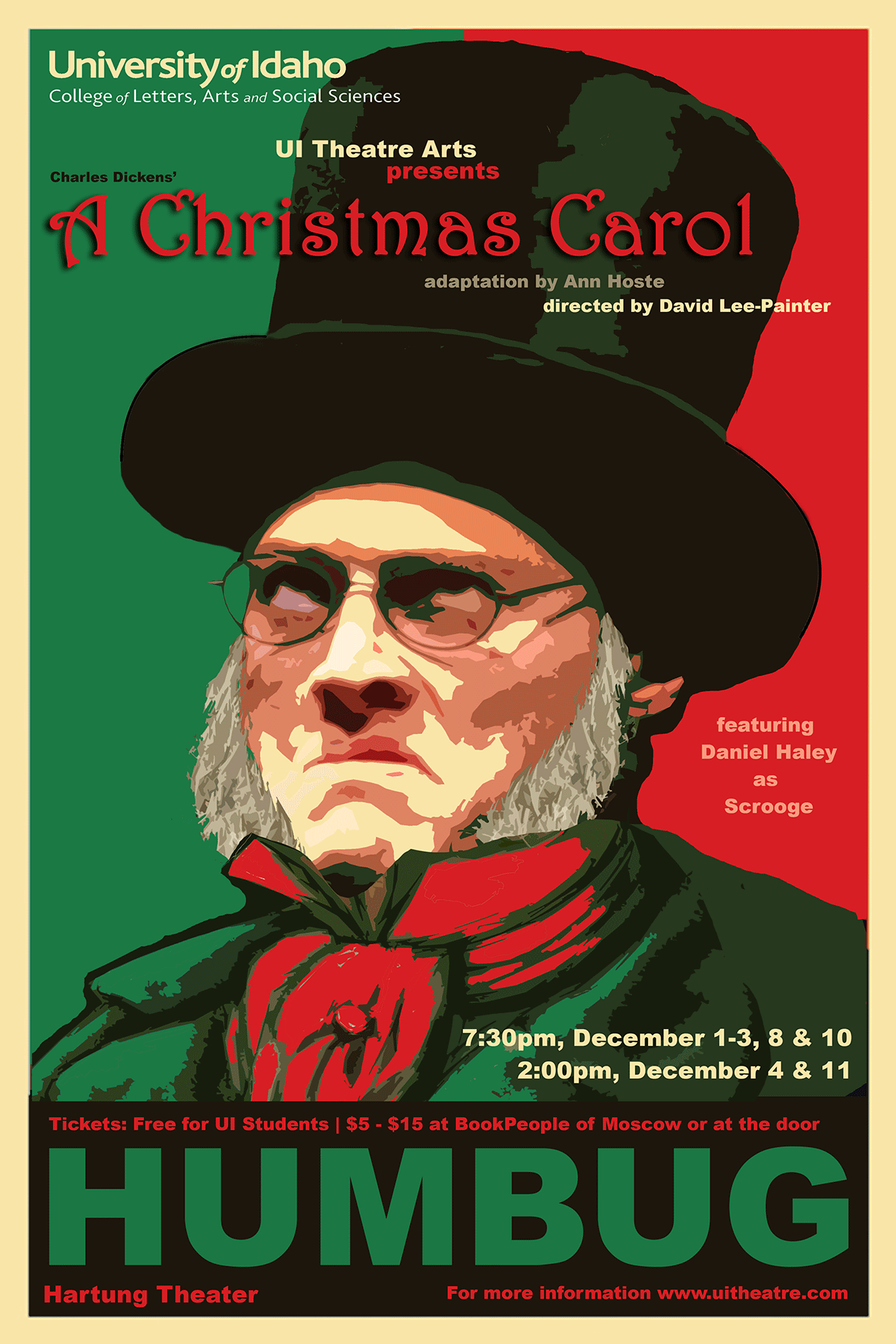 10-Minute Play Fest — Dec. 5-7
Student directors, playwrights and performers will showcase their work in three action-packed nights for The 10-Minute Play Festival at 7:30 p.m., Dec. 5-7 at The Forge Theater, 404 Sweet Avenue, Moscow. More than half the shows are written by UI students. The event is free for UI students and $10 general admission.
UI Community Invited to IRIC Ribbon Cutting Jan. 31
Please join President Chuck Staben and Vice President for Research and Economic Development Janet Nelson to celebrate the completion of the Integrated Research and Innovation Center, or IRIC, with a ribbon cutting and open house for faculty, staff, students, alumni, donors and friends of the University of Idaho. Learn more about IRIC at www.uidaho.edu/iric. For more information, contact iric@uidaho.edu