CLASS Notes, November 8, 2016
Recently, I read two opinion pieces in the New York Times that I thought were quite inspiring. Both deal with young students, including some freshmen at a hypothetical "Flagship State" university, perhaps much like the University of Idaho. In these editorials, the author, David L. Kirp, discusses his own fears and apprehensions about going to college. His fear of failure, particularly in his first year, was overwhelming. Kirp, who is now a professor, made it through, but many others have succumbed to that self-reinforcing cycle of doubt and drop out. The good news, Kirp explains, is that with the right "nudge" these students, tormented by anxiety, cannot only endure but thrive. This intervention does not need to be elaborate. Often what is needed is just a nudge in the right direction. In Kirp's view, universities, particularly flagships, must have a two pronged approach to student persistence:
we must provide students the tools and resources to succeed, and
we must tend to their emotional needs as well.
As our students begin to think about the spring semester and even next academic year, it might be useful to reflect on Kirp's articles and when appropriate nudge our students toward the ultimate goal: graduation.
If you are interested in reading more about Kirp and the research behind his op-eds, please see:
Announcements
Moving from Spread Pay to Standard Pay
Are you on spread pay and still contemplating moving over to standard pay to receive the $1,000 incentive?
The final due date for employees to submit their signed 2018 standard pay election forms and receive the $1,000 incentive is Feb. 28, 2017. Employees who submit their forms between December 1, 2016 and February 28, 2017 will be contacted by Benefits to coordinate the payment of benefit contributions for the three pay periods they do not receive a pay check during the summer of 2017. This is the last year to receive the $1k incentive.
Employees who submit their signed 2018 standard pay election forms by Dec. 1, 2016 can elect to have their calendar year 2017 benefit contributions spread over all of their calendar year 2017 pay checks. This will eliminate the need to work with Benefits to cover missed contributions during the transition summer of 2017. For more information, go to the Budget Office website.
All-Employee Modules
All CLASS departments recently received a list of employees that still need to complete the 2016 Work-Related Training Modules. Those modules should be completed by December 21, 2016. Training modules may be accessed on the PDL website. Your current UI Network ID and password is required to view each module. If you have questions about the modules, you may contact the CLASS Affirmative Action Coordinator, Alisa Goolsby (alisag@uidaho.edu), or Travis Gray in Professional Development & Learning (gsmu@uidaho.edu).
New CLASS HR Business Partner
Amber Wilson, CLASS's Business Partner has accepted a new job at the UI and is no longer with HR. Kaitlin Morehouse is our new temporary Business Partner. You are encouraged to first consult with your department Admin/Finance person or Alisa Goolsby, (alisag@uidaho.edu or 885-6938) CLASS's AA (Affirmative Action) coordinator.
The Call of Cthulhu
Javier Rodriguez, assistant professor of bassoon, recently performed "The Call of Cthulhu," a piece for bassoon written by UI alum Paul Taylor. You can see the video at Composition for Success, an article about Paul Taylor's success in music.
Christmas for Kids
The holiday season is just right around the corner, and once again, the CLASS office will be looking forward to sponsoring a "Christmas for Kids" family! Christmas for Kids is a local non-profit organization that provides gifts and warm clothing for children of families in need in Latah County. If you are interested in helping (purchasing gifts, wrapping or delivery to fairgrounds), please contact Alisa Goolsby (alisag@uidaho.edu) and let her know. As soon as we have information about the family, Alisa will provide a link to the children's detailed gift lists.
CLASS Curriculum Committee
The CLASS Curriculum Committee will meet weekly through the semester. Once your department has approved a curricular change, please email your forms to Traci Craig at tcraig@uidaho.edu. Forms for new programs and deadlines for different curricular processes can be found on the provost's website. Please plan to submit any curricular changes early, so that the committee can work through changes in advance of the UCC deadlines. Course changes, curriculum changes, adding/dropping minors, options or emphases or name changes are part of Group A and B and are due by December 15. Note that some proposals must go through several committees after CCC, so please plan to submit earlier rather than later.
Are you following CLASS on social media?
The CLASS Facebook and Instagram accounts are growing. Don't miss out on all the features, photos and fun! Like the CLASS Facebook page and the CLASS Instagram page today!
Events
A Christmas Carol – Dec. 1-11
Theatre Arts presents "A Christmas Carol" at 7:30 p.m., on Dec. 1-3, 8, 10 and 2 p.m. on Dec. 4 and 11 at the Hartung Theater. This is the fourth and final year of the holiday tradition, which includes giant puppets, a rich tapestry of colorful costumes and lighting, music, dancing and an uplifting message of charity and compassion. The production is free for UI students and $10 for UI faculty and staff. $5 for children 12 and under and $15 general admission. Tickets are available now at BookPeople of Moscow or by calling 208-885-6465 or at the door while supplies last.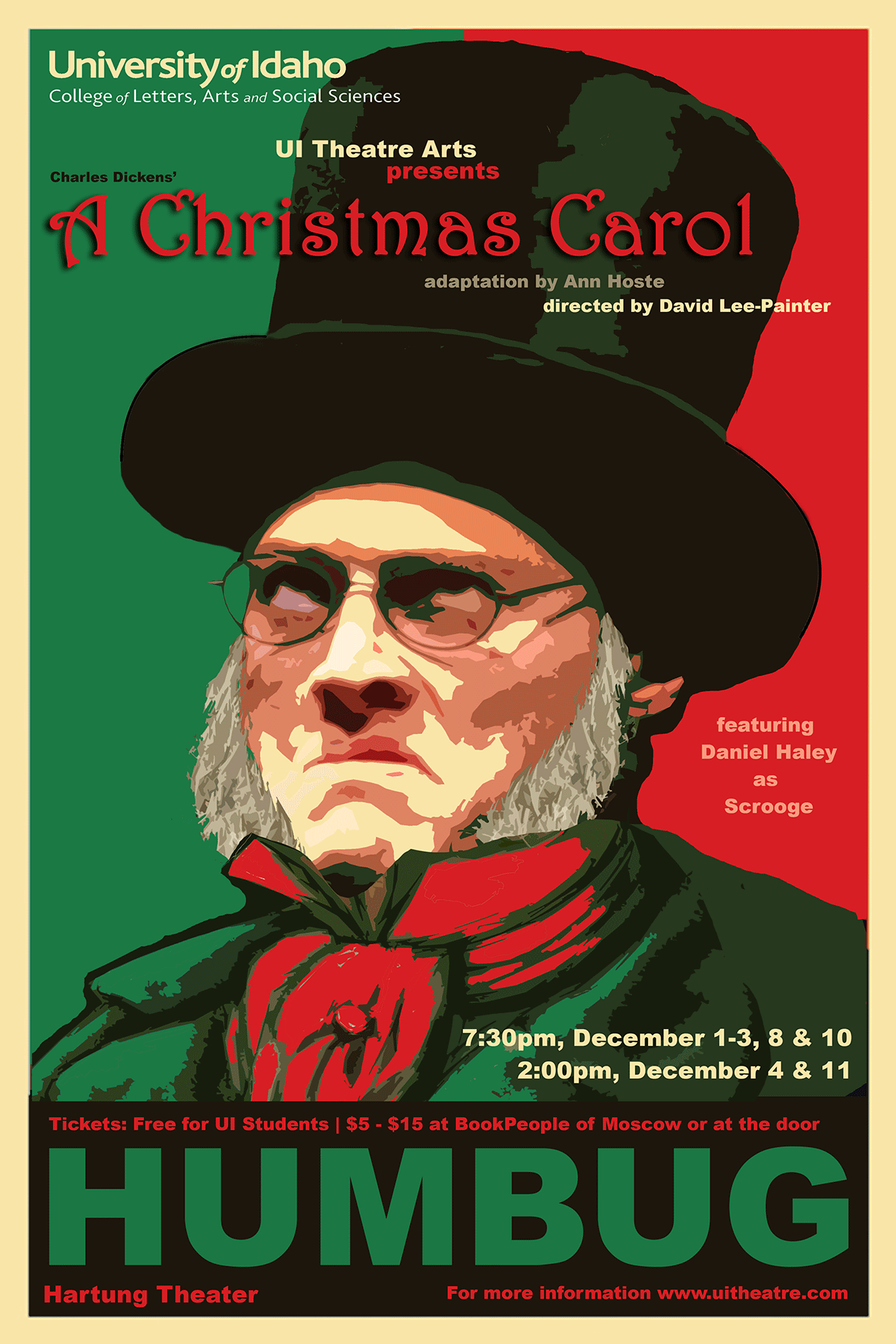 10-Minute Play Fest — Dec. 5-7
Student directors, playwrights and performers will showcase their work in three action-packed nights for The 10-Minute Play Festival at 7:30 p.m., Dec. 5-7 at The Forge Theater, 404 Sweet Avenue, Moscow. More than half the shows are written by UI students. The event is free for UI students and $10 general admission.
UI Community Invited to IRIC Ribbon Cutting Jan. 31
Please join President Chuck Staben and Vice President for Research and Economic Development Janet Nelson to celebrate the completion of the Integrated Research and Innovation Center, or IRIC, with a ribbon cutting and open house for faculty, staff, students, alumni, donors and friends of the University of Idaho. Learn more about IRIC at www.uidaho.edu/iric. For more information, contact iric@uidaho.edu